Taru 5x 99 RDM ML30 5/5 Nyame reforge+3 Amalric/Kayk+1 3x master RoV done
OO Info: ALL INFO YES
Server Xfer is Available
SE Q&A YES!
Missions
Mercenary Rank: Private Second Class
Bastok Rank: Complete!
Rise of the Zilart: Complete!
Chains of Promathia: Complete!
Treasures of Aht Urhgan: Complete!
Wings of the Goddess: Complete!
Addon: A Crystalline Prophecy: The Echo Awakens
Addon: A Moogle Kupo d'Etat: Drenched! It Began with a Raindrop
Addon: A Shantotto Ascension: Hasn't started yet
Abyssea: N/A
Seekers of Adoulin: Complete!
Completed Unique Coalitions (Adoulin): 3
Rhapsodies of Vana'diel: Complete!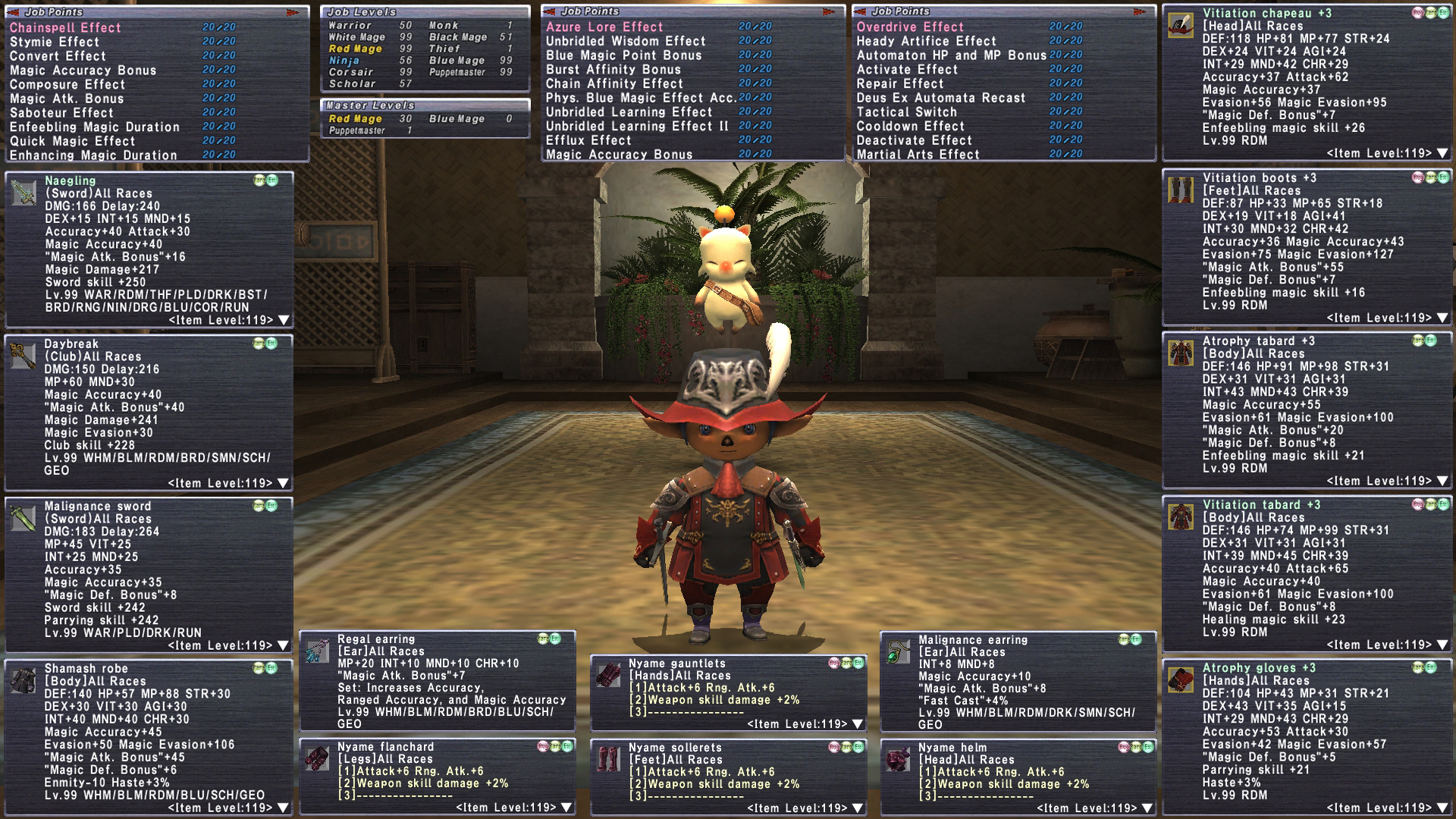 Value in misc. 500k+ in sellables

Odyssey
Information On Bumba
Nyame Flanchard i119 (Path: B) Rank 3
Nyame Gauntlets i119 (Path: B) Rank 3
Nyame Helm i119 (Path: B) Rank 3
Nyame Mail i119 (Path: B) Rank 3
Nyame Sollerets i119 (Path: B) Rank 3

Su5+1/2 Weapons Necks Volte
Dls. Torque +1 99 (Path: A) Rank 15
Mirage Stole +1 99 (Path: A) Rank 3

119 Relic +2/+3
Viti. Chapeau +3 i119 (Enfeebling Magic Duration, Magic Accuracy)
Viti. Tabard +3 i119 (Enhances "Chainspell" Effect)
Vitiation Boots +3 i119 (Immunobreak Chance)

119 Artifact +2/+3
Atrophy Gloves +3 i119
Atrophy Tabard +3 i119
Atrophy Tights +2 i119

Omen
Ammurapi Shield i119
Anu Torque 99
Enki Strap 99
Erra Pendant 99
Kishar Ring 99
Knobkierrie 99
Nusku Shield i119
P. Geo Card
P. Nin Card
(237) P. Rdm Card
Regal Earring 99
Regal Gem 99
Regal Necklace 99
Shamash Robe i119
Sherida Earring 99

Escha Zi'Tah/Ru'Aun/Reisenjima
Chironic Hose i119 (Mag. Acc.+26, Spell Interruption Rate Down -9%, Mnd+13)
Colada i119 ("Dbl.Atk."+2, Dex+12, Accuracy+10, Attack+10)
Compensator i119
Eabani Earring 99
Empath Necklace 99
Fortified Ring 99
Merlinic Jubbah i119
Midnights i119 (Pet: Attack+25, Pet: Accuracy+25, Pet: Damage Taken -3%)
Nibiru Shield i119
Perimede Cape 99
Psycloth Lappas i119 (Mp+80, Mag. Acc.+15, "Fast Cast"+7)
Pursuer's Cuffs i119
Xucau Mantle 99

119 Abjuration Gear
Ab.Abjuration: Hn.
Amalric Coif +1 i119 (Mp+80, Mag. Acc.+20, "Mag.Atk.Bns."+20)
Amalric Doublet +1 i119 (Mp+80, Mag. Acc.+20, "Mag.Atk.Bns."+20)
Amalric Gages +1 i119 (Int+12, Mag. Acc.+20, "Mag.Atk.Bns."+20)
Amalric Nails +1 i119 (Mag. Acc.+20, "Mag.Atk.Bns."+20, "Conserve Mp"+7)
Amalric Slops +1 i119 (Mp+80, "Mag.Atk.Bns."+25, Enmity-6)
Carmine Cuisses +1 i119 (Accuracy+20, Attack+12, "Dual Wield"+6)
Cr.Abjuration: Ft.
Jo.Abjuration: Hn.
Kaykaus Bliaut +1 i119 (Mp+80, "Cure" Spellcasting Time -7%, Enmity-6)
Kaykaus Boots +1 i119 (Mp+80, "Cure" Spellcasting Time -7%, Enmity-6)
Kaykaus Cuffs +1 i119 (Mp+76, Mnd+12, Mag. Acc.+19)
Kaykaus Mitra +1 i119 (Mp+80, "Cure" Spellcasting Time -7%, Enmity-6)
Kaykaus Tights +1 i119 (Mp+80, "Cure" Spellcasting Time -7%, Enmity-6)
Va.Abjuration: Ft.

Ambuscade
A. Voucher: Weapon
Jhakri Coronal +1 i119
Jhakri Cuffs +1 i119
Jhakri Pigaches +2 i119
Jhakri Robe +1 i119
Jhakri Slops +2 i119
Kaja Rod i119
Naegling i119
Rosmerta's Cape 99 (Dex+20, Accuracy+20 Attack+20, "Store Tp"+10)
(4) Sucellos's Cape 99 (Mnd+20, Mag. Acc+20 /Mag. Dmg.+20, Mag. Acc.+1, "Mag.Atk.Bns."+10, Magic Dmg. Taken-10%)
(4) Sucellos's Cape 99 (Mnd+20, Eva.+20 /Mag. Eva.+20, Mnd+10, "Cure" Potency +10%, Damage Taken-5%)
(4) Sucellos's Cape 99 (Mnd+20, Accuracy+20 Attack+20, Mnd+10, Weapon Skill Damage +10%, Phys. Dmg. Taken-10%)
(4) Sucellos's Cape 99 (Dex+20, Accuracy+20 Attack+20, Accuracy+10, "Store Tp"+10, Phys. Dmg. Taken-10%)
Tali'ah Manteel +2 i119
Tali'ah Turban +2 i119
Visucius's Mantle 99 (Pet: Acc.+20 Pet: R.Acc.+20 Pet: Atk.+20 Pet: R.Atk.+20, Accuracy+20 Attack+20, Haste+10)

Reforged Artifact/Relic/Emp
Assim. Bazu. 109
Assim. Charuqs 109
Assim. Jubbah 109
Assim. Keffiyeh 109
Assim. Shalwar 109
Atrophy Boots 109
Leth. Chappel +1 i119
Leth. Fuseau +1 i119
Leth. Gantherots 109
Leth. Houseaux +1 i119
Lethargy Sayon +1 i119
Pitre Tobe +1 i119 (Enhances "Overdrive" Effect)
Vitiation Gloves 109 (Enhancing Magic Duration)
Vitiation Tights 109 (Enspell Damage, Accuracy)

Domain Invasion
Embla Sash 99

Sinnister Reign
Befouled Crown i119
Count's Garb i119
Etiolation Earring 99

Unity
Acuity Belt +1 99 (Path: A)
Canto Necklace 99
Loricate Torque 99
Metamor. Ring +1 99 (Path: A)
Sailfi Belt +1 99 (Path: A)

Other Noteable R/EX
Balrahn's Ring 50
Daybreak i119
Ischemia Chasu. i119
Malignance Boots i119
Malignance Earring 99
Malignance Sword i119
Malignance Tabard i119
Mecisto. Mantle 99 (Cap. Point+46%, Chr+1, Mag. Acc.+2, Def+5)
Moonshade Earring 90 (Accuracy+4, Tp Bonus +250)
Siegel Sash 90
Weather. Ring 99

WKR/Delve
Cornflower Cape 99
Ngqoqwanb i119
Ohtas i119 (Accuracy+70, Pet: Accuracy+70, Pet: Haste+10%)
Taeon Boots i119 (Pet: Accuracy+17 Pet: Rng. Acc.+17, Pet: "Dbl. Atk."+5, Pet: Damage Taken -3%)
Taeon Chapeau i119 (Pet: Accuracy+17 Pet: Rng. Acc.+17, Pet: "Dbl. Atk."+2, Pet: Damage Taken -3%)
Taeon Gloves i119 (Pet: Accuracy+25 Pet: Rng. Acc.+25, Pet: "Dbl. Atk."+4, Pet: Damage Taken -3%)
Taeon Tabard i119 (Pet: Accuracy+18 Pet: Rng. Acc.+18, Pet: "Dbl. Atk."+5, Pet: Damage Taken -4%)
Taeon Tights i119 (Pet: Accuracy+16 Pet: Rng. Acc.+16, Pet: "Dbl. Atk."+4, Pet: Damage Taken -4%)

Base Artifact/Relic/Emp
Assassin's Pouln. 73
Comm. Bottes 73
Comm. Trews 71
Comm. Tricorne 75
Commodore Frac 74
Mavi Kavuk 85
Raider's Poulaines 81
Ravager's Calligae 81

Misc.
A. Tok.: Feet +1
A. Tok.: Hands +1
A. Tok.: Legs +1
(5) Abdhaljs Dye
(2) Abdhaljs Fiber
(3) Abdhaljs Gem
Abdhaljs Metal
(4) Abdhaljs Needle
(5) Abdhaljs Nugget
(5) Abdhaljs Resin
(3) Abdhaljs Seal
Beastmen's Seal
Kei's Scale
(2) Kin's Scale
(2) Kupon A-Emi
(4) Kupon A-Pk109
Kyou's Scale
Mog Pell (Red)

Key Items
[Spoiler]
?Doll Companion
?Noble Chocobo Companion
?Raptor Companion
?Red Crab Companion
?Spheroid Companion
Adoulinian Charter Permit
Adventurer's Certificate
Aged Undying Naakual Crest
Airship Pass
Ambuscade Primer Volume One
Ambuscade Primer Volume Two
Archducal Audience Permit
Arciela's Skirt
Ashrakk's Blood Sigil
Astral Compass
Atma of Purgatory
Atma of the Lone Wolf
Atma of the War Lion
Bastok Trust Permit
Battle Trophy: 1st Echelon
Battle Trophy: 2nd Echelon
Battle Trophy: 3rd Echelon
Battle Trophy: 4th Echelon
Battle Trophy: 5th Echelon
Black Matinee Necklace
Boarding Permit
Brand of Dawn
Brand of Twilight
Bronze Ribbon of Service ?
''card Jailer Teodor''
Cerulean Crystal
Chocobo License
''climbing''
Concordoll
Coruscant Rosary
Cosmo-Cleanse
Crest of Davoi
Crimson Stratum Abyssite
Curilla's Bottle
Dem Gate Crystal
Dhokmak's Blood Sigil
Dimensional Compass
Distended Chigoe Abdomen
Distorted Fragment
Dynamis - Buburimu Sliver
Dynamis - Qufim Sliver
Dynamis - Tavnazia Sliver
Dynamis - Valkurm Sliver
Empty Hourglass
Eschan Cellar
Eschan Nef
Eschan Urn
Frosted Incisor
Geomagnetron
Glistening Orobon Liver
Gnarled Lizard Nail
Gps Crystal
Grimoire
Heart of the Bushin
Holla Gate Crystal
Hydra Corps Command Scepter
Hydra Corps Eyeglass
Hydra Corps Lantern
Hydra Corps Tactical Map
Ignor-Mnt's Bracelet
Impure Aster Yggzi
Inky Black Yagudo Feather
Job Breaker
Job Gesture: Black Mage
Job Gesture: Blue Mage
Job Gesture: Corsair
Job Gesture: Monk
Job Gesture: Ninja
Job Gesture: Puppetmaster
Job Gesture: Red Mage
Job Gesture: Scholar
Job Gesture: Thief
Job Gesture: Warrior
Job Gesture: White Mage
Jugner Gate Crystal
Kei'S Bead
Lightsworm
Limit Breaker
''logging''
Lunar Abyssite
Magian Trial Log
Manaclipper Multi-Ticket
Mark of Zahak
Master Breaker
Mea Gate Crystal
Memorandoll
Message From Yoyoroon
Military Scrip
Mithra Mask of Darkness
Mog Kupon A-Pk109
Moghancement: Bounty
Pair of Liij-Vok's Gloves
Pair of Velkk Gloves
Pashhow Gate Crystal
Peerless Red Mage's Shard
Phoenix's Blessing
Pioneer's Badge
Prismatic Fragment
Prismatic Hourglass
Prototype Attuner
Psc Wildcat Badge
Pso'xja Pass
Pure White Feather
Quinary Nazar
Reaper
Reliquiarium Key
''rhapsody In Azure''
''rhapsody In Crimson''
''rhapsody In Emerald''
''rhapsody In Fuchsia''
''rhapsody In Mauve''
''rhapsody In Ochre''
''rhapsody In Puce''
''rhapsody In Umber''
''rhapsody In White''
Rosulatia's Pome
Sajj'aka's Protective Ward
San D'oria Trust Permit
Sapphire Abyssite of Furtherance
''scintillating Rhapsody''
Semi-Pure Aster Yggzi
Sepulcher Ensign
Shaft Gate Operating Dial
Shard of Apathy
Shard of Arrogance
Shard of Cowardice
Shard of Envy
Shard of Rage
Silver Bell
Silvery Plate
Song of Hope
Tattered Maze Monger Pouch
Tear of Altana
Temporary Geomagnetron
Tenshodo Member's Card
Teodor's Blood Sigil
Trainer's Whistle
Traverser Stone
Tribulens
Tryl-Wuj's Belt
Velkk Fetish
Vial of Dream Incense
Vial of Shrouded Sand
Watercraft
''watercrafting''
Windurst Trust Permit
Yagudo Torch
Ymmr-Ulvid's Necklace
[/Spoiler]




Currencies
Nyzul Tokens: 0
Therion Ichor: 0
Cruor: 167253
Voidstones: 351
Traverser Stones: 495
A.M.A.N. Vouchers Stored: 91
Zeni: 0
Guild Points (Fishing): 0
Guild Points (Woodworking): 0
Guild Points (Smithing): 0
Guild Points (Goldsmithing): 0
Guild Points (Weaving): 0
Guild Points (Leathercraft): 0
Guild Points (Bonecraft): 0
Guild Points (Alchemy): 0
Guild Points (Cooking): 0
Assault Points (Leujaoam Sanctum): 0
Assault Points (M.J.T.G.): 0
Assault Points (Lebros Cavern): 0
Assault Points (Periqia): 0
Assault Points (Ilrusi Atoll): 0
Beastman Seals (stored): 0
Kindred Seals (stored): 2
Kindred Crests (stored): 60
High Kindred Crests (stored): 148
Sacred Kindred Crests (stored): 482
Bayld: 39049
Mweya Plasm Corpuscles: 217075
Escha Silt: 889249
Escha Beads: 16382
Potpourri: 0
Domain Points: 420
Mog Segments: 3618
Gallimaufry: 0


Job Points
MASTER RDM2100
MASTER BLU2100
MASTER PUP2100


Trusts (55)
Kuyin Hathdenna
Koru-Moru
Arciela II
Shantotto II
Naji
Excenmille
Lhe Lhangavo
Volker
Adelheid
Lion
Halver
Joachim
Semih Lafihna
Kupofried
Iron Eater
Lilisette II
Rughadjeen
Morimar
Najelith
Moogle
Zeid
Star Sibyl
Cid
Areuhat
D. Shantotto
Zeid II
Nashmeira II
Tenzen II
Iroha II
Uka Totlihn
Abenzio
Kupipi
Ayame
Curilla
Qultada
Amchuchu
Tenzen
Valaineral
Naja Salaheem
Selh'teus
Gessho
Balamor
Lehko Habhoka
King of Hearts
Luzaf
Aldo
Fablinix
Iroha
Karaha-Baruha
Matsui-P
Trion
Nanaa Mihgo
Lion II
Prishe II
Mihli Aliapoh


Coalition Ranks
Pioneer Petitioner
Courier Petitioner
Inventor Disciple
Mummer Petitioner
Peacekeeper Petitioner
Scout Petitioner

Escha Vorseal
HP/MP+ 6
Acc/R.Acc/Eva+ 2
Def+ 2
Atk/R.Atk+ 1
M.Acc/M.Eva+ 3
M.Def+ 5
M.Atk+ 2
DEX/AGI+ 2
STR/VIT+ 2
INT/MND/CHR+ 2
Occ. Nullifies Damage 2
Killer Effects+ 1
Damage Taken 1
Spoils+ 4
Rare Enemy+ 3
Luck+ 2
Regen+ 2
Refresh+ 1
Accuracy++ 8

tldr& Purpose built RDM with high-end gearsets, can accomplish any RDM content in the game, up and coming BLU and PUP both master. Odyssey Nyame unlocked, RoV done.

$345