Taru 17x99 7 REMA Sortie +2 Nyame(r10) Mpaca/Agwu/Sakpata su5+2 Musa rfrg+23 regal full malig 9xmstr
OO Info: ALL INFO YES
Server Xfer is Available
SE Q&A YES!
Missions
Mercenary Rank: Private Second Class
Bastok Rank: Complete!
Rise of the Zilart: Complete!
Chains of Promathia: Complete!
Treasures of Aht Urhgan: Complete!
Wings of the Goddess: Complete!
Addon: A Crystalline Prophecy: The Echo Awakens
Addon: A Moogle Kupo d'Etat: Drenched! It Began with a Raindrop
Addon: A Shantotto Ascension: That Which Curdles Blood
Abyssea: N/A
Seekers of Adoulin: Complete!
Completed Unique Coalitions (Adoulin): 7
Rhapsodies of Vana'diel: Complete!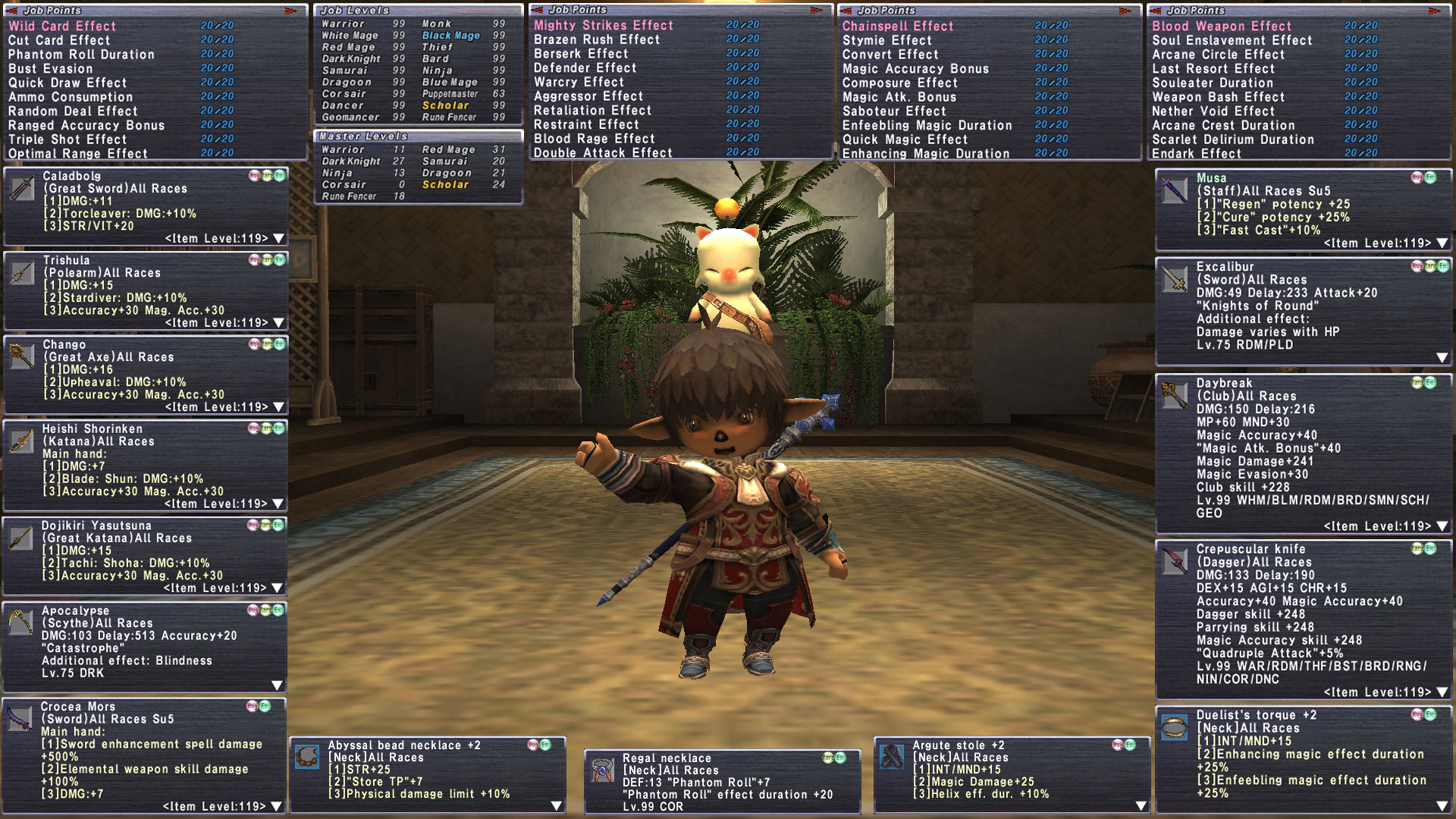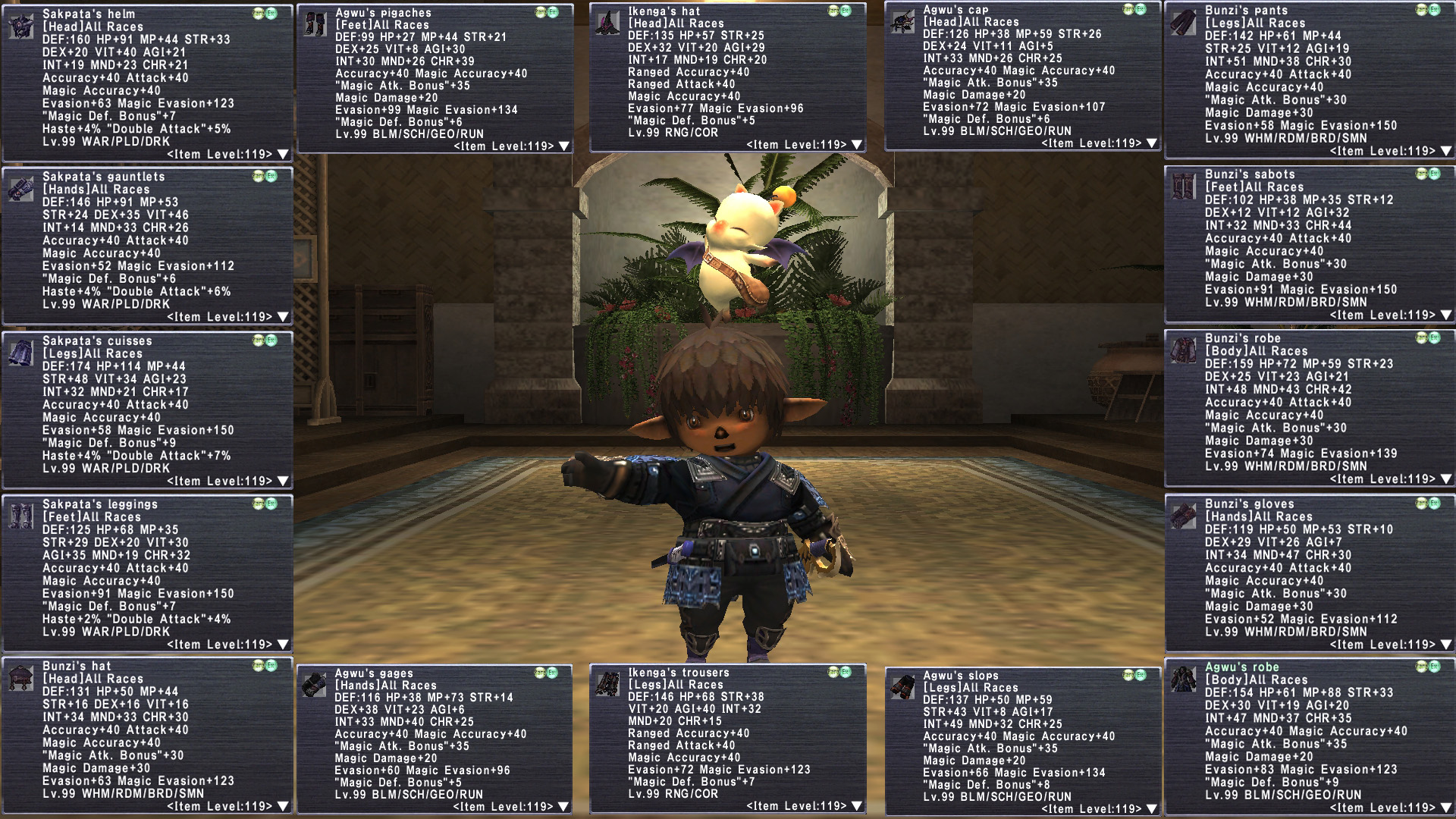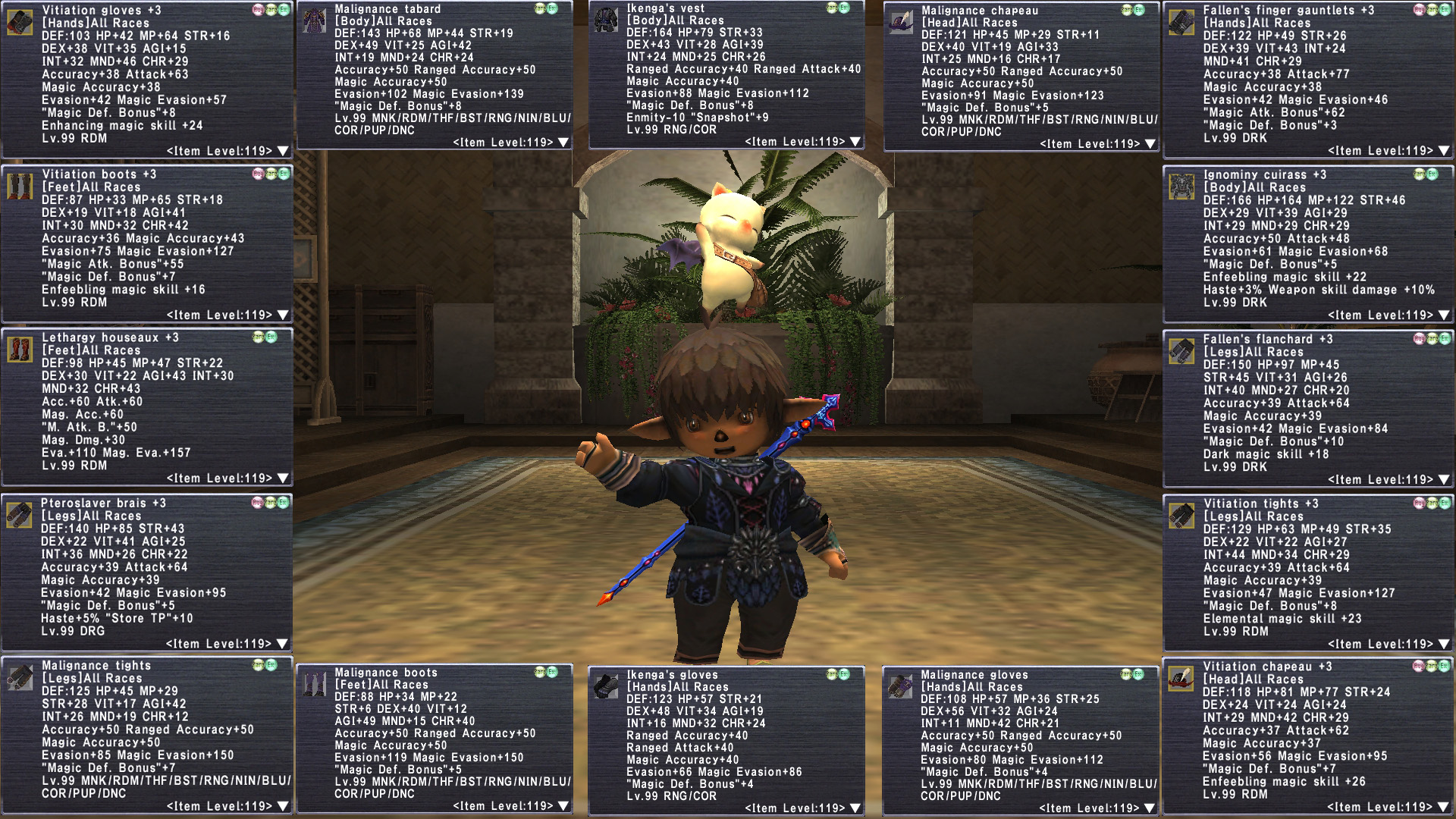 Value in misc. 500k+ in sellables

Relic/Emp/Mythic/Aeonic
Apocalypse 75 (Dmg:+9)
Caladbolg AFTERGLOW 119 AG (Path: A) Rank 15
Chango i119 (Path: A) Rank 15
Dojikiri Yasutsuna i119 (Path: A) Rank 15
Excalibur 75
Heishi Shorinken i119 (Path: A) Rank 15
Trishula i119 (Path: A) Rank 15

Sortie Empyrean +2/+3 JSE Earring
Arbatel Earring 99 (System: 1 Id: 1676 Val: 0, Mag. Acc.+6)
Azimuth Earring 99 (System: 1 Id: 1676 Val: 0, Mag. Acc.+6)
Boii Earring 99 (System: 1 Id: 1676 Val: 0, Accuracy+6, Mag. Acc.+6)
Ebers Earring 99 (System: 1 Id: 1676 Val: 0, Accuracy+7, Mag. Acc.+7)
Heath. Burgeon. +2 i119
Heath. Sollerets +2 i119
Heathen's Earring 99 (System: 1 Id: 1676 Val: 0, Accuracy+6, Mag. Acc.+6)
Kasuga Earring 99 (System: 1 Id: 1676 Val: 0, Accuracy+7, Mag. Acc.+7)
Leth. Chappel +2 i119
Leth. Fuseau +2 i119
Leth. Ganth. +2 i119
Leth. Houseaux +3 i119
(2) Lethargy Earring 99 (System: 1 Id: 1676 Val: 0, Accuracy+9, Mag. Acc.+9)
(2) Lethargy Earring 99 (System: 1 Id: 1676 Val: 0, Accuracy+7, Mag. Acc.+7)
Lethargy Sayon +2 i119
Maculele Earring 99 (System: 1 Id: 1676 Val: 0, Accuracy+6, Mag. Acc.+6)
Nukumi Earring 99 (System: 1 Id: 1676 Val: 0, Accuracy+6, Mag. Acc.+6)
Peltast's Earring 99 (System: 1 Id: 1676 Val: 0, Accuracy+6, Mag. Acc.+6)
(3) Ra'kaz. Starstone
Skulker's Earring 99 (System: 1 Id: 1676 Val: 0, Accuracy+6, Mag. Acc.+6)
Wicce Earring 99 (System: 1 Id: 1676 Val: 0, Mag. Acc.+6)

Odyssey
Agwu's Cap i119
Agwu's Gages i119
Agwu's Pigaches i119
Agwu's Robe i119
Agwu's Slops i119
Bunzi's Gloves i119
Bunzi's Hat i119
Bunzi's Pants i119
Bunzi's Robe i119
Bunzi's Rod i119
Bunzi's Sabots i119
Coiste Bodhar 99 (Path: A) Rank 15
Gleti's Boots i119
Gleti's Breeches i119
Gleti's Cuirass i119
Gleti's Gauntlets i119
Gleti's Knife i119
Gleti's Mask i119
Ikenga's Clogs i119
Ikenga's Gloves i119
Ikenga's Hat i119
Ikenga's Trousers i119
Ikenga's Vest i119
Information On Arebati
Information On Bumba
Information On Gigelorum
Information On Gogmagog
Information On Henwen
Information On Kalunga
Information On Ngai
Information On Xevioso
Kunimitsu i119
(4) Moogle Amp.
Mpaca's Boots i119
Mpaca's Cap i119
Mpaca's Doublet i119
Mpaca's Gloves i119
Mpaca's Hose i119
Mpaca's Staff i119
Nyame Flanchard i119 (Path: B) Rank 1
Nyame Gauntlets i119 (Path: B) Rank 11
Nyame Helm i119 (Path: B) Rank 10
Nyame Mail i119 (Path: B) Rank 10
Nyame Sollerets i119 (Path: B) Rank 9
Obstin. Sash 99
Sakpata's Cuisses i119
Sakpata's Gauntlets i119
Sakpata's Helm i119
Sakpata's Leggings i119
Sakpata's Plate i119
Sakpata's Sword i119
Schere Earring 99

Su5+1/2 Weapons Necks Volte
Abyssal Beads +2 99 (Path: A) Rank 25
Argute Stole +2 99 (Path: A) Rank 25
Crocea Mors i119 (Path: C) Rank 25
Dgn. Collar +2 99 (Path: A) Rank 25
Dls. Torque +2 99 (Path: A) Rank 25
Musa i119 (Path: C) Rank 25
Ninja Nodowa +2 99 (Path: A) Rank 25
Sam. Nodowa +2 99 (Path: A) Rank 25
War. Beads +2 99 (Path: A) Rank 1

119 Relic +2/+3
Fall. Fin. Gaunt. +3 i119 (Enhances "Diabolic Eye" Effect)
Fall. Flanchard +3 i119 (Enhances "Muted Soul" Effect)
Ptero. Brais +3 i119 (Enhances "Strafe" Effect)
Viti. Chapeau +3 i119 (Enfeebling Magic Duration, Magic Accuracy)
Viti. Gloves +3 i119 (Enhancing Magic Duration)
Viti. Tabard +3 i119 (Enhances "Chainspell" Effect)
Viti. Tights +3 i119 (Enspell Damage, Accuracy)
Vitiation Boots +3 i119 (Immunobreak Chance)

119 Artifact +2/+3
Atrophy Gloves +3 i119
Atrophy Tabard +2 i119
Atrophy Tights +2 i119
Ig. Flanchard +2 i119
Ignominy Cuirass +3 i119
Wakido Kote +2 i119

Omen
Ammurapi Shield i119
Anu Torque 99
Dingir Ring 99
Enki Strap 99
Erra Pendant 99
Ilabrat Ring 99
Iskur Gorget 99
Kishar Ring 99
Knobkierrie 99
Niqmaddu Ring 99
Nusku Shield i119
P. Drg Card
(16) P. Drk Card
(4) P. Nin Card
(19) P. Rdm Card
(2) P. Sch Card
(12) P. War Card
Regal Cuffs i119
Regal Earring 99
Regal Gem 99
Regal Necklace 99
Regal Ring 99
Sherida Earring 99
Utu Grip 99

Escha Zi'Tah/Ru'Aun/Reisenjima
Akademos i119 (Int+15, "Mag.Atk.Bns."+15, Mag. Acc.+15)
Annoint. Kalasiris i119
Asklepian Belt 99
Begrudging Ring 99
Chironic Gloves i119 (Int+4, Weapon Skill Damage +4%, "Refresh"+2, Accuracy+19 Attack+19)
Chironic Hose i119 ("Mag.Atk.Bns."+22, Mnd+13, Mag. Acc.+14)
Chironic Slippers i119 (Pet: "Dbl. Atk."+4, Attack+9, "Refresh"+1)
(2) Colada i119
(2) Colada i119 (Enh. Mag. Eff. Dur. +4, Vit+2, Dmg:+13)
Compensator i119
Dampener's Torque 99
Decimus Torque 99
Dedition Earring 99
Digni. Earring 99
Eabani Earring 99
Eschan Stone 99
Evanescence Ring 99
Genmei Shield i119
Gishdubar Sash 99
Grioavolr i119 (Enfb.Mag. Skill +8, Mnd+10)
Herculean Boots i119 (Attack+14, "Triple Atk."+2, Dex+10, Accuracy+4)
Herculean Gloves i119
Herculean Helm i119
Herculean Trousers i119
Hetairoi Ring 99
Holliday i119
Hydrocera 99
Infused Earring 99
Luminary Sash 99
Marked Gorget 99
Maskirova Torque 99
Mendi. Earring 99
Misanthropy i119
Molybdosis i119
Nodens Gorget 99
Nzingha Cuirass i119
Odyssean Cuisses i119 ("Store Tp"+6, Vit+4, Accuracy+14, Attack+13)
Odyssean Gauntlets i119 (Accuracy+2 Attack+2, Weapon Skill Damage +2%, Vit+8, Attack+11)
Odyssean Helm i119 (Accuracy+6, Weapon Skill Damage +4%, Vit+15)
Pemphredo Tathlum 99
Petrov Ring 99
Psycloth Lappas i119 (Mag. Acc.+10, Spell Interruption Rate Down +15%, Mnd+7)
Purity Ring 99
Pursuer's Pants i119
Reiki Yotai 99
Reti Pendant 99
Rufescent Ring 99
Sanctity Necklace 99
Sapience Orb 99
Sarissapho. Belt 99
Shango Robe i119
Shukuyu Ring 99
Telos Earring 99
thereoid Greaves i119
Valorous Mail i119 (Accuracy+18 Attack+18, "Dbl.Atk."+1, Str+9, Attack+10)
Valorous Mitts i119 (Attack+27, "Dbl.Atk."+1, Str+13, Accuracy+6)
Vanya Clogs i119
Vanya Cuffs i119
Vanya Robe i119
Vanya Slops i119
Welkin Crown i119
Yemaya Belt 99

119 Abjuration Gear
Adhemar Bonnet +1 i119 (Str+12, Dex+12, Attack+20)
Adhemar Jacket +1 i119 (Str+12, Dex+12, Attack+20)
Adhemar Wrist. +1 i119 (Str+12, Dex+12, Attack+20)
Amalric Coif +1 i119
Amalric Doublet +1 i119 (Mp+80, Mag. Acc.+20, "Mag.Atk.Bns."+20)
Amalric Gages +1 i119 (Mp+80, Mag. Acc.+20, "Mag.Atk.Bns."+20)
Amalric Nails +1 i119 (Mp+80, Mag. Acc.+20, "Mag.Atk.Bns."+20)
Amalric Slops +1 i119 (Mp+80, Mag. Acc.+20, "Mag.Atk.Bns."+20)
Ar.Abjuration: Bd.
Ar.Abjuration: Hn.
Carmine Cuisses +1 i119
Carmine Fin. Ga. +1 i119
Kaykaus Bliaut i119 (Mp+60, Mnd+10, Mag. Acc.+15)
Kaykaus Boots i119 (Mp+60, "Cure" Spellcasting Time -5%, Enmity-5)
Kaykaus Cuffs i119 (Mp+60, Mnd+10, Mag. Acc.+15)
Kaykaus Mitra i119 (Mp+60, "Cure" Spellcasting Time -5%, Enmity-5)
Kaykaus Tights i119 (Mp+60, Mnd+10, Mag. Acc.+15)
Lustra. Leggings +1 i119 (Attack+20, Str+8, "Dbl.Atk."+3)
Lustratio Cap +1 i119 (Attack+20, Str+8, "Dbl.Atk."+3)
Ryuo Somen +1 i119 (Hp+65, "Store Tp"+5, "Subtle Blow"+8)
Ryuo Sune-Ate +1 i119 (Hp+65, "Store Tp"+5, "Subtle Blow"+8)

Ambuscade
A. Voucher: Weapon
(2) andartia's Mantle 99 (Dex+20, Accuracy+20 Attack+20, Accuracy+10, "Dual Wield"+10, Phys. Dmg. Taken-10%)
(2) andartia's Mantle 99 (Dex+20, Accuracy+20 Attack+20, Dex+10, "Dbl.Atk."+10, Phys. Dmg. Taken-10%)
(2) Ankou's Mantle 99 (Vit+20, Accuracy+20 Attack+20, Vit+5, Weapon Skill Damage +10%, Phys. Dmg. Taken-10%)
(2) Ankou's Mantle 99 (Dex+20, Accuracy+20 Attack+20, Accuracy+10, "Dbl.Atk."+10, Phys. Dmg. Taken-10%)
Aya. Cosciales +1 i119
Aya. Gambieras +2 i119
Aya. Manopolas +2 i119
Aya. Zucchetto +1 i119
Ayanmo Corazza +2 i119
(4) Brigantia's Mantle 99 (Str+20, Accuracy+20 Attack+20, Crit.Hit Rate+10)
(4) Brigantia's Mantle 99 (Dex+20, Accuracy+20 Attack+20, Accuracy+9, "Dbl.Atk."+10, Phys. Dmg. Taken-10%)
(4) Brigantia's Mantle 99 (Str+20, Accuracy+20 Attack+20, Str+10, Weapon Skill Damage +10%)
(4) Brigantia's Mantle 99 (Str+20, Accuracy+20 Attack+20, Str+10, "Dbl.Atk."+10)
(3) Camulus's Mantle 99
(3) Camulus's Mantle 99 (Dex+20, Accuracy+20 Attack+20, "Dual Wield"+10, Phys. Dmg. Taken-2%)
(3) Cichol's Mantle 99 (Str+20, Accuracy+20 Attack+20, Str+10, Weapon Skill Damage +10%)
(3) Cichol's Mantle 99 (Dex+20, Accuracy+20 Attack+20, "Dbl.Atk."+10, Phys. Dmg. Taken-10%)
(3) Cichol's Mantle 99 (Vit+20, Accuracy+20 Attack+20, Vit+10, Weapon Skill Damage +10%)
Eletta Claymore i119
Flam. Gambieras +2 i119
Flam. Manopolas +2 i119
Flam. Zucchetto +2 i119
Flamma Dirs +1 i119
Flamma Korazin +2 i119
Flamma Ring 99
Gokotai i119
Jhakri Coronal +1 i119
Jhakri Cuffs +2 i119
Jhakri Pigaches +2 i119
Jhakri Ring 99
Jhakri Robe +2 i119
Jhakri Slops +2 i119
Kaja Scythe i119
Khonsu 99
Lugh's Cape 99 ("Fast Cast"+10)
Mallquis Chapeau +1 i119
Mallquis Clogs +1 i119
Mallquis Cuffs +1 i119
Mallquis Ring 99
Mallquis Saio +1 i119
Mallquis Trews +1 i119
Meg. Chausses +2 i119
Naegling i119
Ogma's Cape 99
Rosmerta's Cape 99 (Dex+20, Accuracy+10 Attack+10, Accuracy+1)
Shining One i119
(4) Sucellos's Cape 99 (Int+20, Mag. Acc+20 /Mag. Dmg.+20, "Mag.Atk.Bns."+10)
(4) Sucellos's Cape 99 (Mnd+20, Mag. Acc+20 /Mag. Dmg.+20, Mag. Acc.+10, "Fast Cast"+10)
(4) Sucellos's Cape 99 (Dex+20, Accuracy+20 Attack+20, "Dual Wield"+10, Phys. Dmg. Taken-10%)
(4) Sucellos's Cape 99 (Str+20, Accuracy+20 Attack+20, Str+10, Weapon Skill Damage +10%)
Sulev. Cuisses +2 i119
Sulev. Gauntlets +2 i119
Sulev. Leggings +2 i119
Sulevia's Mask +2 i119
Sulevia's Plate. +2 i119
Sulevia's Ring 99
Tauret i119
Ullr i119

Reforged Artifact/Relic/Emp
Agoge Mask +1 i119 (Enhances "Savagery" Effect)
Chasseur's Gants +1 i119
Erilaz Leg Guards 109
Erilaz Surcoat 109
Futhark Coat +1 i119 (Enhances "Elemental Sforzo" Effect)
Laksa. Bottes 109
Laksa. Frac 109
Laksa. Gants 109
Laksa. Trews 109
Laksa. Tricorne 109
Lanun Frac 109 (Enhances "Loaded Deck" Effect)
Lanun Tricorne 109 (Enhances "Winning Streak" Effect)
Peda. Bracers +1 i119 (Enh. "Tranquility" and "Equanimity")
Runeist Bandeau 109
Runeist Bottes 109
Runeist Coat 109
Runeist Mitons 109
Runeist Trousers 109
Waki. Sune-Ate +1 i119
Wakido Haidate +1 i119

Domain Invasion
Embla Sash 99
Snotra Earring 99

Sinnister Reign
Befouled Crown i119
Crusher Gauntlets i119
Deviant Necklace 99
Etiolation Earring 99
Ishvara Earring 99
Rumination Sash 99
Samnuha Tights i119 (Str+10, Dex+10, "Dbl.Atk."+3, "Triple Atk."+3)
Vengeful Ring 99

Unity
Acuity Belt +1 99
Assiduity Pants i119
Aurist's Cape 99
Blistering Sallet +1 i119 (Path: A)
Cohort Cloak i119
Demers. Degen +1 i119
Gelatinous Ring 99
Ghastly Tathlum +1 99 (Path: A)
Loricate Torque 99
Loxotic Mace +1 i119 (Path: A)
Lugra Cloak i119
Lugra Earring 99
Mephitas's Ring +1 99
Metamorph Ring 99
Norifusa i119
Odnowa Earring +1 99
Pukulatmuj i119
Refined Grip +1 99
Sailfi Belt +1 99 (Path: A)
Sangarius +1 i119
Tatena. Haidate +1 i119 (Path: A)
Tatena. Sune. +1 i119 (Path: A)
Ternion Dagger i119
Vim Torque +1 99 (Path: A)
Warder's Charm 99
Zoar Subligar +1 i119 (Path: A)

Other Noteable R/EX
Aern Axe
Aern Axe Ii
Aern Dagger
Aern Dagger Ii
Aettir i119 (Accuracy+70, Mag. Evasion+50, Weapon Skill Damage +10%)
Archon Ring 90
Autarch's Axe
Brutal Earring 75
C. Palug Hammer i119
C. Palug Stone 99
Cessance Earring 99
Crepuscular Knife i119
Daybreak i119
Defending Ring 70
Epona's Ring 89
Fotia Belt 87
Fotia Gorget 72
Freke Ring 99
Fucho-No-Obi 99
Gere Ring 99
Hachirin-No-Obi 71
Hecate's Earring 90
Hjarrandi Breast. i119
Hjarrandi Helm i119
Incanter's Torque 99
Karieyh Ring 99
Loquac. Earring 75
Malignance Boots i119
Malignance Chapeau i119
Malignance Earring 99
Malignance Gloves i119
Malignance Pole i119
Malignance Sword i119
Malignance Tabard i119
Malignance Tights i119
Moonshade Earring 90 (Attack+4, Tp Bonus +250)
Rajas Ring 30
Sandung i119
Siegel Sash 90
Suppanomimi 72
Svelt. Gouriz +1 99
Zantetsuken i119

WKR/Delve
Acro Gauntlets i119 (Accuracy+19 Attack+19, "Store Tp"+6, Str+9)
andoaa Earring 99
Animikii Bullet 115
Asperity Necklace 99
Ghostfyre Cape 99 (Enfb.Mag. Skill +7, Enha.Mag. Skill +10, Mag. Acc.+10, Enh. Mag. Eff. Dur. +15)
Gwati Earring 99
Kuchekula Ring 99
Mephitis Grip 99
Nahtirah Hat i119
Takaha Mantle 99 (Str+3, "Zanshin"+2, "Store Tp"+2, Meditate Eff. Dur. +4)
Tatena. Gote +1 i119 (Path: A)
Telchine Braconi i119 (Enh. Mag. Eff. Dur. +9)
Telchine Cap i119 (Enh. Mag. Eff. Dur. +9)
Telchine Chas. i119 (Enh. Mag. Eff. Dur. +9)
Telchine Gloves i119
Telchine Pigaches i119 (Enh. Mag. Eff. Dur. +10)
Upsurge Earring 99

Base Artifact/Relic/Emp
Abyss Burgeonet 75
Abyss Cuirass 74
Abyss Flanchard 73
Abyss Sollerets 71
Argute Belt 70
Argute Bracers 71
Argute Gown 74
Argute Loafers 72
Argute M.Board 75
Argute Pants 73
Assassin's Armlets 75
Assassin's Culottes 74
Assassin's Pouln. 73
Assassin's Vest 72
Bard's Cannions 75
Commodore Gants 72
Etoile Tiara 72
Fighter's Calligae 52
Fighter's Cuisses 58
Koga Chainmail 74
Koga Hakama 71
Koga Tekko 75
Melee Crown 75
Melee Gaiters 71
Melee Gloves 73
Mirage Bazubands 73
Mirage Jubbah 74
Mirage Shalwar 72
Monster Gaiters 74
Myochin Domaru 58
Myochin Kabuto 60
Saotome Haidate 72
Saotome Kabuto 75
Saotome Kote 73
Savant's Bonnet 85
Savant's Gown 89
Sorcerer's Petas. 75
Summoner's Brcr. 72
Summoner's Dblt. 74
Svnt. Bracers +1 87
Valor Breeches 74
Valor Coronet 73
Warlock's Boots 52
Warrior's Calligae 71
Warrior's Cuisses 74
Warrior's Lorica 75
Warrior's Mufflers 72
Wyrm Fng.Gnt. 73
Wyrm Mail 74

Misc.
(9) Abdhaljs Resin
Abdhaljs Seal
Atst. of Force
Atst. of Right.
(4) Fu's Scale
Gin's Scale
Isgebind's Heart
Kei's Scale
Kin's Scale
Kupon A-Lum
(21) Kupon I-Seal
Kyou's Scale
(6) Mellidopt Wing
Mog Pell (Red)
(6) Ra'kaz. Sapphire
(3) Silver Voucher

Key Items
[Spoiler]
?Iron Giant Companion
?Ixion Companion
?Noble Chocobo Companion
?Raptor Companion
?Red Crab Companion
Adoulinian Charter Permit
Adventurer's Certificate
Aged Firebrand Naakual Crest
Aged Undying Naakual Crest
Airship Pass
Ambuscade Primer Volume One
Anti-Glaciation Gear
Archducal Audience Permit
Arciela's Skirt
Ashrakk's Blood Sigil
Astral Compass
Atma of A Future Fabulous
Atma of Allure
Atma of Blighted Breath
Atma of Camaraderie
Atma of Entwined Serpents
Atma of Illusions
Atma of Nightmares
Atma of Purgatory
Atma of the Banisher
Atma of the Deep Devourer
Atma of the Hero
Atma of the Rescuer
Atma of the Sellsword
Atma of the Smiting Blow
Atma of the War Lion
Atmacite of Curses
Atmacite of Destruction
Atmacite of Devotion
Atmacite of Discipline
Atmacite of Eminence
Atmacite of Enticement
Atmacite of Incursion
Atmacite of Onslaught
Atmacite of Persistence
Atmacite of Temperance
Atmacite of Unity
Bastok Trust Permit
Battle Trophy: 1st Echelon
Battle Trophy: 2nd Echelon
Battle Trophy: 3rd Echelon
Battle Trophy: 4th Echelon
Battle Trophy: 5th Echelon
Bloodied Saber Tooth
Boarding Permit
Book of Tasks
Brand of Dawn
Brand of Twilight
Brier-Proof Net
Bronze Ribbon of Service ?
''card Jailer Teodor''
Cerulean Crystal
Chocobo License
Clever Scholar's Soul
''climbing''
Clipped Bird Wing
Clump of Animal Hair
Concordoll
Consummate Simulacrum
Cosmo-Cleanse
Craggy Fin
Crimson Stratum Abyssite Iv
Curilla's Bottle
Dem Gate Crystal
''demolishing''
Denary Nazar
Detached Stinger
Dhokmak's Blood Sigil
Dimensional Compass
Distorted Fragment
Dull Ra'kaznarian Plate
Dusky Periapt of Focus
Dusky Periapt of Readiness
Dynamis - Buburimu Sliver
Dynamis - Qufim Sliver
Dynamis - Tavnazia Sliver
Dynamis - Valkurm Sliver
Elvaan Mask of Light
Emerald Abyssite of Fortune
Empty Hourglass
''enlightened Endeavor''
Eschan Cellar
Eschan Nef
Eschan Urn
Flame-Scarred Skull
''fragmenting''
Frosted Incisor
Geomagnetron
Gin'S Bead
Gps Crystal
Grimoire
Habitual Behavior Barometer
Heart of the Bushin
Heroic Dragoon's Soul
Holla Gate Crystal
Hydra Corps Battle Standard
Hydra Corps Command Scepter
Hydra Corps Eyeglass
Hydra Corps Insignia
Hydra Corps Lantern
Hydra Corps Tactical Map
Imperial Missive
Impure Alizarin Yggzi
Impure Aster Yggzi
Impure Celadon Yggzi
Impure Phlox Yggzi
Impure Zaffre Yggzi
Indigo Abyssite of the Reaper
Indigo Stratum Abyssite Iv
Information On Mboze
Information On Ongo
Inky Black Yagudo Feather
Insulator Tablet
Ivory Abyssite of Fortune
Jade Abyssite of Expertise
Jade Stratum Abyssite Iv
Jagged Apkallu Beak
Job Breaker
Job Gesture: Bard
Job Gesture: Black Mage
Job Gesture: Blue Mage
Job Gesture: Corsair
Job Gesture: Dancer
Job Gesture: Dark Knight
Job Gesture: Dragoon
Job Gesture: Geomancer
Job Gesture: Monk
Job Gesture: Ninja
Job Gesture: Puppetmaster
Job Gesture: Red Mage
Job Gesture: Rune Fencer
Job Gesture: Samurai
Job Gesture: Scholar
Job Gesture: Thief
Job Gesture: Warrior
Job Gesture: White Mage
Jugner Gate Crystal
Kei'S Bead
Kin'S Bead
Kupofried's Medallion
Kyou'S Bead
Lerene's Paten
Lightsworm
Limit Breaker
''logging''
Lunar Abyssite
Luopan
Magian Trial Log
Magicked Astrolabe
Magma Mitigation Set
Maiden Phantom Gem
Malodorous Marid Fur
Manaclipper Multi-Ticket
Map of Abdh. Isle-Purgonorgo
Map of Abyssea - Misareaux
Map of Abyssea - Uleguerand
Marbled Mutton Chop
Mark of Zahak
Master Breaker
Mea Gate Crystal
Memorandoll
Meriphataud Gate Crystal
Message From Yoyoroon
Military Scrip
Mithra Mask of Light
Mog Patio Design Document
Moghancement: Conquest
Monarch Linn Patrol Permit
Mystical Canteen
Nonary Nazar
Octonary Nazar
Old Ring
Pair of Fuzzy Earmuffs
Pair of Velkk Gloves
Pashhow Gate Crystal
Peerless Red Mage's Shard
Peerless Red Mage's Soul
Periqia Assault Orders
Phoenix's Blessing
Pioneer's Badge
Pouch of Weighted Stones
Primary Nazar
Prismatic Fragment
Prismatic Hourglass
Psc Wildcat Badge
Pso'xja Pass
''pulverizing''
Pure White Feather
Reaper
Red Card
Reliquiarium Key
Resurrection Retardant Axe
''rhapsody In Azure''
''rhapsody In Crimson''
''rhapsody In Emerald''
''rhapsody In Fuchsia''
''rhapsody In Mauve''
''rhapsody In Ochre''
''rhapsody In Puce''
''rhapsody In Umber''
''rhapsody In White''
Rosulatia's Pome
Runic Disc
Runic Kinegraver
Ruspix's Plate
Sajj'aka's Protective Ward
Scarlet Abyssite of Lenity
''scintillating Rhapsody''
Secondary Nazar
Semi-Pure Alizarin Yggzi
Semi-Pure Aster Yggzi
Semi-Pure Celadon Yggzi
Semi-Pure Phlox Yggzi
Semi-Pure Zaffre Yggzi
Septenary Nazar
Sepulcher Ensign
Shard of Apathy
Shard of Arrogance
Shard of Cowardice
Shard of Envy
Shard of Rage
Silver Bell
Silvery Plate
Song of Hope
Sparking Tail Feather
Squire Certificate
Stoic Dark Knight's Soul
Synergy Crucible
Tear of Altana
Tenshodo Member's Card
Teodor's Blood Sigil
Torn Khimaira Wing
Trainer's Whistle
Traverser Stone
Tribulens
Ulbrecht's Mortarboard
Urmahlullu's Armor
Vahzl Gate Crystal
Valiant Ninja's Soul
Velkk Fetish
Vermillion Abyssite of Kismet
Vial of Dream Incense
Vial of Shrouded Sand
Vivid Periapt of Catalysis
Vivid Periapt of Concentration
Vivid Periapt of Exploration
Vivid Periapt of Focus
Vivid Periapt of Intensity
Vivid Periapt of Readiness
Voidstone
Voidwatcher's Emblem: Jeuno
Watercraft
''watercrafting''
White Card
White Stratum Abyssite
Windurst Trust Permit
Yagudo Torch
Zaffre Yantric Planchette
[/Spoiler]




Currencies
Nyzul Tokens: 13954
Therion Ichor: 0
Cruor: 732262
Voidstones: 452
Traverser Stones: 346
A.M.A.N. Vouchers Stored: 6
Zeni: 0
Guild Points (Fishing): 0
Guild Points (Woodworking): 0
Guild Points (Smithing): 0
Guild Points (Goldsmithing): 0
Guild Points (Weaving): 0
Guild Points (Leathercraft): 0
Guild Points (Bonecraft): 0
Guild Points (Alchemy): 0
Guild Points (Cooking): 0
Assault Points (Leujaoam Sanctum): 0
Assault Points (M.J.T.G.): 0
Assault Points (Lebros Cavern): 0
Assault Points (Periqia): 100
Assault Points (Ilrusi Atoll): 0
Beastman Seals (stored): 520
Kindred Seals (stored): 39
Kindred Crests (stored): 277
High Kindred Crests (stored): 543
Sacred Kindred Crests (stored): 749
Bayld: 277286
Mweya Plasm Corpuscles: 2156450
Escha Silt: 2651679
Escha Beads: 46314
Potpourri: 0
Domain Points: 940
Mog Segments: 33155
Gallimaufry: 25981


Job Points
MASTER RDM2100
MASTER SAM2100
MASTER SCH2100
MASTER DRK2100
MASTER WAR2100
MASTER COR2100
MASTER RUN2100
MASTER DRG2100
MASTER NIN2100
MNK2
BLU1000
Master Level
Warrior
11
Red Mage
31
Dark Knight
27
Samurai
20
Ninja
13
Dragoon
21
Scholar
24
Rune Fencer
18
Total ML points
8,841,154 of 650,982,794 Available
Trusts (58)
Lilisette II
Koru-Moru
Arciela II
Shantotto II
Naji
Lhe Lhangavo
Mayakov
Adelheid
Brygid
Halver
Joachim
Kupofried
Semih Lafihna
Abquhbah
August
Nashmeira
Cherukiki
Morimar
Najelith
Moogle
Tenzen
Star Sibyl
Cid
Areuhat
Ajido-Marujido
Rughadjeen
Lehko Habhoka
Zeid II
Nashmeira II
Tenzen II
Iroha II
Uka Totlihn
Abenzio
Kupipi
Ayame
Lion
Qultada
Amchuchu
Mildaurion
Valaineral
Naja Salaheem
Ulmia
Selh'teus
Kuyin Hathdenna
Balamor
Rosulatia
King of Hearts
Luzaf
Aldo
Fablinix
Iroha
Karaha-Baruha
Matsui-P
Rongelouts
Ingrid
Lion II
Prishe II
Mihli Aliapoh

Coalition Ranks
Pioneer Petitioner
Courier Probationer
Inventor Probationer
Mummer Petitioner
Peacekeeper Petitioner
Scout Petitioner

Escha Vorseal
HP/MP+ 8
Acc/R.Acc/Eva+ 8
Def+ 8
Atk/R.Atk+ 9
M.Acc/M.Eva+ 9
M.Def+ 9
M.Atk+ 9
DEX/AGI+ 10
STR/VIT+ 10
INT/MND/CHR+ 10
Occ. Nullifies Damage 3
Killer Effects+ 3
Damage Taken 3
Spoils+ 11
Rare Enemy+ 9
Luck+ 11
Regen+ 3
Refresh+ 3
Accuracy++ 3

tldr& Kick ass Taru with R15 REMA including Cala/Chango/Doji/Heishi/Trishuila. Croc Mors RDM, Musa SCH with nice enhancing/nuke sets. Su5+2 neck 6 @r25 Reforged +2/+3 Sortie JSE Earrings. Good ML progress on jobs as well Full Malignance Unity+1, Domain Invasion, 5x Regal, lots of Ambuscade+JSE capes. Great foundationals like dring fotia neck/belt Fucho-no-obi. Shines like Crepsuculae Knife C Plaug, HJarrandi

$850