Galka 22x 99 Doji/Aegis/Brav/Ghorn/Mandau/Rag Su5+2 refrg+3 Ashera regal malig + mule
OO Info: ALL INFO YES
Server Xfer is Available
SE Q&A YES!
Missions
Mercenary Rank: Mercenary Lance Corporal
San d'Oria Rank: Complete!
Rise of the Zilart: Complete!
Chains of Promathia: Complete!
Treasures of Aht Urhgan: Complete!
Wings of the Goddess: Complete!
Addon: A Crystalline Prophecy: Gatherer of Light (I)
Addon: A Moogle Kupo d'Etat: Welcome! To My Decrepit Domicile
Addon: A Shantotto Ascension: That Which Curdles Blood
Abyssea: Complete!
Seekers of Adoulin: Complete!
Completed Unique Coalitions (Adoulin): 15
Rhapsodies of Vana'diel: Complete!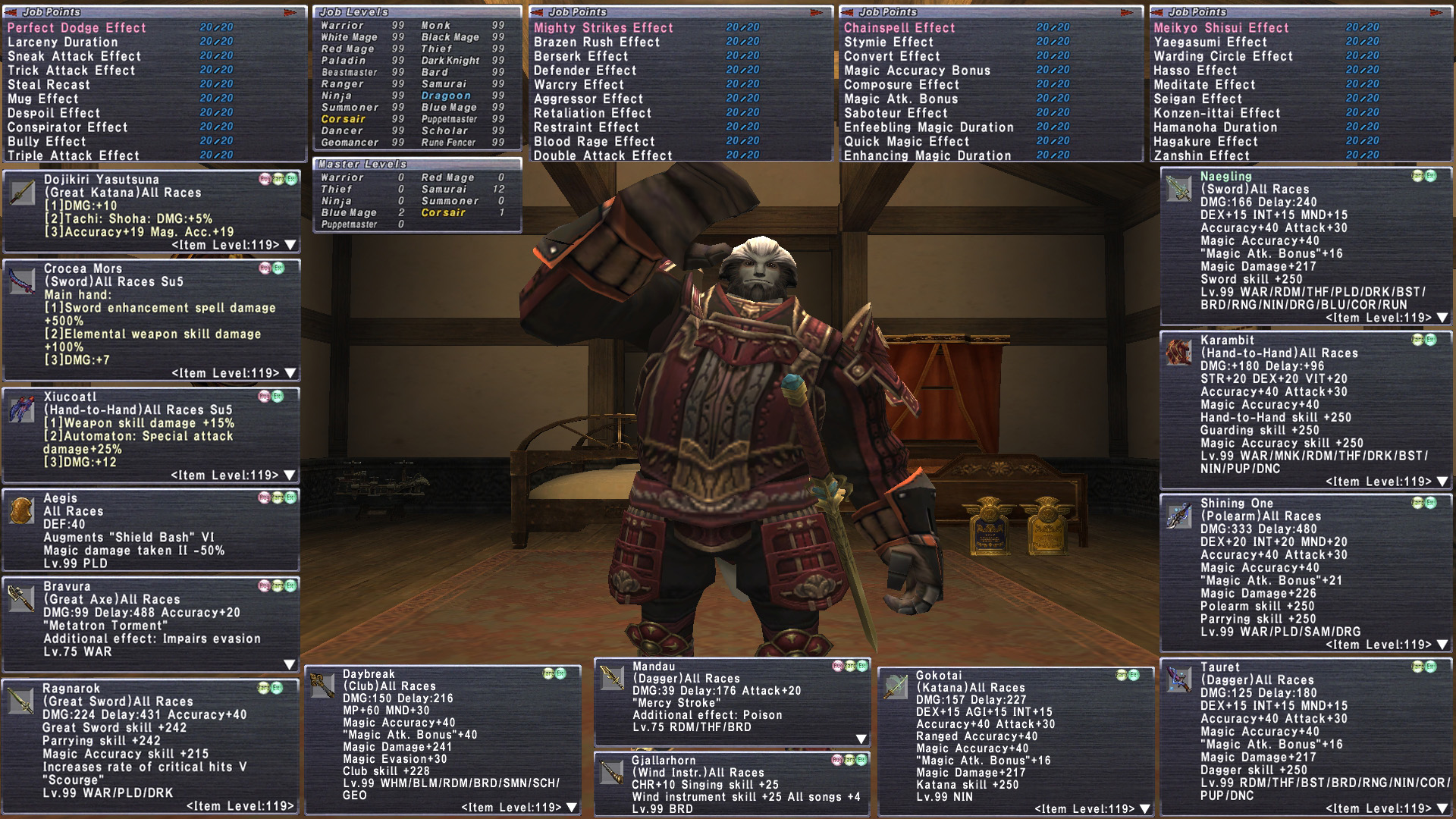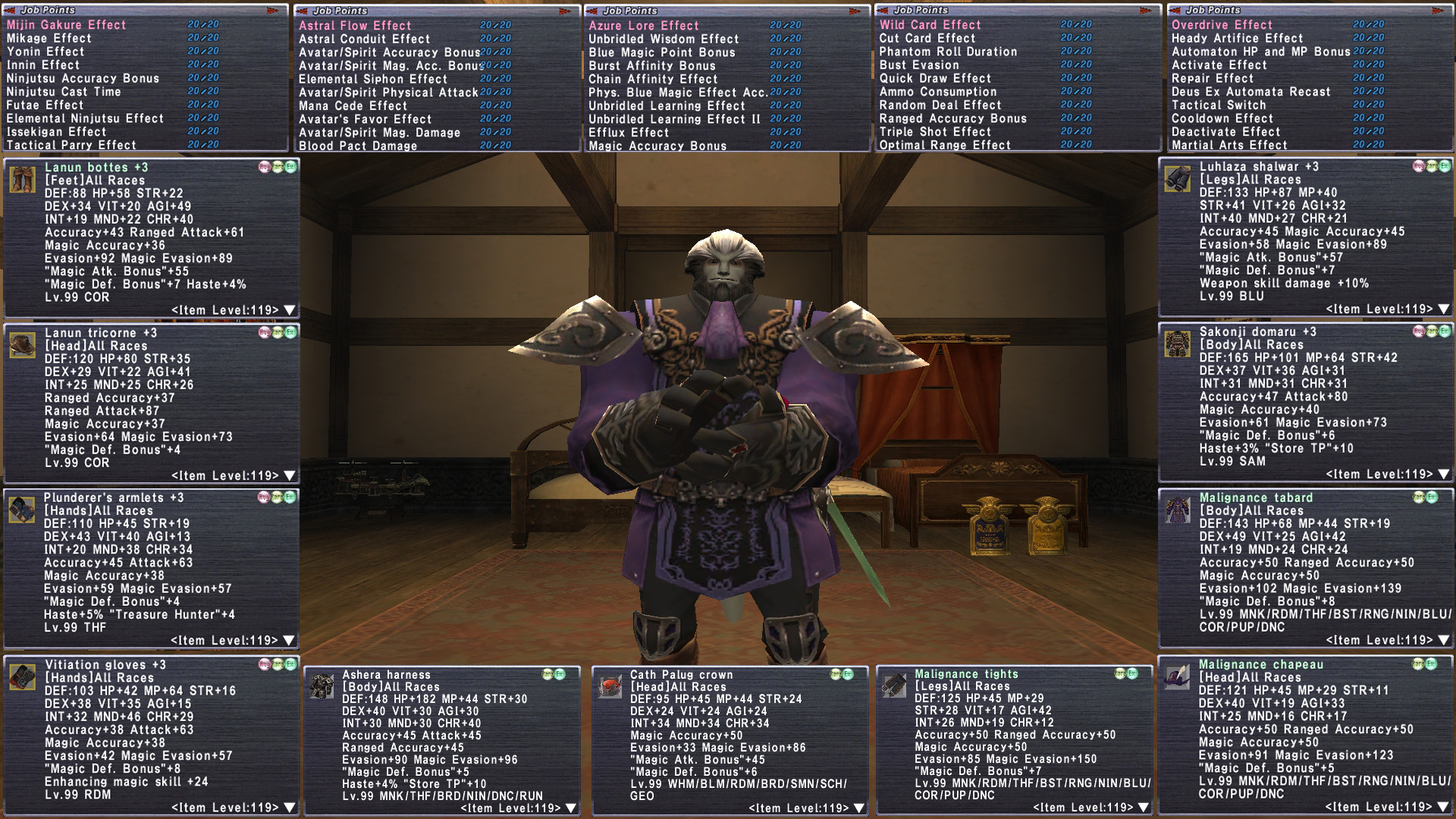 Value in misc. 500k+ in sellables

Relic/Emp/Mythic/Aeonic
Aegis 99
Bravura 75
Dojikiri Yasutsuna i119 (Path: A) Rank 11
Gjallarhorn 99
Mandau 75 (Dmg:+1)
Ragnarok i119

Su5+1/2 Weapons Necks Volte
Crocea Mors i119 (Path: C) Rank 25
Sam. Nodowa +2 99 (Path: A) Rank 25
Volte Mittens i119
Xiucoatl i119 (Path: C) Rank 25

119 Relic +2/+3
Lanun Bottes +3 i119 (Enhances "Wild Card" Effect)
Lanun Tricorne +3 i119 (Enhances "Winning Streak" Effect)
Luhlaza Shalwar +3 i119 (Enhances "Assimilation" Effect)
Plun. Armlets +3 i119 (Enhances "Perfect Dodge" Effect)
Sakonji Domaru +3 i119 (Enhances "Overwhelm" Effect)
Viti. Gloves +3 i119 (Enhancing Magic Duration)

119 Artifact +2/+3
Wakido Haidate +2 i119

Omen
Adad Amulet 99
Anu Torque 99
Ashera Harness i119
Enki Strap 99
Knobkierrie 99
Lugalbanda Earring 99
Niqmaddu Ring 99
Nusku Shield i119
(3) P. Blm Card
(9) P. Blu Card
(2) P. Bst Card
(13) P. Cor Card
(3) P. Drg Card
P. Drk Card
P. Geo Card
(2) P. Nin Card
P. Pup Card
(16) P. Rdm Card
P. Rng Card
(2) P. Run Card
(38) P. Sam Card
P. Sch Card
P. Smn Card
(5) P. Thf Card
(3) P. War Card
P. Whm Card
Regal Gem 99
Regal Necklace 99
Udug Jacket i119
Utu Grip 99

Escha Zi'Tah/Ru'Aun/Reisenjima
Bewegt Cuffs i119
Chironic Hose i119 (Accuracy+20, "Mag.Atk.Bns."+15, "Refresh"+1, Accuracy+9 Attack+9)
Clotharius Torque 99
Compensator i119
Deathbane i119
Decimus Torque 99
Dedition Earring 99
Eschan Stone 99
Espiritus i119 (Enmity-6, Pet: "Mag.Atk.Bns."+30, Pet: Damage Taken -4%)
Evans Earring 99
Expeditious Pinion 99
Genmei Shield i119
Gishdubar Sash 99
Gyve Doublet i119
Henic Torque 99
(2) Herculean Boots i119 (Attack+24, "Triple Atk."+4, Dex+5)
(2) Herculean Boots i119 (Weapon Skill Damage +3%, Str+13, Accuracy+4, Attack+10)
Hetairoi Ring 99
Hydrocera 99
Infused Earring 99
Inspirited Boots i119
Iris i119
Kobo Obi 99
Lucidity Sash 99
Melic Torque 99
Mendi. Earring 99
(2) Merlinic Dastanas i119
(2) Merlinic Dastanas i119 (Pet: Mag. Acc.+19, Blood Pact Dmg.+10, Pet: "Mag.Atk.Bns."+6)
Merlinic Jubbah i119
Merlinic Shalwar i119
Naga Samue i119
Navon Crackows i119
Nibiru Sickle i119
Nixxer i119 (Dmg:+16, Str+14, Vit+14)
Nzingha Cuirass i119
Perimede Cape 99
Petrov Ring 99
Psycloth Lappas i119
Psycloth Manillas i119
Purity Ring 99
(3) Rawhide Mask i119
Reiki Yotai 99
Reikiko i119
Rufescent Ring 99
Sangoma i119
Scintillating Cape 99
Shijo i119 (Dex+15, "Dual Wield"+5, "Triple Atk."+2)
Skaoi Boots i119
Skinflayer i119
Steinthor i119
Telos Earring 99
Uac Jerkin i119
Valorous Greaves i119 (Pet: "Dbl.Atk."+2 Pet: Crit.Hit Rate +2, Mag. Acc.+19, Weapon Skill Damage +6%, Accuracy+6 Attack+6, Mag. Acc.+13 "Mag.Atk.Bns."+13)
Valorous Mitts i119 (Accuracy+22, Weapon Skill Damage +5%, Str+5, Attack+9)
Vanya Hood i119
Vanya Robe i119
Vatic Byrnie i119
Welkin Crown i119
Ynglinga Sallet i119

119 Abjuration Gear
Ab.Abjuration: Ft.
Ab.Abjuration: Hn.
Ab.Abjuration: Lg.
Adhe. Gamashes +1 i119
Adhemar Bonnet +1 i119 (Dex+12, Agi+12, Accuracy+20)
Adhemar Jacket +1 i119 (Dex+12, Agi+12, Accuracy+20)
Adhemar Wrist. +1 i119 (Str+12, Dex+12, Attack+20)
Amalric Gages +1 i119 (Int+12, Mag. Acc.+20, "Mag.Atk.Bns."+20)
Amalric Nails +1 i119 (Mag. Acc.+20, "Mag.Atk.Bns."+20, "Conserve Mp"+7)
Ar.Abjuration: Bd.
Ar.Abjuration: Lg.
Carmine Cuisses +1 i119 (Accuracy+12, Dex+12, Mnd+20)
Carmine Mask +1 i119 (Accuracy+12, Dex+12, Mnd+20)
Cr.Abjuration: Hn.
Cy.Abjuration: Ft.
Cy.Abjuration: Hn.
Gr.Abjuration: Ft.
Gr.Abjuration: Hd.
Gr.Abjuration: Hn.
Jo.Abjuration: Hn.
Ryuo Hakama +1 i119 (Accuracy+25, "Store Tp"+5, Phys. Dmg. Taken -4)
Ryuo Sune-Ate +1 i119 (Hp+65, "Store Tp"+5, "Subtle Blow"+8)
Souv. Cuirass +1 i119 (Hp+105, Enmity+9, Potency of "Cure" Effect Received +15%)
Souv. Diechlings +1 i119 (Hp+105, Enmity+9, Potency of "Cure" Effect Received +15%)
Souv. Handsch. +1 i119 (Hp+65, Shield Skill +15, Phys. Dmg. Taken -4)
Souv. Schaller +1 i119 (Hp+105, Vit+12, Phys. Dmg. Taken -4)
Souveran Schuhs +1 i119 (Hp+65, Attack+25, Magic Dmg. Taken -4)
Tr.Abjuration: Lg.
Va.Abjuration: Ft.
Ve.Abjuration: Lg.

Ambuscade
(2) A. Voucher: Back
Aya. Cosciales +1 i119
Aya. Gambieras +1 i119
Aya. Manopolas +1 i119
Aya. Zucchetto +1 i119
Ayanmo Corazza +2 i119
Ayanmo Ring 99
Camulus's Mantle 99 (Str+20, Accuracy+20 Attack+20, Weapon Skill Damage +10%, Mag. Evasion+15)
Cichol's Mantle 99 (Dex+20, Accuracy+20 Attack+20, "Dbl.Atk."+10)
Flam. Gambieras +2 i119
Flam. Manopolas +2 i119
Flam. Zucchetto +2 i119
Flamma Dirs +2 i119
Flamma Korazin +2 i119
Flamma Ring 99
Gokotai i119
Hiza. Haramaki +1 i119
Hiza. Hizayoroi +1 i119
Hiza. Sune-Ate +1 i119
Hizamaru Kote +1 i119
Hizamaru Ring 99
Hizamaru Somen +1 i119
Jhakri Cuffs +1 i119
Jhakri Robe +2 i119
Kaja Chopper i119
Karambit i119
Meg. Chausses +1 i119
Meg. Gloves +2 i119
Mummu Jacket +2 i119
Naegling i119
Rosmerta's Cape 99 (Dex+20, Accuracy+20 Attack+20, Accuracy+9, "Store Tp"+10, Damage Taken-5%)
Segomo's Mantle 99 (Str+20, Accuracy+20 Attack+20, Str+5, "Dbl.Atk."+10, Damage Taken-5%)
Shining One i119
(2) Smertrios's Mantle 99 (Str+20, Accuracy+20 Attack+20, Accuracy+5, Weapon Skill Damage +10%)
(2) Smertrios's Mantle 99 (Str+20, Accuracy+20 Attack+20, Accuracy+4, "Dbl.Atk."+10)
Sulev. Gauntlets +1 i119
Sulev. Leggings +2 i119
Sulevi. Cuisses +1 i119
Sulevia's Mask +1 i119
Sulevia's Plate. +2 i119
Sulevia's Ring 99
Tali'ah Manteel +2 i119
Tauret i119
Toutatis's Cape 99 (Dex+20, Accuracy+20 Attack+20, "Dbl.Atk."+10)

Reforged Artifact/Relic/Emp
Assim. Bazu. +1 i119
Brioso Cannions 109
Brioso Just. 109
Brioso Slippers 109
Chasseur's Gants +1 i119
Hashi. Bazubands 109
Hashishin Basmak 109
Hashishin Kavuk 109
Hashishin Mintan +1 i119
Hashishin Tayt 109
Igno. Cuirass +1 i119
Igno. Sollerets 109
Ignominy Burgeonet 109
Kasuga Domaru +1 i119
Leth. Houseaux +1 i119
Mrg. Bazubands +2 90 (Enhances "Azure Lore" Effect)
Plun. Culottes 109
Rev. Breeches 109
Reverence Surcoat 109
Skulk. Poulaines 109
Viti. Chapeau +1 i119 (Enfeebling Magic Duration, Magic Accuracy)
Viti. Tabard +1 i119 (Enhances "Chainspell" Effect)
Wakido Domaru 109
Wakido Kabuto 109
Wakido Kote +1 i119
Wakido Sune-Ate 109

Domain Invasion
Mimir Earring 99
Odr Earring 99
Thrud Earring 99
Tuisto Earring 99
Voluspa Knife i119

Sinnister Reign
Acclimator i119
Achiuchikapu i119
Avatara Slops i119
Befouled Crown i119
Count's Garb i119
Etiolation Earring 99
Focal Orb 99
Loyalist Sabatons i119 (Str+5, Attack+4, Phys. Dmg. Taken -1%)
Rhadamanthus i119
Soulcleaver i119
Supay Weskit i119

Unity
Ababinili i119
Assid. Pants +1 i119
Cohort Cloak +1 i119 (Path: A)
Gazu Bracelets +1 i119
Imp. Wing Hairpin i119
Jugo Kukri i119
Kentarch Belt 99
Lugra Cloak i119
Lugra Earring +1 99 (Path: A)
Mephitas's Ring 99
Metamorph Ring 99
Nourish. Earring +1 99
Odnowa Earring 99
Odnowa Earring +1 99
Perun i119
Pukulatmuj i119
Pukulatmuj +1 i119
Sailfi Belt +1 99 (Path: A)
Ternion Dagger +1 i119
Triska Scythe i119
Unmoving Collar +1 99

Other Noteable R/EX
Adoulin's Refuge +1 99
Aern Axe
Aern Dagger Ii
Aern Spear Ii
Aern Staff Ii
Aern Sword Ii
Brutal Earring 75
C. Palug Crown i119
C. Palug Earring 99
C. Palug Stone 99
Cessance Earring 99
Chozor. Coselete i119
Daybreak i119
Defending Ring 70
Denouements i119
Enif Cosciales 99
Enif Zucchetto 99
Epona's Ring 89
Ethereal Earring 72
Fotia Belt 87
Freke Ring 99
Fucho-No-Obi 99
Gere Ring 99
Gifted Earring 88
Goujian
Gridarvor i119 (Pet: Accuracy+70, Pet: Attack+70, Pet: "Dbl. Atk."+15)
Hecate's Earring 90
Hjarrandi Breast. i119
Hjarrandi Helm i119
Ischemia Chasu. i119
Levin
Loquac. Earring 75
Luzaf's Ring 40
Malignance Chapeau i119
Malignance Pole i119
Malignance Tabard i119
Malignance Tights i119
Moonshade Earring 90 (Accuracy+4, Tp Bonus +250)
Murasamemaru 95
Per. Lucky Egg 99
Rajas Ring 30
Sandung i119 (Accuracy+50, Crit. Hit Rate+5%, "Triple Atk."+3)
Siegel Sash 90
Suppanomimi 72
Thibron 99 (Tp Bonus +1000)
Tokko Rod i119
Trux Earring 99
Ulthalam's Ring 50
Vitiation Sword i119 (Path: C)

WKR/Delve
Acro Breeches i119
Asperity Necklace 99
Beeline Ring 99
Bladeborn Earring 99
Canny Cape 99 (Dex+3, Agi+3, "Dual Wield"+4)
Cornflower Cape 99
Ghostfyre Cape 99
Kerehcatl i119
Lifestorm Earring 99
Ocachi Gorget 99
Quauhpilli Helm 106
Steelflash Earring 99
Taeon Boots i119
Taeon Chapeau i119 (Pet: Attack+19 Pet: Rng.Atk.+19, Pet: "Dbl. Atk."+3)
Taeon Gloves i119 (Pet: Accuracy+20 Pet: Rng. Acc.+20, Pet: "Dbl. Atk."+5, Pet: Damage Taken -4%)
Taeon Tabard i119 (Pet: Accuracy+23 Pet: Rng. Acc.+23, Pet: "Dbl. Atk."+3, Pet: Damage Taken -4%)
Taeon Tights i119 (Pet: Accuracy+20 Pet: Rng. Acc.+20, Pet: "Dbl. Atk."+5, Pet: Damage Taken -1%)
Telchine Cap i119
Telchine Gloves i119 ("Cure" Potency +7%, Int+7 Mnd+7)
Telchine Pigaches i119
Weard Mantle 99 (Vit+3, Dex+1, Enmity+4, Phalanx +5)
Yokaze Mantle 99
Zoran's Belt 99

Crafting
Chef's Hat
Orvail Ring 99
Tanner's Torque 70

Base Artifact/Relic/Emp
Abs. Sollerets -1
Abyss Burgeonet 75
Abyss Cuirass 74
Abyss Sollerets 71
Ad. Mnchtte. +1 87
Agoge Cuisses 109
Aoidos' Belt 80
Aoidos' Calot +2 85
Aoidos' Matinee 84
Argute Gown 74
Argute Loafers 72
Argute M.Board 75
Argute Pants 73
Assassin's Bonnet 71
Assassin's Cape 70
Assassin's Culottes 74
Assassin's Vest 72
Bale Choker 84
Bale Flanchard +2 83
Bale Gauntlets +1 87
Bale Sollerets 81
Bale Sollerets +1 81
Bard's Cape 70
Bard's Jstcorps 74
Bard's Roundlet 72
Bard's Slippers 71
Beast Gaiters 52
Beast Gloves 54
Beast Helm 56
Brd. Jstcorps +2 90
Brd. Slippers +2 90
Caller's Earring 90
Caller's Pendant 84
Chaos Gauntlets 54
Charis Bangles +1 87
Charis Tiara +2 85
Choral Cuffs 60
Cleric's Bliaut 74
Cleric's Duckbills 71
Cleric's Mitts 75
Comm. Trews 71
Commodore Belt 70
Commodore Frac 74
Commodore Gants 72
Creed Collar 80
Drachen Armet 60
Drachen Brais 52
Drachen Fng. Gnt. 56
Drachen Greaves 54
Drachen Mail 58
Duelist's Boots 71
Duelist's Chapeau 75
Duelist's Tabard 74
Etoile Bangles 71
Etoile Casaque 75
Etoile Tiara 72
Etoile Tights 74
Etoile Toe Shoes 73
Ferine Cabasset +1 85
Ferine Gausape 89
Fighter's Calligae 52
Fighter's Mufflers 54
Gallant Coronet 56
Gallant Gauntlets 54
Gallant Leggings 52
Goetia Petasos +1 85
Hunter's Beret 54
Hunter's Braccae 56
Hunter's Bracers 52
Hunter's Jerkin 58
Hunter's Socks 60
Kog. Tekko +2 90
Koga Chainmail 74
Koga Hakama 71
Koga Tekko 75
Lancer's Mezail +1 85
Lncr. Cuissots +2 83
Lncr. Plackart +2 89
Lncr. Vmbrc. +2 87
Magus Charuqs 52
Magus Keffiyeh 60
Magus Shalwar 54
Mavi Tathlum 84
Melee Crown 75
Melee Cyclas 74
Melee Hose 72
Mirage Charuqs +2 90 (Enhances "Diffusion" Effect)
Mirage Jubbah +2 90 (Enhances "Enchainment" Effect)
Mirage Keffiyeh +2 90 (Enhances "Convergence" Effect)
Monster Gaiters 74
Monster Gloves 75
Monster Helm 71
Mst. Gloves +2 90
Mst. Jackcoat +2 90
Mst. Trousers +2 90
Navarch's Bottes 81
Navarch's Frac 89
Ninja Tekko 60
Orison Duckbills 81
Pantin Churidars 71
Pantin Dastanas 73
Pantin Tobe 74
Raid. Bonnet +2 85
Ravager's Calligae 81
Ravager's Gorget 80
Ravager's Mask 85
Saotome Kabuto 75
Saotome Kote 73
Scout's Bracers 71
Scout's Socks 74
Smn. Doublet +1 75
Sorcerer's Coat 74
Sorcerer's Gloves 72
Sorcerer's Sabots 71
Sorcerer's Tonban 73
Summoner's Dblt. 74
Summoner's Horn 75
Summoner's Spats 71
Tantra Crown +1 85
Tantra Gaiters 81
Tarutaru Sash 70 ("Treasure Hunter"+1, Hp+8, Int+2)
Unkai Haidate +2 83
Unkai Kabuto +2 85
Unkai Sugemino 84
Valor Breeches 74
Vlr. Leggings -1
Vlr. Surcoat -1
War. Calligae -1
War. Mufflers +2 90
Warrior's Cuisses 74
Warrior's Lorica 75
Warrior's Mask 73
Wyrm Greaves 72
Wyrm Mail 74

Misc.
(23) 2lf. Chloris Bud
A. Tok.: Body +1
A. Tok.: Feet +1
A. Tok.: Hands +1
A. Tok.: Head +1
A. Token: Feet
A. Token: Hands
A. Token: Head
A. Token: Legs
A. Vou.: Feet +1
A. Vou.: Head +1
A. Vou.: Legs +1
(2) Abdhaljs Fiber
(3) Abdhaljs Metal
(11) Abdhaljs Seal
Atst. of Force
Atst. of Right.
Brd. Cuffs +2 90
(2) Bukhis's Wing
(51) Carabosse's Gem
(7) Cirein. Lantern
(6) Colorless Soul
(10) Dragua's Scale
Fu's Scale
Gin's Scale
(2) Glavoid Shell
(6) Helm of Briareus
(36) Iron Plate
(3) Kei's Scale
Kin's Scale
Kupon A-Emi
(2) Kupon A-Lum
(21) Kupon I-Seal
(3) Kyou's Scale
(3) Maat's Mix
(2) Mog Pell (Red)
(2) Orthrus's Claw
(2) Sedna's Tusk
(2) Sobek's Skin

Key Items
[Spoiler]
?Bomb Companion
?Buffalo Companion
?Iron Giant Companion
?Ixion Companion
?Raptor Companion
?Red Crab Companion
?Tiger Companion
?Xzomit Companion
''20,000 Yalms Under the Sea''
''a Farewell To Freshwater''
Abyssite of Discernment
Abyssite of the Cosmos
Adoulinian Charter Permit
''adoulin's Topiary Treasures''
Adventurer's Certificate
Aged Booming Naakual Crest
Aged Firebrand Naakual Crest
Aged Flashfrost Naakual Crest
Aged Ligneous Naakual Crest
Aged Matriarch Naakual Crest
Aged Riptide Naakual Crest
Aged Undying Naakual Crest
Airship Pass
Airship Pass For Kazham
Algor Resilience
''all the Ways To Skin A Carp''
Altepa Gate Crystal
Amber Stratum Abyssite
Ambuscade Primer Volume One
Ambuscade Primer Volume Two
Ancient Tablet Fragment
Angelica's Autograph
Angrboda's Necklace
Anti-Glaciation Gear
Apple Green Seal
''arboreal Abracadabra''
Archducal Audience Permit
Arciela's Skirt
Ashen Stratum Abyssite
Ashrakk's Blood Sigil
Asida's Gel
Aster Yantric Planchette
Astral Compass
Atma of Allure
Atma of Alpha and Omega
Atma of Aquatic Ardor
Atma of Blighted Breath
Atma of Calamity
Atma of Dunes
Atma of Entwined Serpents
Atma of Illusions
Atma of Purgatory
Atma of the Ace Angler
Atma of the Adamantine
Atma of the Apocalypse
Atma of the Ascending One
Atma of the Banisher
Atma of the Beast King
Atma of the Cosmos
Atma of the Crimson Scale
Atma of the Crushing Cudgel
Atma of the Deep Devourer
Atma of the Dragon Rider
Atma of the Earth Wyrm
Atma of the Frozen Fetters
Atma of the Gnarled Horn
Atma of the Harvester
Atma of the Heavens
Atma of the Holy Mountain
Atma of the Impaler
Atma of the Impenetrable
Atma of the Impregnable Tower
Atma of the Kirin
Atma of the Lion
Atma of the Lone Wolf
Atma of the Merciless Matriarch
Atma of the Minikin Monstrosity
Atma of the Murky Miasma
Atma of the Noxious Bloom
Atma of the Omnipotent
Atma of the Persistent Predator
Atma of the Plaguebringer
Atma of the Razed Ruins
Atma of the Sanguine Scythe
Atma of the Scarlet Wing
Atma of the Scorpion Queen
Atma of the Shrieking One
Atma of the Smiting Blow
Atma of the Stormbird
Atma of the Stout Arm
Atma of the Stronghold
Atma of the Sundering Slash
Atma of the Voracious Violet
Atma of Vicissitude
Atmacite of Affinity
Atmacite of Aplomb
Atmacite of Coercion
Atmacite of Dark Designs
Atmacite of Deluges
Atmacite of Destruction
Atmacite of Devotion
Atmacite of Discipline
Atmacite of Eminence
Atmacite of Enticement
Atmacite of Exhortation
Atmacite of Glaciers
Atmacite of Incursion
Atmacite of Latitude
Atmacite of Onslaught
Atmacite of Persistence
Atmacite of Skyblaze
Atmacite of Temperance
Atmacite of the Depths
Atmacite of the Forager
Atmacite of the Shrewd
Atmacite of the Valiant
Azure Abyssite of Celerity
Azure Abyssite of Lenity
Baby Rabbit Memento
Ballista Band
Ballista Earring
Ballista Instaport
Ballista License
Barge Multi-Ticket
Bastok Trust Permit
Battle Trophy: 1st Echelon
Battle Trophy: 2nd Echelon
Battle Trophy: 3rd Echelon
Battle Trophy: 4th Echelon
Battle Trophy: 5th Echelon
Beguiling Petrifact
Bia's Glove
''black Fish of the Family''
Black Matinee Necklace
Bloodstained Bugard Fang
Blue-Labeled Crate
Boarding Permit
Bowl of Bland Goblin Salad
Brand of Dawn
Brand of the Flameserpent
Brand of the Galeserpent
Brand of the Skyserpent
Brand of the Springserpent
Brand of the Stoneserpent
Brand of Twilight
Brass Ribbon of Service ??
Brenner Band
Brenner Shovel
Brier-Proof Net
Bronze Ribbon of Service ?
Brown Abyssite
Bundle of Half-Inscribed Scrolls
Bush Chocograph
Calor Resilience
''card Jailer Teodor''
Carrier Pigeon Letter
Cast Metal Plate
Celennia Memorial Library Card
Censer of Animus
Cerise Seal
Cerulean Crystal
Chipped Sandworm Tooth
Chocobo License
Chunk of Smoked Goblin Grub
Clear Abyssite
''climbing''
Clipped Bird Wing
Colorful Demilune Abyssite
Concordoll
Coruscant Rosary
Crab Caller
Crest of Davoi
Crimson Abyssite of Destiny
Crimson Orb
Crimson Stratum Abyssite Iv
Cunnast's Talon
Data Analyzer and Logger Ex
Deed Voucher +1: Chest
Deed Voucher +1: Feet
Deed Voucher +1: Hands
Deed Voucher +1: Head
Deed Voucher +1: Legs
Deed Voucher +2: Feet
Deed Voucher +2: Hands
Deed Voucher +2: Head
Dem Gate Crystal
''demolishing''
Denary Nazar
Dented Chariot Shield
Dented Gigas Shield
Detached Stinger
Dhokmak's Blood Sigil
Dimensional Compass
Distorted Fragment
Dkhaaya's Research Journal
''dredging's No Drudgery''
Dusky Periapt of Concord
Dusky Periapt of Frontiers
Dusky Periapt of Glory
Dusky Periapt of Intensity
Dusky Periapt of Readiness
Dusky Periapt of Vigilance
Dynamis - Buburimu Sliver
Dynamis - Qufim Sliver
Dynamis - Tavnazia Sliver
Dynamis - Valkurm Sliver
Eastern Adoulin Patrol Route
''elite Training: Chapter 7''
Elvaan Mask of Light
Emerald Abyssite of Acumen
Emerald Abyssite of Fortune
Empty Barrel
Empty Hourglass
Emputa's Wing
Eschan Cellar
Eschan Nef
Eschan Urn
Fabricated Pearl of Ashen Wings
Fabricated Pearl of Biting Winds
Fabricated Pearl of Impurity
Fabricated Pearl of Miasma
Ferrodon's Scale
Fetid Rafflesia Stalk
''fields and Fertilizing''
Filled Memory Gem
First Forged Envelope
Flashfrost Naakual Paragon
''fragmenting''
Fragrant Treant Petal
Gang Whereabouts Note
Geomagnetron
Gil Repository
''give My Regards To Reodoan''
Glittering Pixie Choker
Gnarled Lizard Nail
Golden Wing
Gps Crystal
''grandiloquent Groves''
Green Sentinel Badge
Grimoire
Grimoire Page
Gulltop's Shell
Habitual Behavior Barometer
Heart of the Bushin
Holla Gate Crystal
Hyacinth Stratum Abyssite Ii
Hydra Corps Command Scepter
Hydra Corps Eyeglass
Hydra Corps Insignia
Hydra Corps Lantern
Hydra Corps Tactical Map
Image Recorder
Imperial Army I.D. Tag
Imperial Missive
Impure Alizarin Yggzi
Impure Celadon Yggzi
Impure Phlox Yggzi
Impure Russet Yggzi
Impure Zaffre Yggzi
Indigo Abyssite of Sojourn
Indigo Stratum Abyssite Iv
Inimitable Samurai's Shard
Inky Black Yagudo Feather
Insulator Tablet
Ivory Abyssite of Acumen
Ivory Abyssite of Avarice
Ivory Abyssite of Destiny
Ivory Abyssite of Expertise
Ivory Abyssite of Fortune
Ivory Abyssite of Guerdon
Ivory Abyssite of Kismet
Ivory Abyssite of Perspicacity
Ivory Abyssite of Prosperity
Ivory Abyssite of the Reaper
Ivory Wing Talisman
Jade Abyssite of Expertise
Jade Abyssite of Merit
Jade Stratum Abyssite Iv
Jagged Apkallu Beak
Job Breaker
Job Gesture: Bard
Job Gesture: Beastmaster
Job Gesture: Black Mage
Job Gesture: Blue Mage
Job Gesture: Corsair
Job Gesture: Dancer
Job Gesture: Dark Knight
Job Gesture: Dragoon
Job Gesture: Geomancer
Job Gesture: Monk
Job Gesture: Ninja
Job Gesture: Paladin
Job Gesture: Puppetmaster
Job Gesture: Ranger
Job Gesture: Red Mage
Job Gesture: Rune Fencer
Job Gesture: Samurai
Job Gesture: Scholar
Job Gesture: Summoner
Job Gesture: Thief
Job Gesture: Warrior
Job Gesture: White Mage
Jugner Gate Crystal
Khon's Scepter
Khun's Crown
Knight's Confession
Lamb Memento
Lc Wildcat Badge
Legion Tome Page: Maximus
Lerene's Paten
Letter To Angelica
Lightsworm
Ligneous Naakual Paragon
Limit Breaker
''logging''
Lunar Abyssite
Luopan
(12) M. Beetle Saliva
Magian Trial Log
Magicked Astrolabe
Magma Mitigation Set
Malformed Flute
Malodorous Marid Fur
Manaclipper Multi-Ticket
Map of Abdh. Isle-Purgonorgo
Map of Abyssea - Konschtat
Map of Abyssea - Misareaux
Map of Abyssea - Uleguerand
Map of Dio. Abdhaljs-Ghelsba
Marble Bridge Coaster
Mark of the Einherjar
Mark of Zahak
Ma's Lance
Master Breaker
Matriarch Naakual Paragon
Mea Gate Crystal
Memorandoll
Message From Yoyoroon
Met's Ring
Miasma Filter
Military Scrip
Mithra Mask of Light
Mog Kupon A-Emi
Mog Kupon A-Lum
Mog Kupon W-Pulse
Mog Kupon W-Srw
Moghancement: Bounty
Molted Peiste Skin
Moss-Covered Shard
Mucid Worm Segment
''my First Furrow''
Mystical Canteen
''mythril Marathon Quarterly''
Naphula's Bracelet
Neutral Periapt of Frontiers
Nonary Nazar
Octonary Nazar
Old Ring
Overgrown Mandragora Flower
Paintbrush of Souls
Pair of Fuzzy Earmuffs
Pair of Velkk Gloves
Paresis Resilience
Pashhow Gate Crystal
Peirithoos's Hoof
Peppe-Aleppe's Superlative Tonic
Periapt of Clarity
Periapt of Emergence
Periapt of Guidance
Periapt of Percipience
Periapt of Recompense
Petra Shovel
Phoenix's Blessing
Piece of Inviolable Bark
Pioneer's Badge
Pouch of Weighted Stones
Prairie Chocograph
Prismatic Fragment
Prismatic Hourglass
Prototype Attuner
Prototype Pearl of Ashen Wings
Pso'xja Pass
''pulverizing''
Pure White Feather
Quaternary Nazar
Quinary Nazar
Rabbit Memento
Reaper
Red Card
Reliquiarium Key
Restrainment Resilience
Resurrection Retardant Axe
Revetaur's Horn
''rhapsody In Azure''
''rhapsody In Crimson''
''rhapsody In Emerald''
''rhapsody In Fuchsia''
''rhapsody In Mauve''
''rhapsody In Ochre''
''rhapsody In Puce''
''rhapsody In Umber''
''rhapsody In White''
Riptide Naakual Paragon
Rosulatia's Pome
Ruea's Stone
Runic Disc
Runic Key
Sajj'aka's Protective Ward
San D'oria Trust Permit
Sapphire Abyssite of Furtherance
Sava Savanovic's Cape
Scarlet Abyssite of Lenity
Scarlet Abyssite of Perspicacity
Scarlet Abyssite of Sojourn
''scintillating Rhapsody''
Second Forged Envelope
Secondary Nazar
Seductive Petrifact
Semi-Pure Alizarin Yggzi
Semi-Pure Aster Yggzi
Semi-Pure Celadon Yggzi
Semi-Pure Phlox Yggzi
Semi-Pure Russet Yggzi
Semi-Pure Zaffre Yggzi
Senary Nazar
Sepulcher Ensign
Shaft Gate Operating Dial
Shard of Apathy
Shard of Arrogance
Shard of Cowardice
Shard of Envy
Shard of Rage
Shattered Iron Giant Chain
Sheet of Al'taieu Tunes
Sheet of Conflict Tunes
Sheet of Jeuno Tunes
Sheet of W. Adoulinian Tunes
Shimmering Invitation
Shiny Ra'kaznarian Plate
Silver Astrarium
Silver Bell
Silvery Plate
Sodden Sandworm Husk
Song of Hope
''sow?Your?Seed!''
Squire Certificate
Story of A Happy Chocobo
''susuroon's Biiig Catch''
Synergy Crucible
''take A Lode off''
''tales From the Tunnel''
Tami's Note
Tattered Maze Monger Pouch
Tear of Altana
Tenodera's Scythe
Tenshodo Member's Card
Teodor's Blood Sigil
''the Old Men of the Sea''
Tigris Stone
Tonberry Key
Torn Khimaira Wing
Toxin Resilience
Trainer's Whistle
Traverser Stone
Treasure Map
Tribulens
Turbid Slime Oil
Unparalleled Corsair's Shard
Vahzl Gate Crystal
''varicose Mineral Veins''
Velkk Fetish
Venomous Wamoura Feeler
Verm. Abyssite of Perspicacity
Vermillion Abyssite of Guerdon
Vermillion Abyssite of Kismet
Vial of Shrouded Sand
Vial of Translurry
Viridian Abyssite of Avarice
Viridian Abyssite of Destiny
Viridian Abyssite of Merit
Vivid Periapt of Catalysis
Vivid Periapt of Concentration
Vivid Periapt of Exploration
Vivid Periapt of Focus
Vivid Periapt of Frontiers
Vivid Periapt of Glory
Vivid Periapt of Intensity
Vivid Periapt of Readiness
Vivid Periapt of Vigilance
Void Cluster
Voidwatcher's Emblem: Jeuno
Warped Iron Giant Nail
Wasserspeier's Horn
''water, Water Everywhere!''
Watercraft
''watercrafting''
Weapon Training Guide
Weapons Order
Whisper of Frost
Whisper of the Wyrmking
White Stratum Abyssite
Windurst Trust Permit
Windurst Walls Scoop
Windurst Waters Scoop
Yagudo Torch
Yellow Viola Pot
Yhoator Gate Crystal
[/Spoiler]




Currencies
Nyzul Tokens: 16318
Therion Ichor: 7680
Cruor: 1053532
Voidstones: 5856
Traverser Stones: 6042
A.M.A.N. Vouchers Stored: 138
Zeni: 83
Guild Points (Fishing): 34636
Guild Points (Woodworking): 0
Guild Points (Smithing): 7200
Guild Points (Goldsmithing): 0
Guild Points (Weaving): 0
Guild Points (Leathercraft): 0
Guild Points (Bonecraft): 4400
Guild Points (Alchemy): 0
Guild Points (Cooking): 48881
Assault Points (Leujaoam Sanctum): 1055
Assault Points (M.J.T.G.): 950
Assault Points (Lebros Cavern): 1110
Assault Points (Periqia): 8735
Assault Points (Ilrusi Atoll): 2140
Beastman Seals (stored): 0
Kindred Seals (stored): 0
Kindred Crests (stored): 0
High Kindred Crests (stored): 0
Sacred Kindred Crests (stored): 0
Bayld: 442956
Mweya Plasm Corpuscles: 378500
Escha Silt: 1569173
Escha Beads: 17932
Potpourri: 3218
Domain Points: 770
Mog Segments: 2290
Gallimaufry: 0


Job Points
MASTER RDM2100
MASTER SAM2100
MASTER WAR2100
MASTER COR2100
MASTER BLU2100
MASTER SMN2100
MASTER NIN2100
MASTER PUP2100
MASTER THF2100
PLD658
BST4
GEO23
MNK1092
SCH6
DRK500
RUN27
DRG2


Trusts (90)
Lhe Lhangavo
Halver
Yoran-Oran (UC)
Makki-Chebukki
AAGK
Excenmille [S]
Nashmeira II
Nanaa Mihgo
Mihli Aliapoh
Iron Eater
Ovjang
Arciela
Rongelouts
King of Hearts
Iroha
Lilisette II
Curilla
Valaineral
Gessho
Mnejing
D. Shantotto
Kuyin Hathdenna
Mayakov
Abquhbah
Morimar
Tenzen II
Volker
Joachim
Sakura
Star Sibyl
Rahal
Abenzio
Qultada
Balamor
Darrcuiln
Shantotto
Ajido-Marujido
Naja Salaheem
Rainemard
Luzaf
Karaha-Baruha
Ferreous Coffin
Koru-Moru
Rughadjeen
Adelheid
August
AAHM
Ingrid II
Naji
Trion
Prishe
Ingrid
Najelith
Cid
Kukki-Chebukki
Amchuchu
Robel-Akbel
Rosulatia
AAEV
Lion II
Arciela II
Kupipi
Zeid
Ulmia
Lehko Habhoka
Gilgamesh
Brygid
Kupofried
Teodor
AAMR
Zeid II
Iroha II
Excenmille
Lion
Shikaree Z
Nashmeira
Moogle
Areuhat
Uka Totlihn
Mildaurion
Selh'teus
Ullegore
AATT
Matsui-P
Prishe II
Shantotto II
Ayame
Tenzen
Cherukiki
Zazarg


Coalition Ranks
Pioneer Advisor
Courier Partner
Inventor Petitioner
Mummer Petitioner
Peacekeeper Probationer
Scout Petitioner

Escha Vorseal
HP/MP+ 8
Acc/R.Acc/Eva+ 8
Def+ 8
Atk/R.Atk+ 9
M.Acc/M.Eva+ 9
M.Def+ 9
M.Atk+ 9
DEX/AGI+ 10
STR/VIT+ 10
INT/MND/CHR+ 10
Occ. Nullifies Damage 3
Killer Effects+ 3
Damage Taken 3
Spoils+ 11
Rare Enemy+ 9
Luck+ 11
Regen+ 2
Refresh+ 2
Accuracy++ 6

tldr& This big sexy Galka is a jack of all trades master of none! Gear for all sorts of jobs. 22 99's. Master jobs provide great selection of mage/dd/pet jobs. Has some relics with a R11 Doji, Sam is probably the best job but has Su5+2 weapon for a PUP tank and 3/5 Malig. Has Regal items and 2x Omen body, Unity+1 items. Ambuscade Weapons with JSE backs for COR/WAR/BLU/MONK/SAM/THF. Abjuration+1 gear. This account is very versatile. Includes mules on the main POL ID with 98 smithing and a 2nd POL ID with a 99x geo with +1 gear and max skill.

Bid Start $350 Buyout $460