Hume F 4x99 ML37 COR R15 DeathP Nyam r20 su5+2 Rostam Relic Naeg Malig
OO Info: ALL INFO YES
Server Xfer is Available
SE Q&A YES!
Missions
Mercenary Rank: Mercenary Captain! Ready to create mythics!
Bastok Rank: Rank 6
Rise of the Zilart: Complete!
Chains of Promathia: Complete!
Treasures of Aht Urhgan: Complete!
Wings of the Goddess: Complete!
Addon: A Crystalline Prophecy: The Echo Awakens
Addon: A Moogle Kupo d'Etat: Drenched! It Began with a Raindrop
Addon: A Shantotto Ascension: That Which Curdles Blood
Abyssea: N/A
Seekers of Adoulin: Complete!
Completed Unique Coalitions (Adoulin): 1
Rhapsodies of Vana'diel: Complete!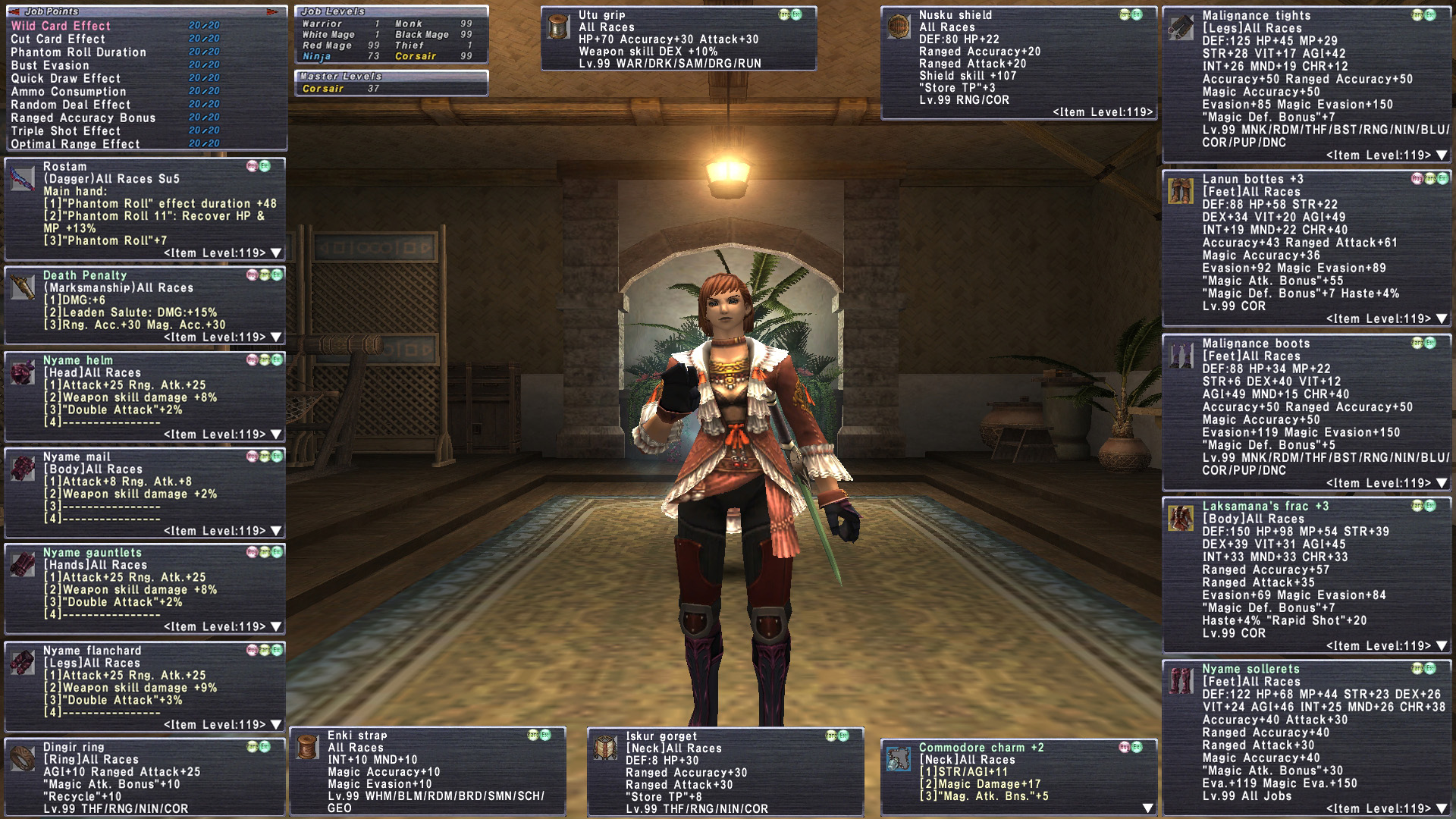 Value in misc. 500k+ in sellables

Relic/Emp/Mythic/Aeonic
Death Penalty AFTERGLOW 119 AG (Path: A) Rank 15

Odyssey
Information On Bumba
(3) Moogle Amp.
Nyame Flanchard i119 (Path: B) Rank 20
Nyame Gauntlets i119 (Path: B) Rank 20
Nyame Helm i119 (Path: B) Rank 20
Nyame Mail i119 (Path: B) Rank 4
Nyame Sollerets i119

Su5+1/2 Weapons Necks Volte
Comm. Charm +2 99 (Path: A) Rank 17
Rostam i119 (Path: C) Rank 21

119 Relic +2/+3
Lanun Bottes +3 i119 (Enhances "Wild Card" Effect)

119 Artifact +2/+3
Laksa. Frac +3 i119

Omen
Anu Torque 99
Dingir Ring 99
Enki Strap 99
Iskur Gorget 99
Nusku Shield i119
(44) P. Cor Card
(2) P. Drg Card
P. Sam Card
P. War Card
Utu Grip 99

Escha Zi'Tah/Ru'Aun/Reisenjima
Compensator i119
Molybdosis i119
Telos Earring 99
Vanya Clogs i119

119 Abjuration Gear
Carmine Cuisses +1 i119

Ambuscade
(2) A. Voucher: Weapon
(3) Camulus's Mantle 99 (Dex+20, Accuracy+20 Attack+20, Dex+10, "Store Tp"+10, Magic Dmg. Taken-10%)
(3) Camulus's Mantle 99 (Agi+20, Mag. Acc+20 /Mag. Dmg.+20, Agi+1, Weapon Skill Damage +10%)
(3) Camulus's Mantle 99 (Str+20, Accuracy+20 Attack+20, Str+10, Weapon Skill Damage +10%)
Meg. Gloves +2 i119
Naegling i119

Reforged Artifact/Relic/Emp
Laksa. Bottes 109
Laksa. Gants 109
Laksa. Trews 109
Laksa. Tricorne 109
Lanun Frac 109 (Enhances "Loaded Deck" Effect)
Lanun Gants 109 (Enhances "Fold" Effect)
Lanun Trews 109 (Enhances "Snake Eye" Effect)
Lanun Tricorne 109 (Enhances "Winning Streak" Effect)

Sinnister Reign
Enervating Earring 99
Incarnation Sash 99
Ishvara Earring 99
Umbra Strap 99

Unity
Bathy Choker 99
Gazu Bracelets +1 i119
Gelatinous Ring 99
Kentarch Belt 99
Loxotic Mace i119
Odnowa Earring 99
Sailfi Belt 99
Sailfi Belt +1 99 (Path: A)
Seething Bomblet 99

Other Noteable R/EX
Adoulin's Refuge +1 99
Archon Cape 90
Archon Ring 90
Ethereal Earring 72
Karieyh Ring 99
Liv. Bul. Pouch 99
Malignance Boots i119
Malignance Tights i119
Mecisto. Mantle 99 (Cap. Point+32%, Str+1, "Mag.Atk.Bns."+3, Def+5)
Moonshade Earring 90 ("Mag.Atk.Bns."+4, Tp Bonus +250)
Shadow Mantle 75
Ulthalam's Ring 50

WKR/Delve
Acro Gauntlets i119
Helios Band i119
Yorium Barbuta i119
Yorium Gauntlets i119
Yorium Sabatons i119

Base Artifact/Relic/Emp
Cleric's Mitts 75
Creed Sabatons 81
Raider's Poulaines 81
Sylvan Bottillons 81

Misc.
A. Vou.: Body +1
A. Vou.: Feet +1
A. Vou.: Head +1
A. Vou.: Legs +1
(20) Abdhaljs Dust
(5) Abdhaljs Fiber
(5) Abdhaljs Metal
(2) Abdhaljs Resin
(10) Abdhaljs Sap
(20) Abdhaljs Thread
Beastmen's Seal
Cipher: Balamor
Cipher: Lilisette Ii
Cipher: Nashmeira Ii
Cipher: Prishe Ii
Cipher: Selh'teus
Cipher: Tenzen Ii
Cipher: Zeid Ii
Fu's Scale
Gin's Scale
(2) Kindred's Seal
(5) Kupon A-Pk109
(2) Kupon Aw-Wk
(8) Kupon I-Seal
Kupon W-Emi
Kyou's Scale
Mog Pell (Red)
(4) Ra'kaz. Sapphire

Key Items
[Spoiler]
?Raptor Companion
Adoulinian Charter Permit
Adventurer's Certificate
Aged Ligneous Naakual Crest
Aged Undying Naakual Crest
Airship Pass
Ambuscade Primer Volume Two
Anti-Glaciation Gear
Archducal Audience Permit
Arciela's Skirt
Ashrakk's Blood Sigil
Astral Compass
Atma of Allure
Atma of the Gnarled Horn
Atma of the Merciless Matriarch
Atma of the Minikin Monstrosity
Atma of the Omnipotent
Atma of the Razed Ruins
Atma of the Sanguine Scythe
Atma of the Stormbird
Atma of the Stout Arm
Atma of the Stronghold
Atma of the Voracious Violet
Bastok Trust Permit
Black Matinee Necklace
Boarding Permit
Brand of Dawn
Brand of Twilight
Brier-Proof Net
Bronze Ribbon of Service ?
Brunhilde's Feather
Captain Wildcat Badge
''card Jailer Teodor''
Cerulean Crystal
Chocobo License
''climbing''
Compass of Transference
Concordoll
Coruscant Rosary
Cosmo-Cleanse
Crest of Davoi
Dem Gate Crystal
''demolishing''
Dhokmak's Blood Sigil
Dimensional Compass
Distorted Fragment
Dull Ra'kaznarian Plate
Durs-Vike's Earring
Dynamis - Buburimu Sliver
Dynamis - Qufim Sliver
Dynamis - Tavnazia Sliver
Dynamis - Valkurm Sliver
Empty Hourglass
Eschan Cellar
Eschan Urn
Fabricated Ward of Ashen Wings
Fabricated Ward of Biting Winds
Fabricated Ward of Impurity
Fabricated Ward of Miasma
Fabricated Ward of the False King
Galka Mask of Light
Geomagnetron
Gerhilde's Feather
Gps Crystal
Gramk-Droog's Circlet
Habitual Behavior Barometer
Heart of the Bushin
Holla Gate Crystal
Hydra Corps Command Scepter
Hydra Corps Eyeglass
Hydra Corps Insignia
Hydra Corps Lantern
Hydra Corps Tactical Map
Ignor-Mnt's Bracelet
Impure Aster Yggzi
Indigo Stratum Abyssite
Insulator Tablet
Jade Abyssite of Merit
Job Breaker
Job Gesture: Black Mage
Job Gesture: Corsair
Job Gesture: Monk
Job Gesture: Ninja
Job Gesture: Red Mage
Job Gesture: Thief
Job Gesture: Warrior
Job Gesture: White Mage
Jugner Gate Crystal
Kupofried's Medallion
Lightsworm
Limit Breaker
''logging''
Lunar Abyssite
Magian Trial Log
Magma Mitigation Set
Manaclipper Multi-Ticket
Mark of the Einherjar
Master Breaker
Mea Gate Crystal
Memorandoll
Meriphataud Gate Crystal
Moghancement: Conquest
Monarch Linn Patrol Permit
Mystical Canteen
Ortlinde's Feather
Pair of Liij-Vok's Gloves
Pair of Velkk Gloves
Pashhow Gate Crystal
Phantom Gem of Cowardice
Phoenix's Blessing
Pioneer's Badge
Prismatic Fragment
Prismatic Hourglass
Prototype Attuner
Pso'xja Pass
Pure White Feather
Reliquiarium Key
''rhapsody In Azure''
''rhapsody In Crimson''
''rhapsody In Emerald''
''rhapsody In Fuchsia''
''rhapsody In Mauve''
''rhapsody In Ochre''
''rhapsody In Puce''
''rhapsody In Umber''
''rhapsody In White''
Rosulatia's Pome
Runic Disc
Runic Key
Rusted Hound Collar
Sajj'aka's Protective Ward
Sapphire Abyssite of Furtherance
''scintillating Rhapsody''
Sepulcher Ensign
Shaft Gate Operating Dial
Shard of Apathy
Shard of Arrogance
Shard of Cowardice
Shard of Envy
Shard of Rage
Sheet of Jeuno Tunes
Silver Bell
Silvery Plate
Song of Hope
Tear of Altana
Tenshodo Member's Card
Teodor's Blood Sigil
Tigris Stone
Trainer's Whistle
Tryl-Wuj's Belt
Unparalleled Corsair's Shard
Unparalleled Corsair's Soul
Vial of Dream Incense
Vial of Shrouded Sand
Voidstone
Watercraft
''watercrafting''
Whisper of the Wyrmking
Yagudo Torch
Ymmr-Ulvid's Necklace
Zonpa-Zippa's All-Purpose Putty
[/Spoiler]




Currencies
Nyzul Tokens: 4927
Therion Ichor: 800
Cruor: 116572
Voidstones: 203
Traverser Stones: 228
A.M.A.N. Vouchers Stored: 42
Zeni: 4225
Guild Points (Fishing): 0
Guild Points (Woodworking): 0
Guild Points (Smithing): 0
Guild Points (Goldsmithing): 0
Guild Points (Weaving): 0
Guild Points (Leathercraft): 0
Guild Points (Bonecraft): 0
Guild Points (Alchemy): 0
Guild Points (Cooking): 0
Assault Points (Leujaoam Sanctum): 29905
Assault Points (M.J.T.G.): 15936
Assault Points (Lebros Cavern): 17150
Assault Points (Periqia): 18989
Assault Points (Ilrusi Atoll): 15958
Beastman Seals (stored): 5
Kindred Seals (stored): 4
Kindred Crests (stored): 62
High Kindred Crests (stored): 169
Sacred Kindred Crests (stored): 345
Bayld: 41135
Mweya Plasm Corpuscles: 2500
Escha Silt: 501790
Escha Beads: 7391
Potpourri: 0
Domain Points: 1000
Mog Segments: 60383
Gallimaufry: 22307


Job Points
MASTER COR2100


Trusts (12)
Nashmeira
Valaineral
Naji
Cherukiki
Gessho
Mihli Aliapoh
Joachim
Matsui-P
Pieuje (UC)
Tenzen
Prishe
Adelheid

Coalition Ranks
Pioneer Petitioner
Courier Petitioner
Inventor Petitioner
Mummer Petitioner
Peacekeeper Probationer
Scout Petitioner

Escha Vorseal
HP/MP+ 5
Acc/R.Acc/Eva+ 3
Def+ 2
Atk/R.Atk+ 1
M.Acc/M.Eva+ 2
M.Def+ 2
M.Atk+ 1
DEX/AGI+ 0
STR/VIT+ 0
INT/MND/CHR+ 0
Occ. Nullifies Damage 0
Killer Effects+ 0
Damage Taken 0
Spoils+ 1
Rare Enemy+ 3
Luck+ 2
Regen+ 2
Refresh+ 1
Accuracy++ 4

tldr& Purpose built COR with Death Penality R15. Nyame ranked to 20. RoV done. ML37 on COR. Couple other 99s. Unity+1 Malig. +8 Roll Rostam, Su5+2 neck. Very nice Corsair

$485