Galka 22x 99 Doji Sortie+2 ML38 ranked Nyame su5+2 refrg+3 RoV done Omen Ambu
OO Info: ALL INFO YES
Server Xfer is Available
SE Q&A YES!
Missions
Mercenary Rank: Private Second Class
Windurst Rank: Complete!
Rise of the Zilart: Complete!
Chains of Promathia: Complete!
Treasures of Aht Urhgan: Complete!
Wings of the Goddess: Complete!
Addon: A Crystalline Prophecy: The Echo Awakens
Addon: A Moogle Kupo d'Etat: Drenched! It Began with a Raindrop
Addon: A Shantotto Ascension: That Which Curdles Blood
Abyssea: N/A
Seekers of Adoulin: Complete!
Completed Unique Coalitions (Adoulin): 2
Rhapsodies of Vana'diel: Complete!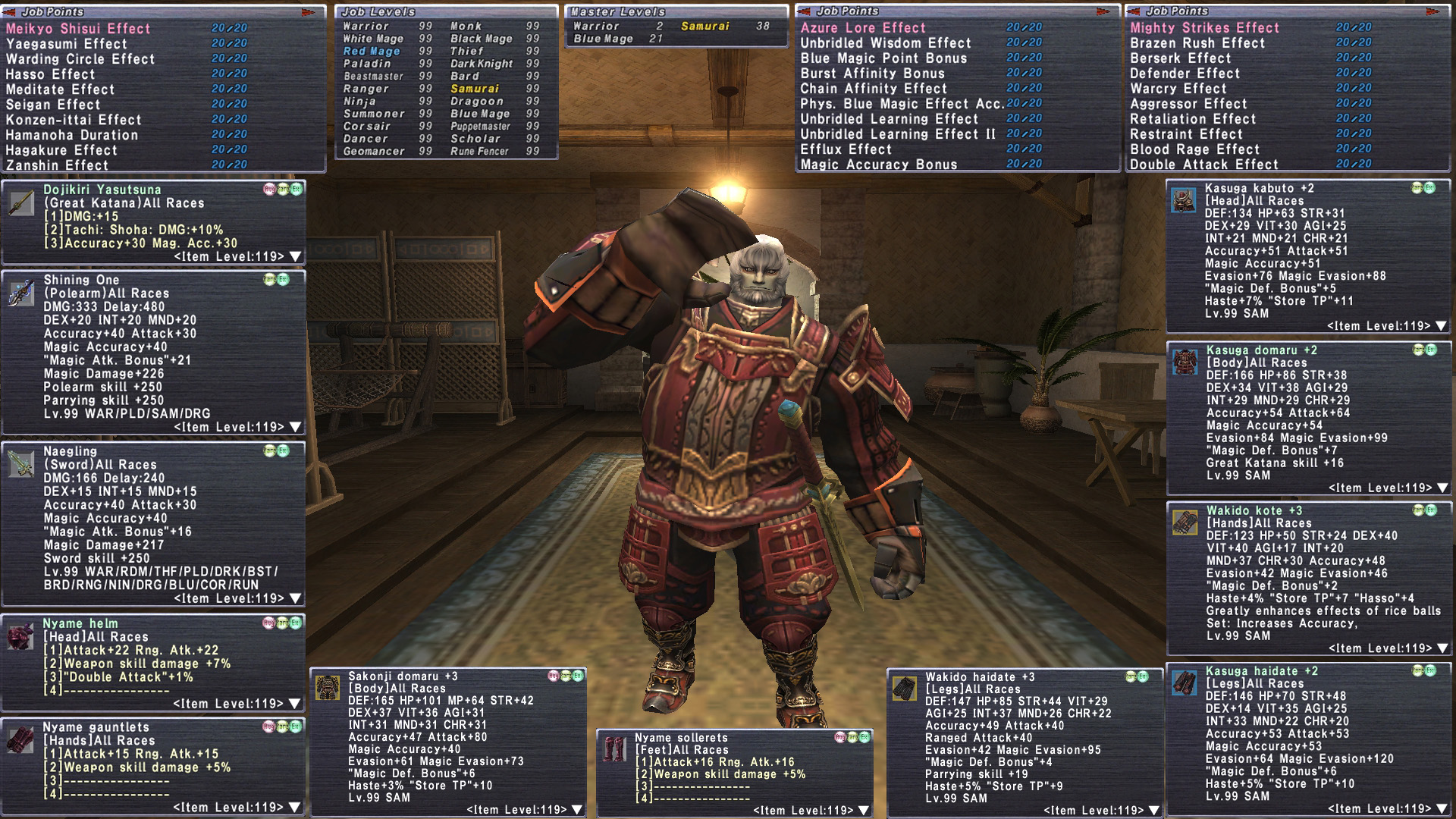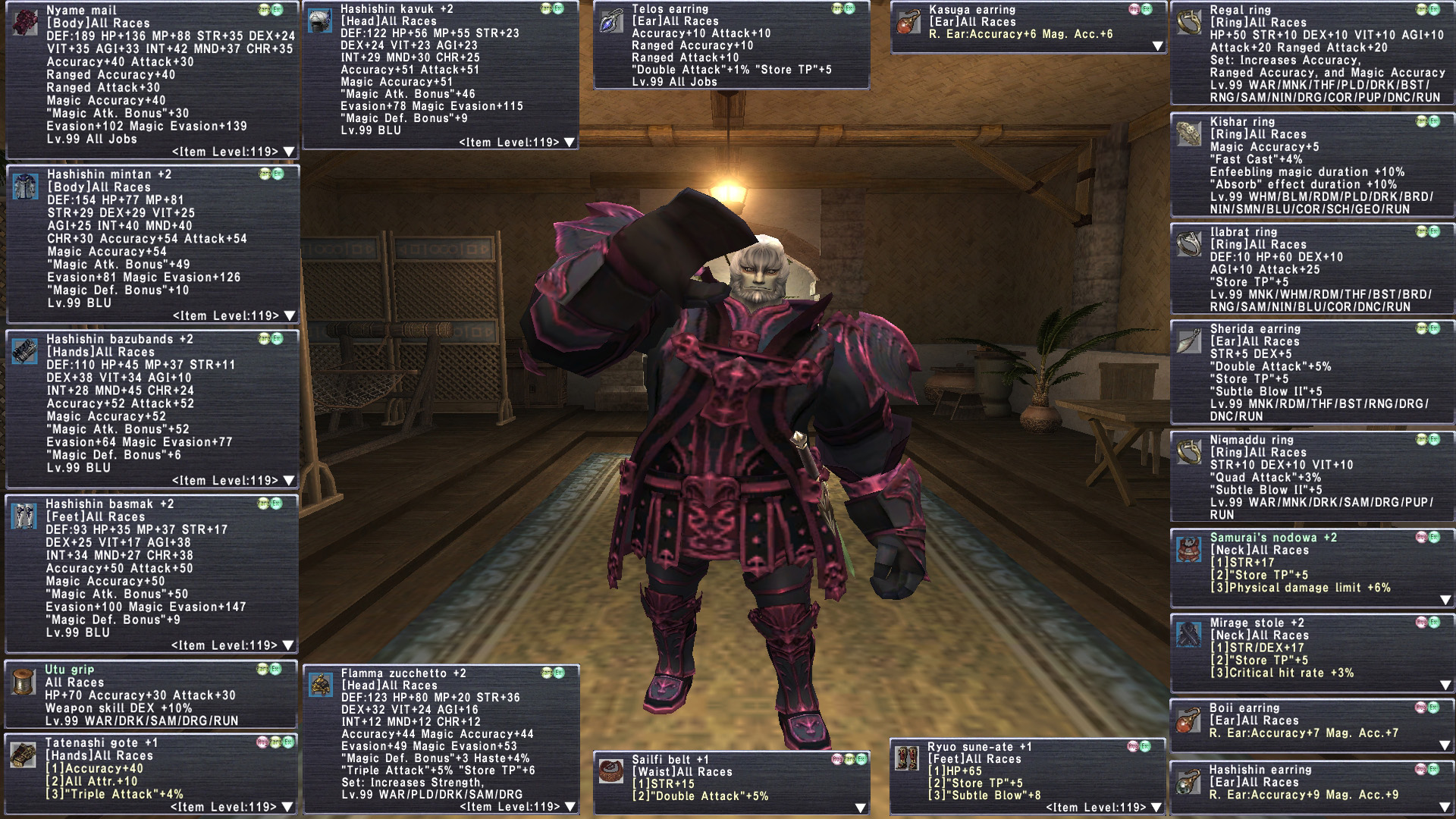 Value in misc. 500k+ in sellables

Relic/Emp/Mythic/Aeonic
Dojikiri Yasutsuna i119 (Path: A) Rank 15

Sortie Empyrean +2/+3 JSE Earring
Boii Earring 99 (System: 1 Id: 1676 Val: 0, Accuracy+7, Mag. Acc.+7)
Chas. Earring +1 99 (System: 1 Id: 1676 Val: 0, Accuracy+11, Mag. Acc.+11, Crit.Hit Rate+3)
Hashi. Basmak +2 i119
Hashi. Bazu. +2 i119
Hashishin Earring 99 (System: 1 Id: 1676 Val: 0, Accuracy+9, Mag. Acc.+9)
Hashishin Kavuk +2 i119
Hashishin Mintan +2 i119
Kasuga Domaru +2 i119
Kasuga Earring 99 (System: 1 Id: 1676 Val: 0, Accuracy+6, Mag. Acc.+6)
Kasuga Haidate +2 i119
Kasuga Kabuto +2 i119
(2) Peltast's Earring 99 (System: 1 Id: 1676 Val: 0, Accuracy+6, Mag. Acc.+6)
(2) Peltast's Earring 99 (System: 1 Id: 1676 Val: 0, Accuracy+10, Mag. Acc.+10)

Odyssey
Information On Bumba
Nyame Flanchard i119
Nyame Gauntlets i119 (Path: B) Rank 10
Nyame Helm i119 (Path: B) Rank 17
Nyame Mail i119
Nyame Sollerets i119 (Path: B) Rank 11

Su5+1/2 Weapons Necks Volte
Mirage Stole +2 99 (Path: A) Rank 17
Sam. Nodowa +2 99 (Path: A) Rank 17

119 Relic +2/+3
Sakonji Domaru +3 i119 (Enhances "Overwhelm" Effect)

119 Artifact +2/+3
Wakido Haidate +3 i119
Wakido Kote +3 i119

Omen
Adad Amulet 99
Anu Torque 99
Erra Pendant 99
Ilabrat Ring 99
Kishar Ring 99
Knobkierrie 99
Niqmaddu Ring 99
Nusku Shield i119
(19) P. Blu Card
(17) P. Sam Card
(15) P. War Card
Regal Ring 99
Sherida Earring 99
Shulmanu Collar 99
Utu Grip 99

Escha Zi'Tah/Ru'Aun/Reisenjima
Digni. Earring 99
Grunfeld Rope 99
Herculean Helm i119
Herculean Trousers i119
Kobo Kote i119
Marked Gorget 99
Nodens Gorget 99
Pemphredo Tathlum 99
Psycloth Vest i119
Tantalic Cape 99
Telos Earring 99
Valorous Greaves i119 (Accuracy+26, Weapon Skill Damage +4%, Str+7, Attack+10)
Valorous Mask i119 (Accuracy+4, Weapon Skill Damage +5%, Attack+6)
Valorous Mitts i119 (Accuracy+29, Weapon Skill Damage +5%, Agi+6, Attack+4)

119 Abjuration Gear
Bu.Abjuration: Bd.
Bu.Abjuration: Hn.
Bu.Abjuration: Lg.
Gr.Abjuration: Hn.
Jo.Abjuration: Hn.
Ryuo Sune-Ate +1 i119 (Hp+65, "Store Tp"+5, "Subtle Blow"+8)

Ambuscade
(4) A. Voucher: Back
(2) Brigantia's Mantle 99 (Str+20, Accuracy+20 Attack+20, Weapon Skill Damage +10%)
(2) Brigantia's Mantle 99 (Dex+20, Accuracy+20 Attack+20, "Dbl.Atk."+10)
Flam. Gambieras +2 i119
Flam. Manopolas +1 i119
Flam. Zucchetto +2 i119
Flamma Dirs +1 i119
Flamma Korazin +2 i119
Flamma Ring 99
Naegling i119
(4) Rosmerta's Cape 99 (Int+20, Mag. Acc+20 /Mag. Dmg.+20, "Mag.Atk.Bns."+10)
(4) Rosmerta's Cape 99 (Agi+20, Eva.+20 /Mag. Eva.+20, Evasion+10, "Fast Cast"+10, Phys. Dmg. Taken-10%)
(4) Rosmerta's Cape 99 (Dex+20, Accuracy+20 Attack+20, Dex+10, "Dbl.Atk."+10, Phys. Dmg. Taken-10%)
(4) Rosmerta's Cape 99 (Str+20, Accuracy+20 Attack+20, Str+10, Weapon Skill Damage +10%, Phys. Dmg. Taken-10%)
Shining One i119
(2) Smertrios's Mantle 99 (Dex+20, Accuracy+20 Attack+20, Accuracy+2, "Dbl.Atk."+10, Phys. Dmg. Taken-6%)
(2) Smertrios's Mantle 99 (Str+20, Accuracy+20 Attack+20, Str+10, Weapon Skill Damage +10%, Phys. Dmg. Taken-2%)
Sulev. Cuisses +2 i119
Sulev. Gauntlets +2 i119
Sulev. Leggings +1 i119
Sulevia's Mask +1 i119

Reforged Artifact/Relic/Emp
Assim. Bazu. 109
Assim. Charuqs 109
Assim. Jubbah 109
Assim. Shalwar 109
Hashishin Tayt +1 i119
Luhlaza Jubbah 109 (Enhances "Enchainment" Effect)
Luhlaza Keffiyeh 109 (Enhances "Convergence" Effect)
Sakonji Haidate 109 (Enhances "Shikikoyo" Effect)
Sakonji Kabuto 109 (Enhances "Ikishoten" Effect)
Sakonji Kote 109 (Enhances "Blade Bash" Effect)
Sakonji Sune-Ate 109 (Enhances "Meikyo Shisui" Effect)
Wakido Domaru 109
Wakido Kabuto 109
Wakido Sune-Ate 109

Domain Invasion
Thrud Earring 99

Sinnister Reign
Etiolation Earring 99
Ishvara Earring 99

Unity
Augury Cuisses i119
Bathy Choker 99
Demersal Degen i119
Gazu Bracelets i119
Gelatinous Ring 99
Loxotic Mace i119
Nourish. Earring 99
Odnowa Earring +1 99
Sailfi Belt +1 99 (Path: A)
Seething Bomblet 99
Septoptic i119
Tatena. Haidate +1 i119
Vim Torque 99

Other Noteable R/EX
Brutal Earring 75
Dread Jupon i119
Hjarrandi Breast. i119
Karieyh Ring 99
Loquac. Earring 75
Malignance Gloves i119
Moonshade Earring 90 (Accuracy+4, Tp Bonus +250)
Ophidian Sword
Rajas Ring 30
Sortiarius Earring 99
Ulthalam's Ring 50

WKR/Delve
Repulse Mantle 99
Taeon Boots i119
(2) Taeon Gloves i119
Tatena. Gote +1 i119 (Path: A)

Base Artifact/Relic/Emp
Abyss Burgeonet 75
Argute M.Board 75
Bard's Cuffs 73
Bard's Roundlet 72
Duelist's Boots 71
Duelist's Chapeau 75
Koga Hatsuburi 73
Melee Crown 75
Melee Gaiters 71
Melee Hose 72
Monster Gloves 75
Sorcerer's Coat 74
Sorcerer's Petas. 75
Valor Surcoat 75
Warrior's Calligae 71
Warrior's Cuisses 74
Warrior's Lorica 75
Warrior's Mask 73
Warrior's Mufflers 72

Misc.
Abdhaljs Anima
(2) Abdhaljs Resin
(2) Apademak Horn
Cy.Abjuration: Hd.
(3) Fu's Scale
(11) Hidhaegg's Scale
(3) Kei's Scale
(3) Kindred's Seal
Kin's Scale
(10) Kupon I-Seal
Ra'kaz. Sapphire


Key Items
[Spoiler]
?Beetle Companion
?Crab Companion
?Dhalmel Companion
?Golden Bomb Companion
?Goobbue Companion
?Ixion Companion
?Raptor Companion
Adoulinian Charter Permit
Aged Ligneous Naakual Crest
Aged Undying Naakual Crest
Aglaophotis Bud
Airship Pass
Altepa Gate Crystal
Ambuscade Primer Volume Two
Archducal Audience Permit
Arciela's Skirt
Ashrakk's Blood Sigil
Astral Compass
Atma of Allure
Atma of Blighted Breath
Atma of Purgatory
Atma of the Gnarled Horn
Atma of the Merciless Matriarch
Atma of the Minikin Monstrosity
Atma of the Omnipotent
Atma of the Razed Ruins
Atma of the Sanguine Scythe
Atma of the Stormbird
Atma of the Stout Arm
Atma of the Stronghold
Atma of the Voracious Violet
Bastok Trust Permit
Battle Trophy: 4th Echelon
Battle Trophy: 5th Echelon
Black Matinee Necklace
Boarding Permit
Brand of Dawn
Brand of the Flameserpent
Brand of the Galeserpent
Brand of the Skyserpent
Brand of the Springserpent
Brand of the Stoneserpent
Brand of Twilight
Bronze Ribbon of Service ?
''card Jailer Teodor''
Celennia Memorial Library Card
Cerulean Crystal
Chocobo License
''climbing''
Concordoll
Consummate Simulacrum
Coruscant Rosary
Cosmo-Cleanse
Crest of Davoi
Crimson Orb
Crimson Stratum Abyssite Iv
Dem Gate Crystal
''demolishing''
Dhokmak's Blood Sigil
Dimensional Compass
Distorted Fragment
Dull Ra'kaznarian Plate
Dusky Periapt of Readiness
Dynamis - Buburimu Sliver
Dynamis - Qufim Sliver
Dynamis - Tavnazia Sliver
Dynamis - Valkurm Sliver
Elvaan Mask of Light
Emerald Abyssite of Sojourn
Empty Hourglass
Eschan Cellar
Eschan Nef
Eschan Urn
''fragmenting''
Galka Mask of Light
Geomagnetron
Gps Crystal
Grimoire
Habitual Behavior Barometer
Heart of the Bushin
Holla Gate Crystal
Hydra Corps Command Scepter
Hydra Corps Eyeglass
Hydra Corps Insignia
Hydra Corps Lantern
Hydra Corps Tactical Map
Imperial Missive
Impure Aster Yggzi
Indigo Stratum Abyssite Iv
Inimitable Samurai's Shard
Inimitable Samurai's Soul
Jade Stratum Abyssite Iv
Job Breaker
Job Gesture: Bard
Job Gesture: Beastmaster
Job Gesture: Black Mage
Job Gesture: Blue Mage
Job Gesture: Corsair
Job Gesture: Dancer
Job Gesture: Dark Knight
Job Gesture: Dragoon
Job Gesture: Geomancer
Job Gesture: Monk
Job Gesture: Ninja
Job Gesture: Paladin
Job Gesture: Puppetmaster
Job Gesture: Ranger
Job Gesture: Red Mage
Job Gesture: Rune Fencer
Job Gesture: Samurai
Job Gesture: Scholar
Job Gesture: Summoner
Job Gesture: Thief
Job Gesture: Warrior
Job Gesture: White Mage
Jugner Gate Crystal
Kupofried's Medallion
Lerene's Paten
Lightsworm
Limit Breaker
Loadstone
''logging''
Lunar Abyssite
Luopan
Magian Trial Log
Magicked Astrolabe
Map of Abyssea - Konschtat
Mark of Zahak
Master Breaker
Mea Gate Crystal
Memorandoll
Meriphataud Gate Crystal
Mithra Mask of Light
Moghancement: Experience
Pair of Fuzzy Earmuffs
Pair of Velkk Gloves
Pashhow Gate Crystal
Phantom Gem of Cowardice
Phoenix's Blessing
Pioneer's Badge
Pouch of Weighted Stones
Prismatic Fragment
Prismatic Hourglass
Psc Wildcat Badge
Pso'xja Pass
''pulverizing''
Pure White Feather
Reliquiarium Key
''rhapsody In Azure''
''rhapsody In Crimson''
''rhapsody In Emerald''
''rhapsody In Fuchsia''
''rhapsody In Mauve''
''rhapsody In Ochre''
''rhapsody In Puce''
''rhapsody In Umber''
''rhapsody In White''
Rosulatia's Pome
Ruspix's Plate
Sajj'aka's Protective Ward
San D'oria Trust Permit
''scintillating Rhapsody''
Sepulcher Ensign
Shaft Gate Operating Dial
Shard of Apathy
Shard of Arrogance
Shard of Cowardice
Shard of Envy
Shard of Rage
Sheet of Jeuno Tunes
Silver Bell
Silvery Plate
Song of Hope
Squire Certificate
Starway Stairway Bauble
Tattered Maze Monger Pouch
Tear of Altana
Tenshodo Member's Card
Teodor's Blood Sigil
Trainer's Whistle
Traverser Stone
Tribulens
Unrivalled Blue Mage's Soul
Vahzl Gate Crystal
Vial of Dream Incense
Vial of Shrouded Sand
Voidstone
Voidwatcher's Emblem: Jeuno
Watercraft
''watercrafting''
Whisper of the Wyrmking
White Stratum Abyssite
Windurst Trust Permit
Yagudo Torch
Yhoator Gate Crystal
Zeruhn Report
[/Spoiler]




Currencies
Nyzul Tokens: 0
Therion Ichor: 0
Cruor: 197956
Voidstones: 151
Traverser Stones: 260
A.M.A.N. Vouchers Stored: 116
Zeni: 0
Guild Points (Fishing): 0
Guild Points (Woodworking): 0
Guild Points (Smithing): 0
Guild Points (Goldsmithing): 0
Guild Points (Weaving): 0
Guild Points (Leathercraft): 0
Guild Points (Bonecraft): 0
Guild Points (Alchemy): 0
Guild Points (Cooking): 0
Assault Points (Leujaoam Sanctum): 0
Assault Points (M.J.T.G.): 0
Assault Points (Lebros Cavern): 0
Assault Points (Periqia): 0
Assault Points (Ilrusi Atoll): 0
Beastman Seals (stored): 9
Kindred Seals (stored): 11
Kindred Crests (stored): 40
High Kindred Crests (stored): 152
Sacred Kindred Crests (stored): 408
Bayld: 70057
Mweya Plasm Corpuscles: 2600
Escha Silt: 1176237
Escha Beads: 21503
Potpourri: 0
Domain Points: 300
Mog Segments: 3738
Gallimaufry: 1171


Job Points
MASTER SAM2100
MASTER WAR2100
MASTER BLU2100
DRG15
THF45


Trusts (33)
Lilisette II
Koru-Moru
Arciela II
Naji
Excenmille
Adelheid
Halver
Joachim
Prishe
Shikaree Z
Yoran-Oran (UC)
Ingrid
Nashmeira
Zeid II
Nashmeira II
Tenzen II
Iroha II
Kupipi
Ayame
Curilla
Tenzen
Valaineral
Ulmia
Selh'teus
Gessho
Balamor
Iroha
Matsui-P
Semih Lafihna
Cherukiki
Lion II
Prishe II
Mihli Aliapoh

Coalition Ranks
Pioneer Petitioner
Courier Disciple
Inventor Petitioner
Mummer Petitioner
Peacekeeper Petitioner
Scout Petitioner

Escha Vorseal
HP/MP+ 8
Acc/R.Acc/Eva+ 8
Def+ 8
Atk/R.Atk+ 9
M.Acc/M.Eva+ 9
M.Def+ 9
M.Atk+ 9
DEX/AGI+ 10
STR/VIT+ 10
INT/MND/CHR+ 10
Occ. Nullifies Damage 3
Killer Effects+ 3
Damage Taken 3
Spoils+ 11
Rare Enemy+ 9
Luck+ 11
Regen+ 2
Refresh+ 2
Accuracy++ 6


tldr NIcely Built SAM + BLU Galka, with good ML, Nyame gear with some ranks, proper Sortie +2 items, Ambu capes, Missions done, MightyGuard + most common blu spells. All jobs 99. Regal Niq/Ilabrat. Hjarrandi Breast,
$565