*BEAST* Hume F 18 REMAP Idris/Epeo/DDB/Ghorn Sortie+2/+3 Nyame r25 Sakpatar30 Agwur20 full malig VR Unity+1 Ashera Ygnas/Monb
OO Info: ALL INFO YES
Server Xfer is Available
SE Q&A YES!
Missions
Mercenary Rank: Mercenary Captain! Ready to create mythics!
Bastok Rank: 3/10
Rise of the Zilart: Complete!
Chains of Promathia: Complete!
Treasures of Aht Urhgan: Complete!
Wings of the Goddess: Complete!
Addon: A Crystalline Prophecy: The Echo Awakens
Addon: A Moogle Kupo d'Etat: Drenched! It Began with a Raindrop
Addon: A Shantotto Ascension: Hasn't started yet
Abyssea: Complete!
Seekers of Adoulin: Complete!
Completed Unique Coalitions (Adoulin): 90
Rhapsodies of Vana'diel: Complete!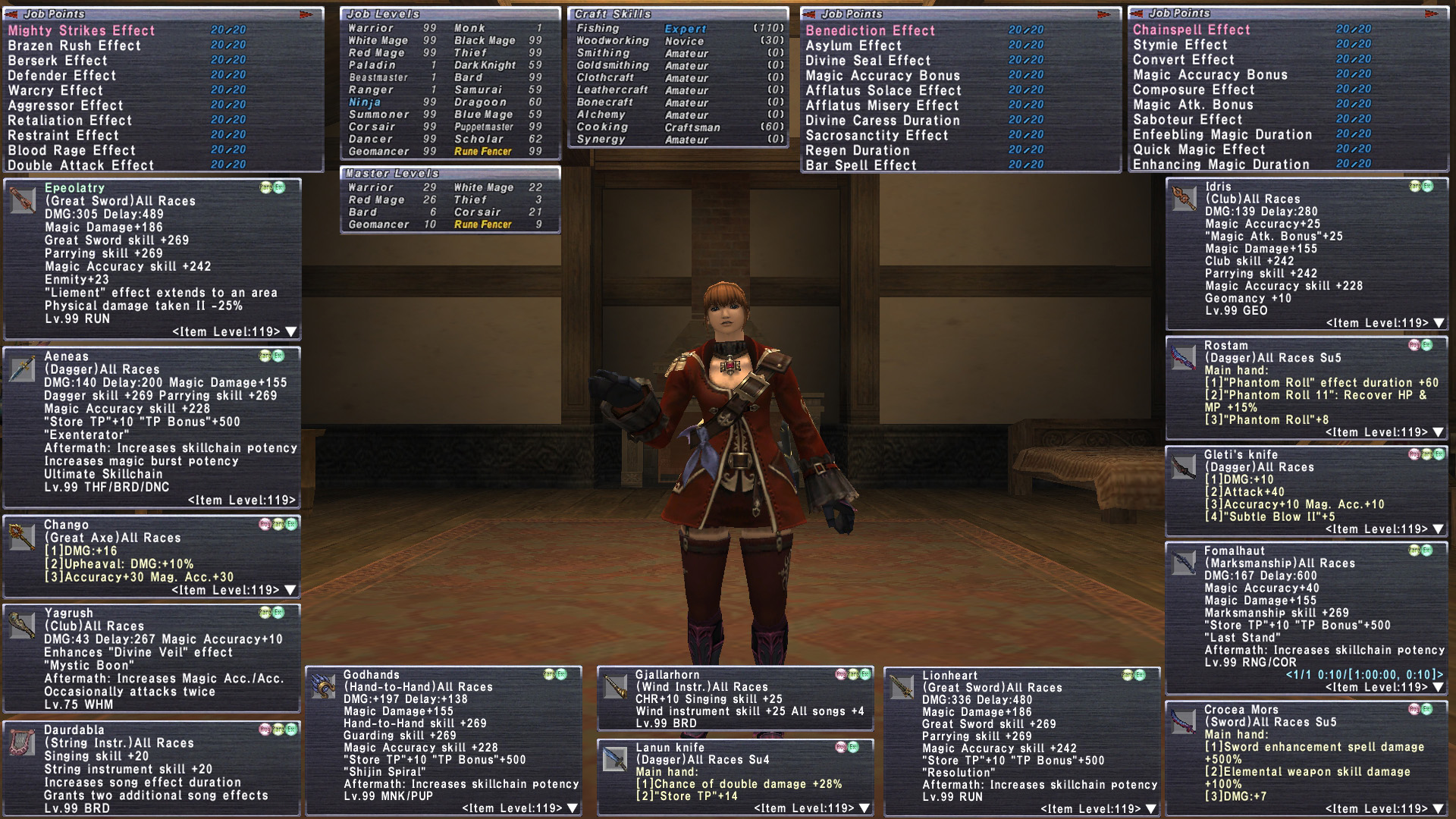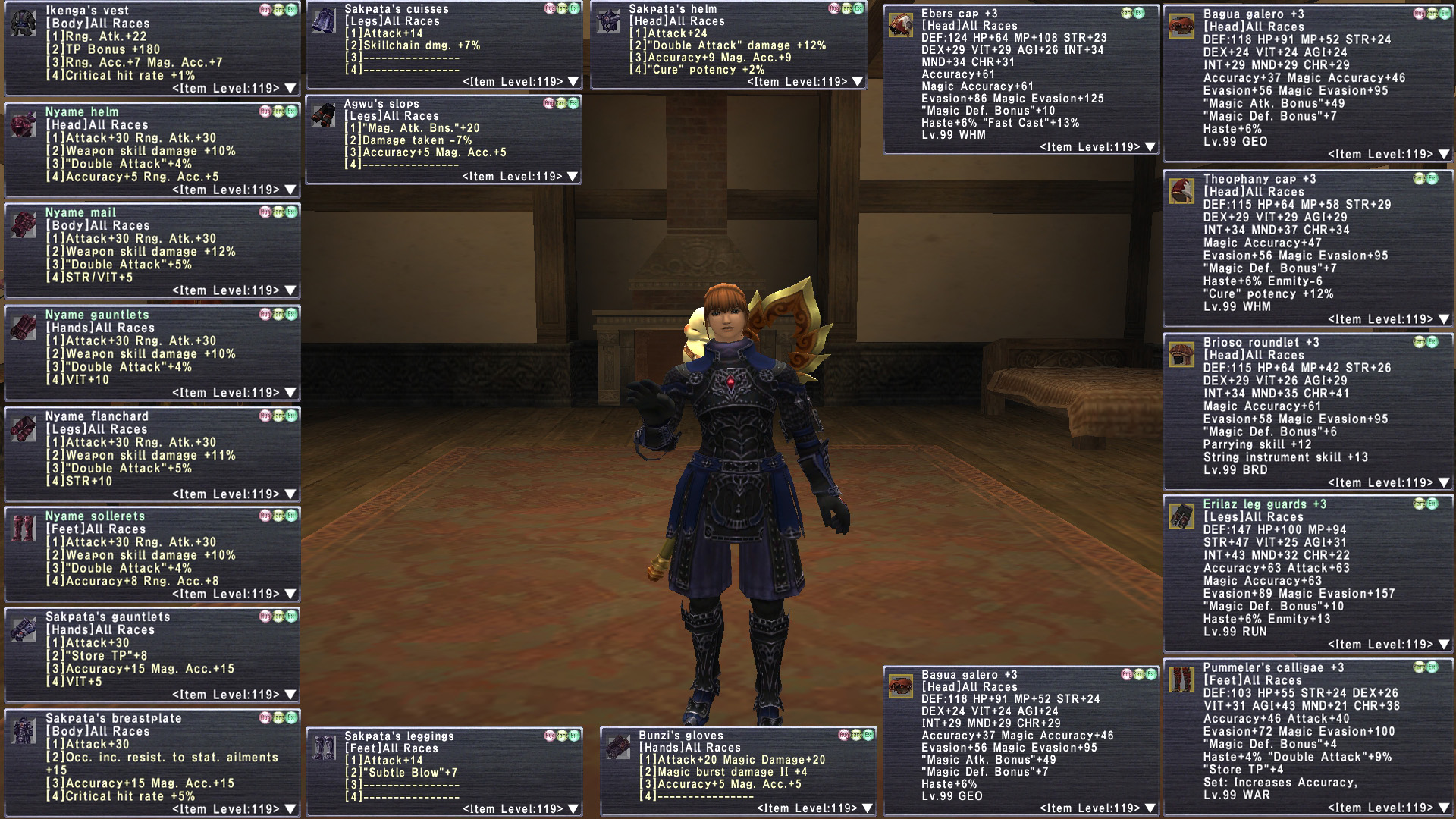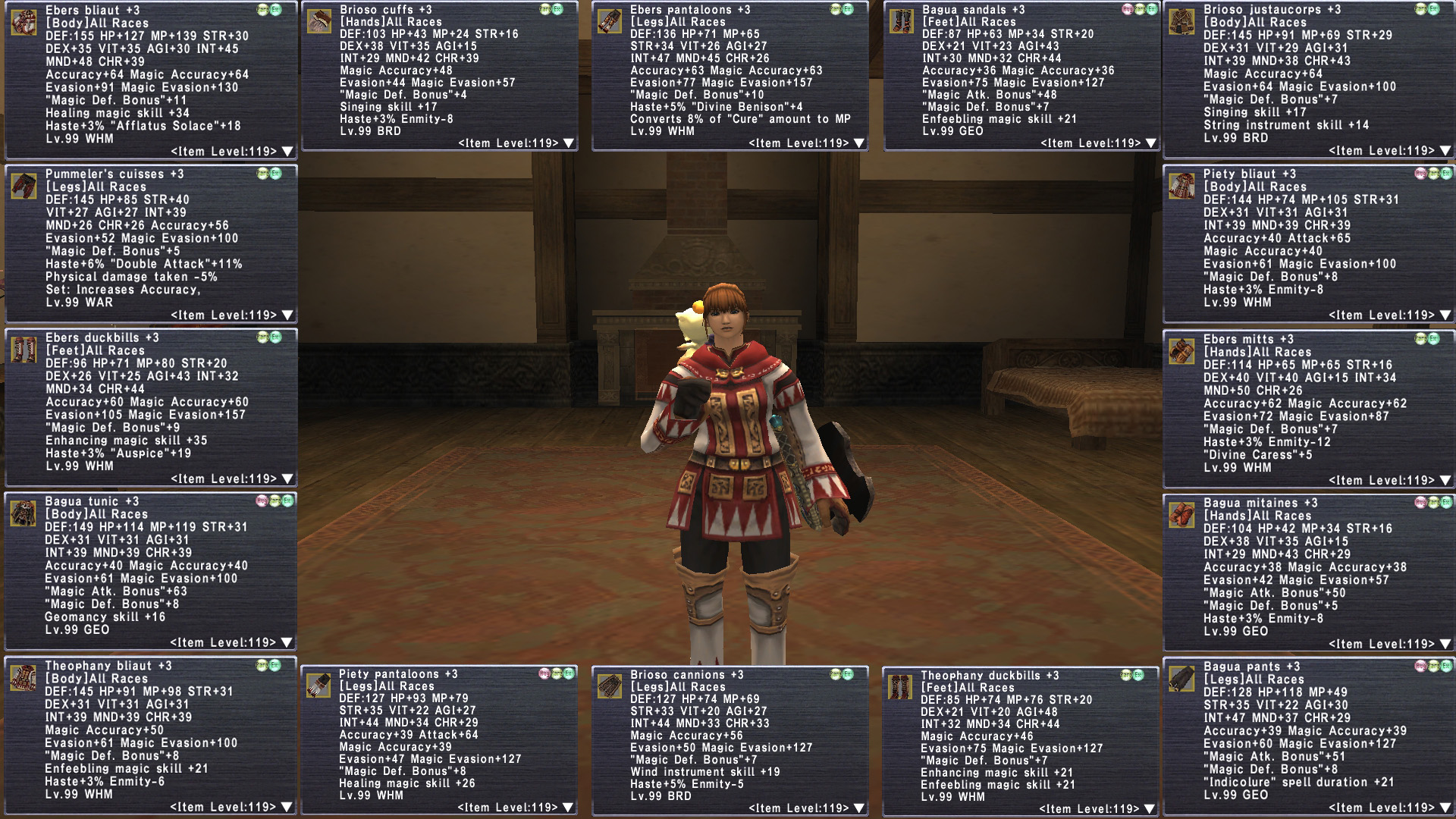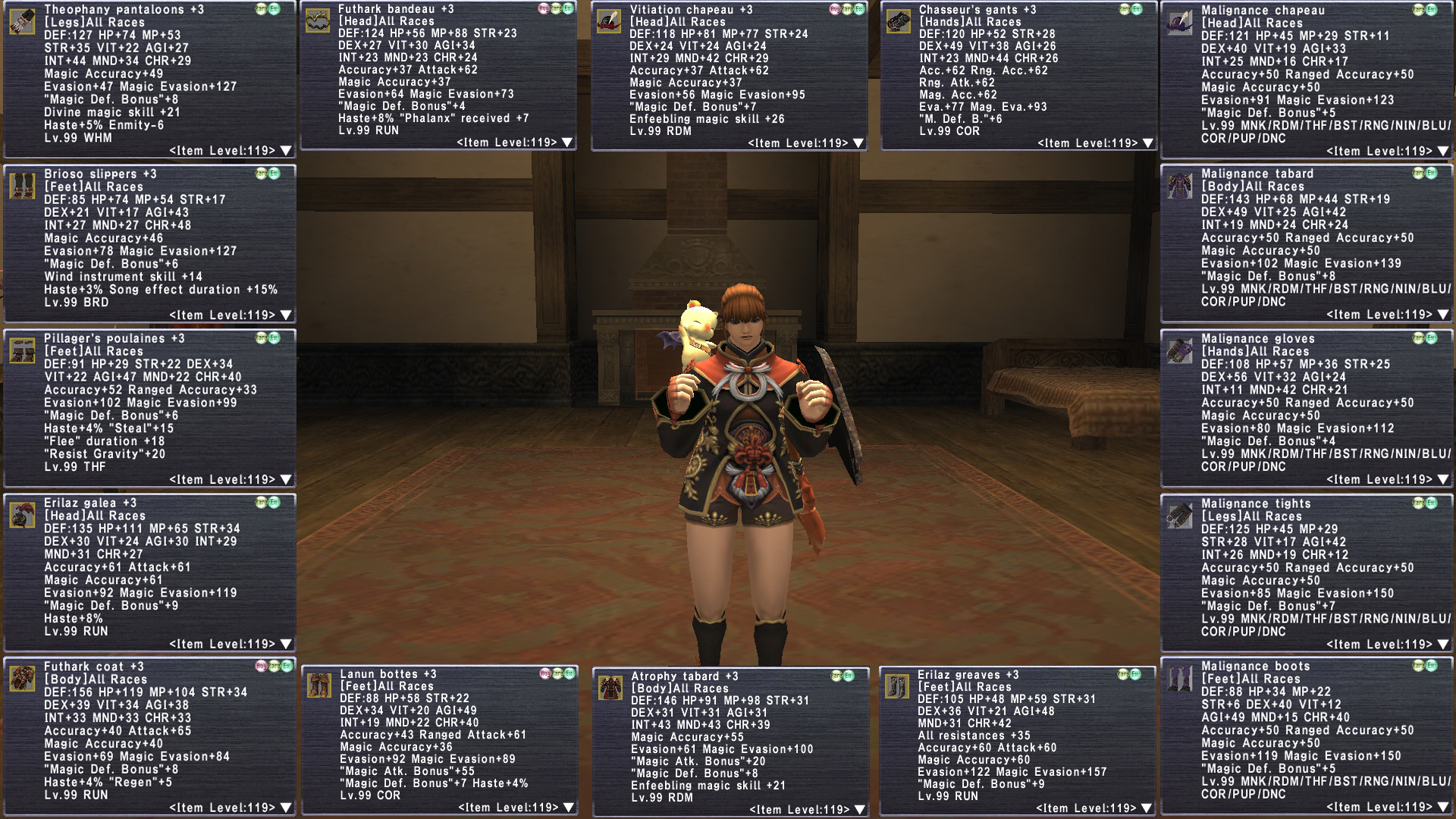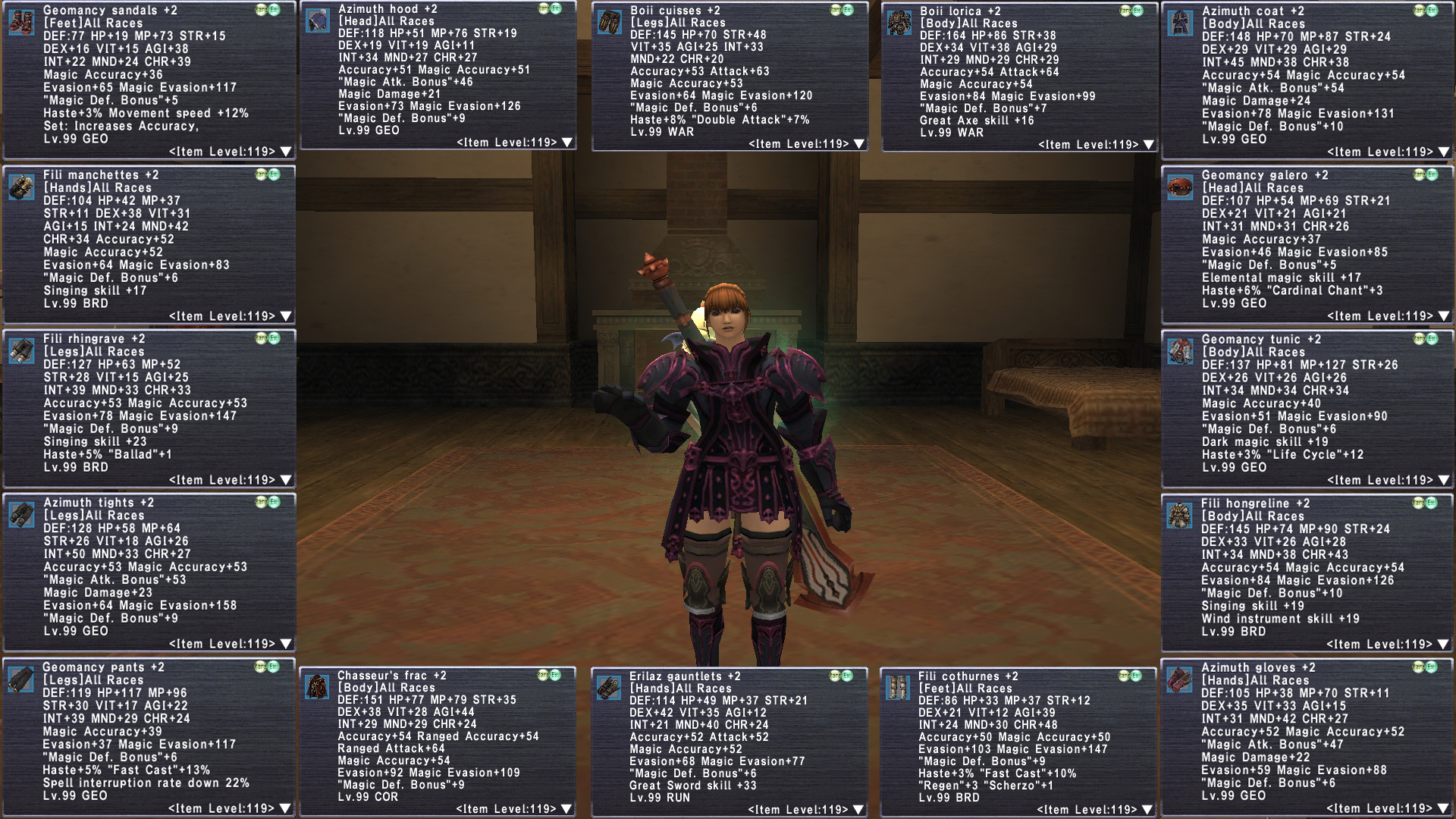 Value in misc. 500k+ in sellables

Relic/Emp/Mythic/Aeonic
Aeneas i119
Caliburnus i119
Chango i119 (Path: A) Rank 15
Daurdabla 99
Dojikiri Yasutsuna i119
Epeolatry AFTERGLOW 119 AG
Fomalhaut i119
Gjallarhorn 99
Godhands i119
Idris i119
Lionheart i119
Marsyas 99
Prime Blade i119
Prime Dagger i119
Prime Great Axe i119
Prime Horn 99
Prime Maul i119
Yagrush 75

Sortie Empyrean +2/+3 JSE Earring
Arbatel Earring +1 99 (System: 1 Id: 1676 Val: 0, Mag. Acc.+11, Enmity-1)
Azimuth Coat +2 i119
Azimuth Earring +1 99 (System: 1 Id: 1676 Val: 0, Mag. Acc.+12, Damage Taken-4%)
Azimuth Gaiters +2 i119
Azimuth Gloves +2 i119
Azimuth Hood +2 i119
Azimuth Tights +2 i119
Bhikku Earring +1 99 (System: 1 Id: 1676 Val: 0, Accuracy+11, Mag. Acc.+11, "Store Tp"+3)
Boii Calligae +2 i119
Boii Cuisses +2 i119
Boii Earring +1 99 (System: 1 Id: 1676 Val: 0, Accuracy+11, Mag. Acc.+11, Crit.Hit Rate+3)
Boii Lorica +2 i119
Boii Mask +2 i119
Boii Mufflers +3 i119
Chas. Earring +1 99 (System: 1 Id: 1676 Val: 0, Accuracy+11, Mag. Acc.+11, Crit.Hit Rate+3)
Chass. Bottes +3 i119
Chasseur's Frac +2 i119
Chasseur's Gants +3 i119
Chev. Earring +1 99 (System: 1 Id: 1676 Val: 0, Accuracy+11, Mag. Acc.+11, Damage Taken-3%)
Ebers Bliaut +3 i119
Ebers Cap +3 i119
Ebers Duckbills +3 i119
Ebers Earring 99 (System: 1 Id: 1676 Val: 0, Accuracy+10, Mag. Acc.+10)
Ebers Earring +1 99 (System: 1 Id: 1676 Val: 0, Accuracy+11, Mag. Acc.+11, Damage Taken-3%)
Ebers Mitts +3 i119
Ebers Pant. +3 i119
(65) Eikondrite
Eri. Leg Guards +3 i119
Erilaz Earring 99 (System: 1 Id: 1676 Val: 0, Accuracy+6, Mag. Acc.+6)
Erilaz Galea +3 i119
Erilaz Gauntlets +2 i119
Erilaz Greaves +3 i119
Erilaz Surcoat +2 i119
Fili Calot +2 i119
Fili Cothurnes +2 i119
Fili Earring 99 (System: 1 Id: 1676 Val: 0, Accuracy+9, Mag. Acc.+9)
Fili Earring +1 99 (System: 1 Id: 1676 Val: 0, Accuracy+13, Mag. Acc.+13, Damage Taken-4%)
Fili Hongreline +2 i119
Fili Manchettes +2 i119
Fili Rhingrave +2 i119
Hashi. Earring +1 99 (System: 1 Id: 1676 Val: 0, Accuracy+11, Mag. Acc.+11, "Dbl.Atk."+3)
Heath. Earring +1 99 (System: 1 Id: 1676 Val: 0, Accuracy+12, Mag. Acc.+12, Weapon Skill Damage +2%)
Kara. Earring +1 99 (System: 1 Id: 1676 Val: 0, Accuracy+11, Mag. Acc.+11, "Store Tp"+3)
Leth. Chappel +3 i119
Leth. Fuseau +3 i119
Leth. Ganth. +3 i119
Leth. Houseaux +3 i119
Lethargy Earring 99 (System: 1 Id: 1676 Val: 0, Accuracy+10, Mag. Acc.+10)
Lethargy Sayon +3 i119
Nukumi Earring +1 99 (System: 1 Id: 1676 Val: 0, Accuracy+13, Mag. Acc.+13, Pet: "Dbl. Atk."+6)
Pel. Earring +1 99 (System: 1 Id: 1676 Val: 0, Accuracy+11, Mag. Acc.+11, Crit.Hit Rate+3)
(7) Ra'kaz. Starstone
Skulk. Earring +1 99 (System: 1 Id: 1676 Val: 0, Accuracy+11, Mag. Acc.+11, "Store Tp"+3)
Skulk. Poulaines +2 i119
Skulker's Earring 99 (System: 1 Id: 1676 Val: 0, Accuracy+8, Mag. Acc.+8)
Wicce Earring +1 99 (System: 1 Id: 1676 Val: 0, Mag. Acc.+12, Enmity-2)

Odyssey
Agwu's Cap i119
Agwu's Gages i119 (Path: A) Rank 20
Agwu's Pigaches i119 (Path: A) Rank 20
Agwu's Robe i119
Agwu's Slops i119 (Path: A) Rank 20
Bunzi's Gloves i119 (Path: A) Rank 20
Bunzi's Hat i119 (Path: A) Rank 20
Bunzi's Pants i119
Bunzi's Robe i119
Bunzi's Rod i119 (Path: A) Rank 25
Bunzi's Sabots i119
Coiste Bodhar 99 (Path: A) Rank 24
Gleti's Boots i119
Gleti's Breeches i119
Gleti's Cuirass i119
Gleti's Gauntlets i119
Gleti's Knife i119 (Path: A) Rank 25
Gleti's Mask i119
Ikenga's Vest i119 (Path: A) Rank 22
Information On Arebati
Information On Aristaeus
Information On Bumba
Information On Dealan-Dhe
Information On Gigelorum
Information On Gogmagog
Information On Henwen
Information On Kalunga
Information On Marmorkrebs
Information On Ngai
Information On Procne
Information On Raskovniche
Information On Sgili
Information On U Bnai
Information On Xevioso
Mpaca's Boots i119
Neo Animator i119
Nyame Flanchard i119 (Path: B) Rank 25
Nyame Gauntlets i119 (Path: B) Rank 25
Nyame Helm i119 (Path: B) Rank 25
Nyame Mail i119 (Path: B) Rank 25
Nyame Sollerets i119 (Path: B) Rank 25
Obstin. Sash 99 (Path: A) Rank 28
Sakpata's Cuisses i119 (Path: A) Rank 14
Sakpata's Gauntlets i119 (Path: A) Rank 30
Sakpata's Helm i119 (Path: A) Rank 24
Sakpata's Leggings i119 (Path: A) Rank 14
Sakpata's Plate i119 (Path: A) Rank 30
Sakpata's Sword i119
Schere Earring 99 (Path: A)
Tellen Belt 99 (Path: A) Rank 21

Su5+1/2 Weapons Necks Volte
Bagua Charm +1 99 (Path: A) Rank 20
Bagua Tunic +3 i119 (Enhances "Bolster" Effect)
Bard's Charm 99 (Path: A) Rank 12
Bard's Charm +1 99 (Path: A) Rank 19
Cleric's Torque 99 (Path: A) Rank 15
Comm. Charm +1 99 (Path: A) Rank 11
Crocea Mors i119 (Path: C) Rank 25
Dls. Torque +2 99 (Path: A) Rank 25
Futhark Torque +1 99 (Path: A) Rank 19
Lanun Knife i119 (Path: A) Rank 21
Rostam i119 (Path: C) Rank 25
Volte Mittens i119
Volte Sollerets i119
Volte Tights i119
War. Beads +2 99 (Path: A) Rank 25

119 Relic +2/+3
Agoge Calligae +3 i119 (Enhances "Tomahawk" Effect)
Agoge Lorica +3 i119 (Enhances "Aggressive Aim" Effect)
Agoge Mask +3 i119 (Enhances "Savagery" Effect)
Bagua Galero +3 i119 (Enhances "Primeval Zeal" Effect)
Bagua Mitaines +3 i119 (Enhances "Curative Recantation" Effect)
Bagua Pants +3 i119 (Enhances "Mending Halation" Effect)
Bagua Sandals +3 i119 (Enhances "Radial Arcana" Effect)
Fu. Bandeau +3 i119 (Enhances "Battuta" Effect)
Futhark Coat +3 i119 (Enhances "Elemental Sforzo" Effect)
Futhark Mitons +3 i119 (Enhances "Sleight of Sword" Effect)
Futhark Trousers +3 i119 (Enhances "Inspire" Effect)
Lanun Bottes +3 i119 (Enhances "Wild Card" Effect)
Piety Bliaut +3 i119 (Enhances "Benediction" Effect)
Piety Pantaln. +3 i119 (Enhances "Afflatus Misery" Effect)
Viti. Chapeau +3 i119 (Enfeebling Magic Duration, Magic Accuracy)
Viti. Gloves +3 i119 (Enhancing Magic Duration)
Viti. Tabard +3 i119 (Enhances "Chainspell" Effect)
Vitiation Boots +3 i119 (Immunobreak Chance)

119 Artifact +2/+3
Atro. Chapeau +2 i119
Atrophy Gloves +3 i119
Atrophy Tabard +3 i119
Atrophy Tights +3 i119
Brioso Cannions +3 i119
Brioso Cuffs +3 i119
Brioso Justau. +3 i119
Brioso Roundlet +3 i119
Brioso Slippers +3 i119
Geo. Galero +2 i119
Geo. Mitaines +3 i119
Geo. Sandals +2 i119
Geomancy Pants +2 i119
Geomancy Tunic +2 i119
Pill. Poulaines +3 i119
Pumm. Calligae +3 i119
Pumm. Cuisses +3 i119
Pumm. Lorica +3 i119
Rune. Bandeau +2 i119
Rune. Trousers +2 i119
Runeist Bottes +2 i119
Runeist Coat +2 i119
Runeist Mitons +2 i119
Th. Pant. +3 i119
theo. Bliaut +3 i119
theo. Duckbills +3 i119
theophany Cap +3 i119
theophany Mitts +3 i119

Omen
Adad Amulet 99
Ammurapi Shield i119
Anu Torque 99
Ashera Harness i119
Dingir Ring 99
Enki Strap 99
Enmerkar Earring 99
Erra Pendant 99
Ilabrat Ring 99
Iskur Gorget 99
Kishar Ring 99
Knobkierrie 99
Lugalbanda Earring 99
Niqmaddu Ring 99
Nisroch Jerkin i119
Nusku Shield i119
(6) P. Brd Card
(86) P. Cor Card
P. Drg Card
(153) P. Geo Card
P. Pup Card
P. Rdm Card
(85) P. Run Card
(6) P. Thf Card
(9) P. War Card
(11) P. Whm Card
Regal Belt 99
Regal Cuffs i119
Regal Earring 99
Regal Gauntlets i119
Regal Gem 99
Regal Necklace 99
Regal Ring 99
Sherida Earring 99
Shulmanu Collar 99
Utu Grip 99
Yamarang 99

Escha Zi'Tah/Ru'Aun/Reisenjima
Baetyl Pendant 99
Barathrum 99
Begrudging Ring 99
Caro Necklace 99
(3) Chironic Gloves i119 (Blood Pact Dmg.+7, Phys. Dmg. Taken -2%, Magic Damage +15, Accuracy+7 Attack+7, Mag. Acc.+3 "Mag.Atk.Bns."+3)
(3) Chironic Gloves i119 (Agi+8, Pet: Str+6, "Refresh"+2, Mag. Acc.+10 "Mag.Atk.Bns."+10)
(3) Chironic Gloves i119 ("Mag.Atk.Bns."+8, "Fast Cast"+7, Mag. Acc.+9)
(2) Chironic Hat i119 (Spell Interruption Rate Down -2%, Chr+14, "Refresh"+2)
(2) Chironic Hat i119
(2) Chironic Hose i119
(2) Chironic Hose i119 (Mag. Acc.+24 "Mag.Atk.Bns."+24, Mnd+10, Mag. Acc.+7)
(3) Chironic Slippers i119
(3) Chironic Slippers i119 ("Dbl.Atk."+1, Magic Burst Dmg.+5%, "Refresh"+2, Accuracy+16 Attack+16)
(3) Chironic Slippers i119 ("Fast Cast"+7, Chr+4, Mag. Acc.+9)
Colada i119 (Enh. Mag. Eff. Dur. +4, Mag. Acc.+8, "Mag.Atk.Bns."+10)
Combatant's Torque 99
Compensator i119
Deacon Sword i119
Dedition Earring 99
Digni. Earring 99
Eabani Earring 99
Eschan Stone 99
Evanescence Ring 99
Gada i119 (Enh. Mag. Eff. Dur. +6, Mag. Acc.+5, "Mag.Atk.Bns."+12, Dmg:+10)
Genmei Earring 99
Genmei Shield i119
Gishdubar Sash 99
Grioavolr i119 ("Fast Cast"+7, Int+8, "Mag.Atk.Bns."+21)
Grunfeld Rope 99
Halasz Earring 99
Halitus Helm i119
(3) Herculean Boots i119 (Pet: Attack+25 Pet: Rng.Atk.+25, Mag. Acc.+10, Weapon Skill Damage +5%, Accuracy+3 Attack+3)
(3) Herculean Boots i119 ("Mag.Atk.Bns."+5, "Fast Cast"+5)
(3) Herculean Boots i119 (Accuracy+29, "Triple Atk."+4, Agi+10)
Herculean Gloves i119 ("Mag.Atk.Bns."+9, Int+1, Phalanx +4, Accuracy+12 Attack+12, Mag. Acc.+9 "Mag.Atk.Bns."+9)
Herculean Helm i119 ("Fast Cast"+5, Str+2)
Herculean Trousers i119 (Accuracy+5, "Treasure Hunter"+2, Mag. Acc.+15 "Mag.Atk.Bns."+15)
(3) Herculean Vest i119
(3) Herculean Vest i119 ("Mag.Atk.Bns."+10, "Fast Cast"+5, Mnd+9)
(3) Herculean Vest i119 (Agi+8, Int+7, Phalanx +4, Accuracy+18 Attack+18, Mag. Acc.+19 "Mag.Atk.Bns."+19)
Hetairoi Ring 99
Hydrocera 99
Izcalli i119
Jokushu Haidate i119
(2) Kali i119 (Mag. Acc.+15, String Instrument Skill +10, Wind Instrument Skill +10)
Kurys Gloves i119
Lissome Necklace 99
Luminary Sash 99
Mendi. Earring 99
Merlinic Crackows i119 (Mag. Acc.+16 "Mag.Atk.Bns."+16, "Fast Cast"+6, "Mag.Atk.Bns."+9)
Merlinic Dastanas i119 (Attack+12, "Fast Cast"+6, Chr+3)
Merlinic Hood i119 ("Mag.Atk.Bns."+12, "Fast Cast"+7, Int+5)
Nibiru Faussar i119
Nodens Gorget 99
Odyssean Greaves i119 (Mag. Acc.+24, "Fast Cast"+4, Str+2, "Mag.Atk.Bns."+9)
Passion Jacket i119
Pemphredo Tathlum 99
Perimede Cape 99
Petrov Ring 99
Queller Rod i119 (Healing Magic Skill +15, "Cure" Potency +10%, "Cure" Spellcasting Time -7%)
Rawhide Gloves i119 (Hp+50, Accuracy+15, Evasion+20)
Reiki Osode i119
Reiki Yotai 99
Rufescent Ring 99
Sanctity Necklace 99
Sapience Orb 99
Shukuyu Ring 99
Solstice i119
Telos Earring 99
Valorous Mitts i119
Vanya Clogs i119 (Healing Magic Skill +20, "Cure" Spellcasting Time -7%, Magic Dmg. Taken -3)
Vanya Cuffs i119 (Healing Magic Skill +20, "Cure" Spellcasting Time -7%, Magic Dmg. Taken -3)
Vanya Hood i119 (Healing Magic Skill +20, "Cure" Spellcasting Time -7%, Magic Dmg. Taken -3)
Vanya Robe i119 (Healing Magic Skill +20, "Cure" Spellcasting Time -7%, Magic Dmg. Taken -3)
Vanya Slops i119 (Healing Magic Skill +20, "Cure" Spellcasting Time -7%, Magic Dmg. Taken -3)
Yemaya Belt 99
Zendik Robe i119

119 Abjuration Gear
Adhemar Bonnet +1 i119 (Dex+12, Agi+12, Accuracy+20)
Adhemar Jacket +1 i119 (Dex+12, Agi+12, Accuracy+20)
Adhemar Wrist. +1 i119 (Dex+12, Agi+12, Accuracy+20)
Amalric Coif +1 i119
Amalric Gages +1 i119 (Int+12, Mag. Acc.+20, "Mag.Atk.Bns."+20)
Amalric Nails +1 i119 (Mag. Acc.+20, "Mag.Atk.Bns."+20, "Conserve Mp"+7)
Carmine Cuisses +1 i119 (Hp+80, Str+12, Int+12)
Carmine Greaves +1 i119 (Hp+80, Mp+80, Phys. Dmg. Taken -4)
Carmine Mask +1 i119
Jo.Abjuration: Bd.
Kaykaus Boots +1 i119 (Mp+80, "Cure" Spellcasting Time -7%, Enmity-6)
Kaykaus Mitra +1 i119 (Mp+80, "Cure" Spellcasting Time -7%, Enmity-6)
Ve.Abjuration: Lg.

Ambuscade
(9) A. Voucher: Back
(13) A. Voucher: Weapon
(6) Abdhaljs's Honor
(4) Alaunus's Cape 99 (Dex+20, Accuracy+20 Attack+20, Accuracy+10, "Dbl.Atk."+10, Phys. Dmg. Taken-10%)
(4) Alaunus's Cape 99 (Mnd+20, Eva.+20 /Mag. Eva.+20, Mnd+10, "Cure" Potency +10%, Damage Taken-5%)
(4) Alaunus's Cape 99 (Mnd+20, Mag. Acc+20 /Mag. Dmg.+20, Mnd+10, "Fast Cast"+10, Phys. Dmg. Taken-10%)
(4) Alaunus's Cape 99 (Hp+60, Eva.+20 /Mag. Eva.+20, Mag. Evasion+10, Enmity-10, Damage Taken-5%)
Aya. Cosciales +2 i119
Aya. Gambieras +2 i119
Aya. Manopolas +2 i119
Aya. Zucchetto +2 i119
Ayanmo Corazza +2 i119
Ayanmo Ring 99
(7) Camulus's Mantle 99 (Agi+20, Rng.Acc.+20 Rng.Atk.+20, Rng.Acc.+10, "Store Tp"+10, Phys. Dmg. Taken-10%)
(7) Camulus's Mantle 99 (Agi+20, Rng.Acc.+20 Rng.Atk.+20, Agi+10, Weapon Skill Damage +10%, Phys. Dmg. Taken-10%)
(7) Camulus's Mantle 99 (Agi+20, Mag. Acc+20 /Mag. Dmg.+20, Agi+10, Weapon Skill Damage +10%, Phys. Dmg. Taken-10%)
(7) Camulus's Mantle 99 (Dex+20, Accuracy+20 Attack+20, Accuracy+10, "Store Tp"+10, Phys. Dmg. Taken-10%)
(7) Camulus's Mantle 99 (Str+20, Accuracy+20 Attack+20, Str+10, Weapon Skill Damage +10%, Damage Taken-5%)
(7) Camulus's Mantle 99 ("Snapshot"+10)
(7) Camulus's Mantle 99 (Int+20, Mag. Acc+20 /Mag. Dmg.+20, Mag. Acc.+10, "Mag.Atk.Bns."+10, Phys. Dmg. Taken-10%)
(3) Cichol's Mantle 99 (Vit+20, Accuracy+20 Attack+20, Vit+10, Weapon Skill Damage +10%, Damage Taken-5%)
(3) Cichol's Mantle 99 (Str+20, Accuracy+20 Attack+20, Str+10, Weapon Skill Damage +10%, Phys. Dmg. Taken-10%)
(3) Cichol's Mantle 99 (Dex+20, Accuracy+20 Attack+20, Accuracy+10, "Dbl.Atk."+10, Phys. Dmg. Taken-10%)
Dolichenus i119
Dullahan Shield
Flam. Gambieras +2 i119
Flam. Zucchetto +2 i119
Flamma Ring 99
(5) Intarabus's Cape 99 (Dex+20, Accuracy+20 Attack+20, Accuracy+10, "Dbl.Atk."+10, Phys. Dmg. Taken-10%)
(5) Intarabus's Cape 99 (Chr+20, Accuracy+20 Attack+20, Weapon Skill Damage +10%)
(5) Intarabus's Cape 99 (Chr+20, Mag. Acc+20 /Mag. Dmg.+20, Mag. Acc.+10, "Fast Cast"+10, Phys. Dmg. Taken-10%)
(5) Intarabus's Cape 99 (Str+20, Accuracy+20 Attack+20, Str+10, Weapon Skill Damage +10%, Phys. Dmg. Taken-10%)
(5) Intarabus's Cape 99 (Dex+20, Accuracy+20 Attack+20, Dex+10, Weapon Skill Damage +10%, Phys. Dmg. Taken-10%)
Inyan. Crackows +2 i119
Inyan. Dastanas +2 i119
Inyanga Jubbah +2 i119
Inyanga Ring 99
Inyanga Shalwar +2 i119
Inyanga Tiara +2 i119
Jhakri Coronal +2 i119
Jhakri Cuffs +2 i119
Jhakri Pigaches +2 i119
Jhakri Robe +2 i119
Jhakri Slops +2 i119
Karambit i119
Maxentius i119
Meg. Chausses +2 i119
Meg. Cuirie +2 i119
Meg. Gloves +2 i119
Meg. Jam. +2 i119
Meghanada Visor +1 i119
Naegling i119
(6) Nantosuelta's Cape 99 ("Fast Cast"+10, Phys. Dmg. Taken-10%)
(6) Nantosuelta's Cape 99 (Mnd+20, Eva.+20 /Mag. Eva.+20, "Cure" Potency +10%)
(6) Nantosuelta's Cape 99 (Hp+60, Eva.+20 /Mag. Eva.+20, Mag. Evasion+10, Pet: "Regen"+10, Damage Taken-5%)
(6) Nantosuelta's Cape 99 (Int+20, Mag. Acc+20 /Mag. Dmg.+20, Int+10, "Mag.Atk.Bns."+10)
(6) Nantosuelta's Cape 99 (Dex+20, Accuracy+20 Attack+20, "Store Tp"+10, Phys. Dmg. Taken-10%)
(6) Nantosuelta's Cape 99 (Mnd+20, Accuracy+20 Attack+20, Weapon Skill Damage +10%, Phys. Dmg. Taken-10%)
(6) Ogma's Cape 99 (Hp+60, Eva.+20 /Mag. Eva.+20, Hp+20, "Fast Cast"+10, Damage Taken-5%)
(6) Ogma's Cape 99 (Str+20, Accuracy+20 Attack+20, Weapon Skill Damage +10%, Damage Taken-5%)
(6) Ogma's Cape 99 (Hp+60, Eva.+20 /Mag. Eva.+20, Mag. Evasion+10, Enmity+10, Damage Taken-5%)
(6) Ogma's Cape 99 (Dex+20, Accuracy+20 Attack+20, Dex+10, Weapon Skill Damage +10%, Damage Taken-5%)
(6) Ogma's Cape 99 (Dex+20, Accuracy+20 Attack+20, Accuracy+10, "Store Tp"+10, Damage Taken-5%)
(6) Ogma's Cape 99 (Hp+60, Eva.+20 /Mag. Eva.+20, Hp+20, "Fast Cast"+10, Spell Interruption Rate Down-10%)
Shining One i119
(10) Sucellos's Cape 99 (Mnd+20, Eva.+20 /Mag. Eva.+20, Mag. Evasion+10, "Fast Cast"+10, Damage Taken-5%)
(10) Sucellos's Cape 99 (Str+20, Accuracy+20 Attack+20, Str+10, Weapon Skill Damage +10%, Damage Taken-5%)
(10) Sucellos's Cape 99 (Int+20, Mag. Acc+20 /Mag. Dmg.+20, Mag. Acc.+10, "Mag.Atk.Bns."+10)
(10) Sucellos's Cape 99 (Mnd+20, Mag. Acc+20 /Mag. Dmg.+20, Mnd+10, Weapon Skill Damage +10%, Damage Taken-5%)
(10) Sucellos's Cape 99 (Dex+20, Accuracy+20 Attack+20, Accuracy+10, "Dbl.Atk."+10, Phys. Dmg. Taken-10%)
(10) Sucellos's Cape 99 (Mnd+20, Mag. Acc+20 /Mag. Dmg.+20, Mag. Acc.+10, "Fast Cast"+10, Phys. Dmg. Taken-10%)
(10) Sucellos's Cape 99 (Mnd+20, Mag. Acc+20 /Mag. Dmg.+20, Mnd+10, "Fast Cast"+10, Phys. Dmg. Taken-10%)
(10) Sucellos's Cape 99 (Agi+20, Rng.Acc.+20 Rng.Atk.+20, Weapon Skill Damage +10%, Damage Taken-5%)
(10) Sucellos's Cape 99 (Agi+20, Rng.Acc.+20 Rng.Atk.+20, "Store Tp"+10, Damage Taken-5%)
(10) Sucellos's Cape 99 ("Snapshot"+10)
Sulev. Cuisses +2 i119
Sulev. Gauntlets +2 i119
Sulev. Leggings +2 i119
Sulevia's Mask +1 i119
Sulevia's Plate. +1 i119
Tauret i119
(4) Toutatis's Cape 99 (Dex+20, Accuracy+20 Attack+20, Accuracy+10, "Store Tp"+10, Damage Taken-5%)
(4) Toutatis's Cape 99 (Str+20, Accuracy+20 Attack+20, Weapon Skill Damage +10%, Phys. Dmg. Taken-10%)
(4) Toutatis's Cape 99 (Dex+20, Accuracy+20 Attack+20, Dex+10, Weapon Skill Damage +10%, Phys. Dmg. Taken-10%)
(4) Toutatis's Cape 99 (Int+20, Mag. Acc+20 /Mag. Dmg.+20, Int+10, "Mag.Atk.Bns."+10, Phys. Dmg. Taken-10%)
Ullr i119
Visucius's Mantle 99 (Pet: Acc.+20 Pet: R.Acc.+20 Pet: Atk.+20 Pet: R.Atk.+20, Accuracy+20 Attack+20, Pet: Haste+10, Pet: Damage Taken -5%)

Reforged Artifact/Relic/Emp
Atrophy Boots +1 i119
Bihu Cannions +1 i119 (Enhances "Soul Voice" Effect)
Bihu Jstcorps +1 i119 (Enhances "Troubadour" Effect)
Bihu Slippers +1 i119 (Enhances "Nightingale" Effect)
Chas. Culottes +1 i119
Chass. Tricorne +1 i119
Erilaz Surcoat 109
Futhark Boots +1 i119 (Enhances "Rayke" Effect)
Lanun Frac +1 i119 (Enhances "Loaded Deck" Effect)
Lanun Gants +1 i119 (Enhances "Fold" Effect)
Lanun Trews +1 i119 (Enhances "Snake Eye" Effect)
Lanun Tricorne +1 i119 (Enhances "Winning Streak" Effect)
Piety Cap +1 i119 (Enhances "Devotion" Effect)
Piety Duckbills +1 i119
Piety Mitts +1 i119
Pill. Armlets +1 i119
Pill. Bonnet +1 i119
Pill. Culottes +1 i119
Pillager's Vest +1 i119
Plun. Armlets +1 i119 (Enhances "Perfect Dodge" Effect)
Plun. Bonnet +1 i119 (Enhances "Aura Steal" Effect)
Pumm. Mask +1 i119
Viti. Tights +1 i119 (Enspell Damage, Accuracy)

Domain Invasion
Audumbla Sash 99
Embla Sash 99
Hauksbok Bullet i119
Meili Earring 99
Mimir Earring 99
Odr Earring 99
Saxnot Earring 99
Snotra Earring 99
Thrud Earring 99
Tuisto Earring 99
Vor Earring 99

Sinnister Reign
Befouled Crown i119
Cryptic Earring 99
Etiolation Earring 99
Fanatic Gloves i119 (Mp+50, Healing Magic Skill +10, "Conserve Mp"+7, "Fast Cast"+7)
Founder's Hose i119 (Mnd+5, Mag. Acc.+5, Attack+3, Breath Dmg. Taken -2%)
Incarnation Sash 99
Ishvara Earring 99
Leyline Gloves i119 (Accuracy+15, Mag. Acc.+15, "Mag.Atk.Bns."+15, "Fast Cast"+3)
Limbo Trousers i119
Samnuha Tights i119 (Str+10, Dex+10, "Dbl.Atk."+3, "Triple Atk."+3)
Taming Sari i119 (Str+10, Dex+10, Dmg:+15, "Treasure Hunter"+1)
Tartarus Platemail i119

Unity
Acerbic Sash +1 99
Antitail i119
Assid. Pants +1 i119
Aurist's Cape +1 99
Blistering Sallet +1 i119 (Path: A)
Contemplator +1 i119 (Path: A)
Emet Harness +1 i119
Forfend +1 i119 (Path: A)
Gazu Bracelets +1 i119
Gelatinous Ring +1 99
Ghastly Tathlum +1 99 (Path: A)
Loess Barbuta +1 i119
Loricate Torque +1 99
Loxotic Mace +1 i119 (Path: A)
Lugra Earring 99
Marin Staff +1 i119 (Path: A)
Metamor. Ring +1 99 (Path: A)
Odnowa Earring +1 99 (Path: A)
Pukulatmuj +1 i119
Sailfi Belt +1 99 (Path: A)
Seeth. Bomblet +1 99 (Path: A)
Tatena. Haidate +1 i119
Tatena. Harama. +1 i119 (Path: A)
Tatena. Sune. +1 i119
Ternion Dagger +1 i119 (Path: A)
Unmoving Collar +1 99 (Path: A)
Vim Torque +1 99 (Path: A)
Warder's Charm +1 99

Other Noteable R/EX
??? Ear.: Blu +1
??? Ear.: Drg +1
??? Ear.: Mnk +1
(3) ??? Ear.: Rng +1
??? Ear.: Thf +1
??? Earring: Brd
??? Earring: Run
Adamas 99
Ahosi Leggings i119
Anarchy +2 90 (Delay:+60, Tp Bonus +1000)
Apkallu Scepter
Archon Cape 90
Archon Ring 90
Artemis's Bow
Autarch's Axe
Brutal Earring 75
C. Palug Earring 99
C. Palug Ring 99
C. Palug Stone 99
Cessance Earring 99
Cornelia's Belt 99
Crematio Earring 99
Crep. Earring 99
Crepuscular Pebble 99
Crepuscular Ring 99
Daybreak i119
Defending Ring 70
Domes. Earring 99
Dunna 99 (Mp+20, Mag. Acc.+10, "Fast Cast"+3)
Elite Royal Collar 99
Emporox's Ring 99
Epona's Ring 89
Erudit. Necklace 99
Fermion Sword
Fotia Belt 87
Fotia Gorget 72
Freke Ring 99
Fucho-No-Obi 99
Gere Ring 99
Gifted Earring 88
Ginsen 99
Glorious Earring 99
Hachirin-No-Obi 71
Hecate's Earring 90
Hjarrandi Breast. i119
Hjarrandi Helm i119
Homiliary 99
Incanter's Torque 99
Infiltrator
Irradiance Blade
Lamia Staff
Lebeche Ring 99
Levin
Loquac. Earring 75
Lost Sickle
Luzaf's Ring 40
Machaera +2 90 (Tp Bonus +1000)
Magnetic Earring 72
Malignance Boots i119
Malignance Chapeau i119
Malignance Earring 99
Malignance Gloves i119
Malignance Tabard i119
Malignance Tights i119
Mecisto. Mantle 99 (Cap. Point+48%, Hp+25, Attack+3, Def+6)
Mekosu. Harness i119
Mizu. Kubikazari 99
Mizukage-No-Yumi
Moonshade Earring 90 (Accuracy+4, Tp Bonus +250)
Ophidian Sword
Orunmila's Torque 99
Oshasha's Treatise 99
Peacock Amulet 33
Per. Lucky Egg 99
Pirate's Chart
Prismatic Chest
Purple Race Silks
R Chocotrain: Rcp
(6) R Chocotrain: Str
Rahab Ring 99
Rajas Ring 30
Rep. Plat. Medal 99
Sacro Breastplate i119
Sacro Bulwark i119
Sacro Cord 99
Sacro Gorget 99
Sanare Earring 99
Seika Uchiwa
Sha Wujing's Lance
Shedir Seraweels 99
Shneddick Ring +1 99
Sibyl Scarf 99
Siegel Sash 90
Soulflayer's Wand
Suppanomimi 72
Svelt. Gouriz +1 99
Tengu Shawl
Tokkosho
Trux Earring 99
Twilight Cloak 90
Tzee Xicu's Blade
Ulthalam's Ring 50
Velocious Belt 55
Zanmato

WKR/Delve
andoaa Earring 99
Aqreqaq Bomblet 99
Bolelabunga i119
Chaac Belt 99
Evasionist's Cape 99 (Enmity+1, "Dbl.Atk."+1)
Gende. Gages +1 i119 (Phys. Dmg. Taken -4%, Magic Dmg. Taken -2%, Song Spellcasting Time -5%)
Ghostfyre Cape 99 (Enfb.Mag. Skill +9, Enha.Mag. Skill +9, Enh. Mag. Eff. Dur. +13)
Gunslinger's Cape 99 (Enmity-2, "Mag.Atk.Bns."+1, "Phantom Roll" Ability Delay -4)
Lifestream Cape 99 (Geomancy Skill +6, Pet: Damage Taken -1%)
(3) Linos 99 (Mag. Evasion+13, Phys. Dmg. Taken -4%, Hp+20)
(3) Linos 99 (Accuracy+14, Weapon Skill Damage +2%, Str+4 Dex+4)
(3) Linos 99 (Accuracy+15, "Dbl.Atk."+2, Quadruple Attack +3)
Taeon Boots i119 (Phalanx +3)
Taeon Chapeau i119 (Phalanx +3)
Taeon Gloves i119 (Phalanx +3)
Taeon Tabard i119 (Phalanx +3)
Taeon Tights i119 (Phalanx +3)
Tatena. Gote +1 i119 (Path: A)
Telchine Braconi i119 ("Fast Cast"+5, Enh. Mag. Eff. Dur. +10)
Telchine Cap i119 ("Fast Cast"+5, Enh. Mag. Eff. Dur. +10)
Telchine Chas. i119 ("Fast Cast"+5, Enh. Mag. Eff. Dur. +10)
Telchine Gloves i119 ("Fast Cast"+5, Enh. Mag. Eff. Dur. +10)
(2) Telchine Pigaches i119 ("Fast Cast"+5, Enh. Mag. Eff. Dur. +10)
(2) Telchine Pigaches i119 ("Fast Cast"+4)

Crafting
Artificer's Ring
Chocobo Rope 85
Craftkeeper's Ring
Craftmaster's Ring
Culin. Torque 70
Debahocho +1
Ebisu F. Rod +1 (Pet: Mag. Acc.+1, "Recycle"+1)
Fisherman's Smock
Fishermn. Stall
Fisher's Torque 81
Lu Sh. F. Rod +1 (Pet: Mag. Acc.+1, Blood Pact Dmg.+1)
Midras's Helm +1
Pelican Ring 15
Shaper's Shawl
Waders

Base Artifact/Relic/Emp
Agoge Mufflers 109 (Enhances "Mighty Strikes" Effect)
Assassin's Culottes 74
Assassin's Pouln. 73
Assassin's Vest 72
Corsair's Bottes 56
Corsair's Culottes 52
Corsair's Frac 58
Corsair's Gants 54
Corsair's Tricorne 60
Creed Sabatons 81
Fighter's Mufflers 54
Tantra Gaiters 81
Warrior's Cuisses 74

Misc.
(9) A. Tok.: Body +1
(9) A. Tok.: Feet +1
(11) A. Tok.: Fingers
(9) A. Tok.: Hands +1
(9) A. Tok.: Head +1
(9) A. Tok.: Legs +1
(7) A. Vou.: Body +1
(6) A. Vou.: Feet +1
(12) A. Vou.: Fingers
(7) A. Vou.: Hands +1
(6) A. Vou.: Head +1
(6) A. Vou.: Legs +1
(32) Abdhaljs Anima
(60) Abdhaljs Dust
(10) Abdhaljs Dye
(188) Abdhaljs Fiber
(26) Abdhaljs Gem
(16) Abdhaljs Matter
(133) Abdhaljs Metal
(11) Abdhaljs Needle
(28) Abdhaljs Nugget
(4) Abdhaljs Resin
(4) Abdhaljs Sap
(5) Abdhaljs Seal
(60) Abdhaljs Thread
Atst. of Force
Brigand's Chart
(2) Carabosse's Gem
(4) Colorless Soul
(16) Fu's Scale
(21) Gin's Scale
(4) Glavoid Shell
Hidhaegg's Scale
Ilrusi Ledger
(4) Iron Plate
Isgebind's Heart
(7) Itzpapa. Scale
(2) Kei's Scale
(9) Kin's Scale
Kupon Aw-Wk
(20) Kupon I-Seal
(14) Kyou's Scale
Lebros Chronicle
Leujaoam Log
Lion's Roar
Maat's Concoc.
(3) Maat's Mix
Mamool Ja Journal
Mog Pell (Red)
Mutsunokami
(2) Orthrus's Claw
Periqia Diary
(101) Ra'kaz. Sapphire

Key Items
[Spoiler]
?Adamantoise Companion
?Beetle Companion
?Bomb Companion
?Chocobo Companion
?Coeurl Companion
?Crawler Companion
?Dhalmel Companion
?Doll Companion
?Golden Bomb Companion
?Goobbue Companion
?Hippogryph Companion
?Iron Giant Companion
?Ixion Companion
?Levitus Key
?Magic Pot Companion
?Morbol Companion
?Noble Chocobo Companion
?Omega Whistle
?Raaz Companion
?Raptor Companion
?Red Crab Companion
?Red Raptor Companion
?Sheep Companion
?Spheroid Companion
?Tiger Companion
?Tulfaire Companion
?Warmachine Companion
?Wivre Companion
?Xzomit Companion
''20,000 Yalms Under the Sea''
''a Farewell To Freshwater''
Abyssal Wyrm Memento
Abyssite of Discernment
Abyssite of the Cosmos
Abyssobugard Memento
Adamantoise Memento
Adenium Memento
Adoulinian Charter Permit
''adoulin's Topiary Treasures''
Adventurer's Certificate
After-Party Pass
Aged Booming Naakual Crest
Aged Firebrand Naakual Crest
Aged Flashfrost Naakual Crest
Aged Ligneous Naakual Crest
Aged Matriarch Naakual Crest
Aged Riptide Naakual Crest
Aged Undying Naakual Crest
Airship Pass
Ake-Ome Memento
Algor Resilience
''all the Ways To Skin A Carp''
Allied Ribbon of Bravery ???
Allied Ribbon of Glory ????
Altepa Gate Crystal
Amber Stratum Abyssite Ii
Ambuscade Primer Volume One
''anatomy of An Angler''
Anglers' Almanac
Anti-Glaciation Gear
''arboreal Abracadabra''
Archducal Audience Permit
Arciela's Skirt
Ardent Rune Fencer's Soul
Ashen Stratum Abyssite Iii
Ashrakk's Blood Sigil
Assault Armband
Astral Compass
Atma of A Thousand Needles
Atma of Allure
Atma of Blighted Breath
Atma of Entwined Serpents
Atma of Purgatory
Atma of the Apocalypse
Atma of the Crimson Scale
Atma of the Foe Flayer
Atma of the Gnarled Horn
Atma of the Lake Lurker
Atma of the Lone Wolf
Atma of the Merciless Matriarch
Atma of the Minikin Monstrosity
Atma of the Omnipotent
Atma of the Razed Ruins
Atma of the Sanguine Scythe
Atma of the Smiting Blow
Atma of the Stormbird
Atma of the Stout Arm
Atma of the Stronghold
Atma of the Voracious Violet
Atma of the War Lion
Atmacite of Affinity
Atmacite of Aplomb
Atmacite of Assailment
Atmacite of Curses
Atmacite of Dark Designs
Atmacite of Glaciers
Atmacite of Imperium
Atmacite of Mysticism
Atmacite of Preparedness
Atmacite of Preservation
Atmacite of Provenance
Atmacite of Rapidity
Atmacite of Skyblaze
Atmacite of the Adamant
Atmacite of the Assassin
Atmacite of the Depths
Atmacite of the Forager
Atmacite of the Shrewd
Atmacite of the Slayer
Atmacite of the Solipsist
Atmacite of the Tropics
Atmacite of the Valiant
Atmacite of Unity
Azure Abyssite of Celerity
Baby Adamantoise Memento
Baby Cockatrice Memento
Baby Colibri Memento
Baby Eft Memento
Baby Lizard Memento
Baby Rabbit Memento
Baby Raptor Memento
Barge Multi-Ticket
Barge Ticket
Bastok Trust Permit
Bastok Warp Rune
Battle Trophy: 1st Echelon
Battle Trophy: 2nd Echelon
Battle Trophy: 3rd Echelon
Battle Trophy: 4th Echelon
Battle Trophy: 5th Echelon
Behemoth Cub Memento
Behemoth Memento
''black Fish of the Family''
Black Matinee Necklace
Blazing Wyrm Memento
Blood-Smeared Gigas Helm
Blue Sea Monk Memento
Blue Sentinel Badge
Blue Wyvern Memento
Boarding Permit
Bomb Memento
Booming Naakual Paragon
Brand of Dawn
Brand of Twilight
Brass Ribbon of Service ??
Brass Wings of Service ?
Brier-Proof Net
Bronze Astrarium
Bronze Mattock Cordon
Bronze Ribbon of Service ?
Bronze Shovel Cordon
Bronze Star ?
Brunhilde's Feather
Buffalo Calf Memento
Buffalo Memento
Bugard Memento
Bulbous Crawler Cocoon
Bundle of Half-Inscribed Scrolls
Calor Resilience
Captain Wildcat Badge
''card Jailer Teodor''
Cast Metal Plate
Celennia Memorial Library Card
Cerulean Crystal
Champion Phantom Gem
Cheer: Jumbotender
Chipped Sandworm Tooth
Chocobo License
Clairvoy Ant
''climbing''
Clot Memento
Cluster Memento
Cockatrice Memento
Coeurl Cub Memento
Coeurl Memento
Colibri Memento
Compass of Transference
Concordoll
Copper Emblem of Service ?
Coruscant Rosary
Cosmo-Cleanse
Courageous Warrior's Shard
Courageous Warrior's Soul
Crab Caller
Crab Memento
Cracked Skeleton Clavicle
Craggy Fin
Crest of Davoi
Crimson Abyssite of Acumen
Crimson Abyssite of Confluence
Crimson Abyssite of Destiny
Crimson Stratum Abyssite Iv
Crimson Traverser Stone
Cyan Deep Salt
Dawn Phantom Gem
Dawnlight Medal ???
Deed Token
Deed Token +1: Chest
Deed Token +1: Feet
Deed Token +1: Hands
Deed Token +1: Head
Deed Token +1: Legs
Deed Token +2: Chest
Deed Token +2: Feet
Deed Token +2: Hands
Deed Token +2: Head
Deed Token +2: Legs
Dem Gate Crystal
''demolishing''
Dented Chariot Shield
''designer Farming''
Detached Stinger
Dhalmel Calf Memento
Dhalmel Memento
Dhokmak's Blood Sigil
Dimensional Compass
Distinguished Bard's Shard
Distinguished Bard's Soul
Distorted Fragment
Djinn Memento
Dragon Hatchling Memento
''dredging's No Drudgery''
Dull Ra'kaznarian Plate
Dusky Periapt of Adaptability
Dusky Periapt of Catalysis
Dusky Periapt of Concentration
Dusky Periapt of Concord
Dusky Periapt of Exploration
Dusky Periapt of Focus
Dusky Periapt of Frontiers
Dusky Periapt of Glory
Dusky Periapt of Intensity
Dusky Periapt of Prudence
Dusky Periapt of Vigilance
Dynamic Geomancer's Shard
Dynamic Geomancer's Soul
Dynamis - Buburimu Sliver
Dynamis - Qufim Sliver
Dynamis - Tavnazia Sliver
Dynamis - Valkurm Sliver
Eft Memento
Elasmoth Memento
Elder Adenium Memento
Elder Mandragora Memento
Elvaan Mask of Light
Emerald Abyssite of Acumen
Emerald Abyssite of Fortune
Emerald Abyssite of Sojourn
Empty Hourglass
''encyclopedia Icthyonnica''
''enlightened Endeavor''
Eschan Cellar
Eschan Nef
Eschan Urn
F.A.I.L. Badge
Fabricated Pearl of Ashen Wings
Fabricated Pearl of Biting Winds
Fabricated Pearl of Impurity
Fabricated Pearl of Miasma
Fabricated Pearl of the False King
Ferromantoise Memento
''fields and Fertilizing''
Filled Memory Gem
Firebrand Naakual Paragon
Flame-Scarred Skull
Flashfrost Naakual Paragon
''fragmenting''
Frog Fishing
Frosted Incisor
Fu'S Bead
Galka Mask of Light
Geomagnetron
Gerhilde's Feather
Gil Repository
Gin'S Bead
''give My Regards To Reodoan''
Glossy Sea Monk Sucker
Golden Shovel Cordon
Golden Star ????
Golden Wing
Gps Crystal
Gramk-Droog's Circlet
''grandiloquent Groves''
Great Adamantoise Memento
Great Dhalmel Memento
Great Ferromantoise Memento
Green Foliage Treant Memento
Green Wyvern Memento
Grimoire
Grunt Heard 'round the World
Gysahl Medal
Habitual Behavior Barometer
Heart of the Bushin
Hecteyes Memento
Holla Gate Crystal
Holyknight Emblem ????
''homesteader's Compendium''
Hyacinth Stratum Abyssite Ii
Hydra Corps Battle Standard
Hydra Corps Command Scepter
Hydra Corps Eyeglass
Hydra Corps Insignia
Hydra Corps Lantern
Hydra Corps Tactical Map
Immature Crab Memento
Impure Alizarin Yggzi
Impure Aster Yggzi
Impure Celadon Yggzi
Impure Phlox Yggzi
Impure Russet Yggzi
Impure Zaffre Yggzi
Indigo Abyssite of Sojourn
Indigo Abyssite of the Reaper
Indigo Stratum Abyssite Iv
Information On Mboze
Information On Ongo
Inky Black Yagudo Feather
Insulator Tablet
Iron Emblem of Service ??
Ivory Abyssite of Acumen
Ivory Abyssite of Avarice
Ivory Abyssite of Celerity
Ivory Abyssite of Confluence
Ivory Abyssite of Destiny
Ivory Abyssite of Expertise
Ivory Abyssite of Fortune
Ivory Abyssite of Furtherance
Ivory Abyssite of Guerdon
Ivory Abyssite of Kismet
Ivory Abyssite of Merit
Ivory Abyssite of Perspicacity
Ivory Abyssite of Prosperity
Ivory Abyssite of Sojourn
Ivory Abyssite of the Reaper
Ivory Wing Talisman
Jade Abyssite of Expertise
Jade Abyssite of Sojourn
Jade Stratum Abyssite Iv
Job Breaker
Job Gesture: Bard
Job Gesture: Beastmaster
Job Gesture: Black Mage
Job Gesture: Blue Mage
Job Gesture: Corsair
Job Gesture: Dancer
Job Gesture: Dark Knight
Job Gesture: Dragoon
Job Gesture: Geomancer
Job Gesture: Monk
Job Gesture: Ninja
Job Gesture: Paladin
Job Gesture: Puppetmaster
Job Gesture: Ranger
Job Gesture: Red Mage
Job Gesture: Rune Fencer
Job Gesture: Samurai
Job Gesture: Scholar
Job Gesture: Summoner
Job Gesture: Thief
Job Gesture: Warrior
Job Gesture: White Mage
Jugner Gate Crystal
Jumbotender Memento
Karakul Memento
Kei'S Bead
King Behemoth Memento
Korrigan Memento
Lamb Memento
Lerene's Paten
Letter From Zeid
Leujaoam Assault Orders
Lightsworm
Ligneous Naakual Paragon
Limascabra Memento
Limit Breaker
Lizard Memento
Loadstone
''logging''
Lunar Abyssite
Lunar Wyrm Memento
Luopan
Lycopodium Memento
Lynx Memento
Macabre Simulacrum
Magian Trial Log
Magicked Astrolabe
Magma Mitigation Set
Maiden Phantom Gem
Manaclipper Multi-Ticket
Mandragora Memento
Mandragora Sproutling Memento
Map of Abyssea - Konschtat
Map of Abyssea - Misareaux
Map of Abyssea - Uleguerand
Map of Promyvion - Dem
Map of Promyvion - Holla
Map of Promyvion - Mea
Map of Promyvion - Vahzl
Map of the Chocobo Circuit
Margret's Memo
Margret's Writ of Summons
Mark of the Einherjar
Mark of Zahak
Master Breaker
Mea Gate Crystal
Medal of Altana ????
Mega Moglification: Fishing
Megomak's Shopping List
Memorandoll
Memorian, the Magicked Doll
Meriphataud Gate Crystal
Message From Yoyoroon
Mhaura Warp Rune
''mhmu Treatise On Agronomy''
''mhmu Treatise On Fish I''
''mhmu Treatise On Fish Ii''
''mhmu Treatise On Forestry''
''mhmu Treatise On Minerals''
Mini Slime Memento
Mithra Mask of Darkness
Mithra Mask of Light
Mnejing's Receiver
Mog Kupon A-Asyw
Mog Kupon A-Pk109
Mog Kupon W-Asrw
Mog Kupon W-Scc
Mog Kupon W-Srw
Mooching
Moongate Pass
Moonlight Medal ??
Mucid Worm Segment
''my First Furrow''
Mystical Canteen
Mythril Astrarium
''mythril Marathon Quarterly''
Mythril Star ???
Mythril Wings of Service ??
Nashmau Warp Rune
Neutral Periapt of Frontiers
Ortlinde's Feather
Pachypodium Memento
Paintbrush of Souls
Pair of Fuzzy Earmuffs
Pair of Velkk Gloves
Paresis Resilience
Pashhow Gate Crystal
Peerless Red Mage's Shard
Peerless Red Mage's Soul
Peppe-Aleppe's Superlative Tonic
Pequetender Memento
Periapt of Clarity
Periapt of Emergence
Periapt of Guidance
Periapt of Percipience
Periapt of Recompense
Periapt of Sapience
Phantom Gem of Apathy
Phantom Gem of Arrogance
Phantom Gem of Cowardice
Phantom Gem of Envy
Phantom Gem of Rage
Phlox Yantric Planchette
Phoenix's Blessing
Piece of Inviolable Bark
Pioneer's Badge
Platinum Astrarium
Porter Crab Memento
Pouch of Weighted Stones
Primer On Martial Techniques
Prismatic Fragment
Prismatic Hourglass
Prototype Attuner
Prototype Pearl of Ashen Wings
Prototype Pearl of the False King
Pso'xja Pass
''pulverizing''
Pure White Feather
''quiescence''
Rabao Warp Rune
Rabbit Memento
Ram Memento
Raptor Memento
Reaper
Red Foliage Treant Memento
Red Raptor Memento
Reive Unity
Reliquiarium Key
Resplendent Roc Quill
Restrainment Resilience
Resurrection Retardant Axe
''rhapsody In Azure''
''rhapsody In Crimson''
''rhapsody In Emerald''
''rhapsody In Fuchsia''
''rhapsody In Mauve''
''rhapsody In Ochre''
''rhapsody In Puce''
''rhapsody In Umber''
''rhapsody In White''
Ring of Supernal Disjunction
Riptide Naakual Paragon
Rosulatia's Pome
Runic Disc
Runic Key
Runic Kinegraver
Ruspix's Plate
Rusted Hound Collar
Sabotender Memento
Sajj'aka's Protective Ward
''sakura and the Cactus Corps''
''sakura and the Fountain''
''sakura and the Holy Grail''
''sakura and the Magic Spoon''
''sakura and the Magicked Net''
Sakura Racing Badge
''sakura's Excellent Adventure''
San D'oria Trust Permit
San D'oria Warp Rune
Sapling Memento
Sapphire Abyssite of Fortune
Sapphire Abyssite of Furtherance
Scarlet Abyssite of Lenity
Scarlet Abyssite of Sojourn
''scintillating Rhapsody''
Sea Monk Larva Memento
Sea Monk Memento
Selbina Warp Rune
Semi-Pure Alizarin Yggzi
Semi-Pure Aster Yggzi
Semi-Pure Celadon Yggzi
Semi-Pure Phlox Yggzi
Semi-Pure Russet Yggzi
Semi-Pure Zaffre Yggzi
Sepulcher Ensign
Serpent Rumors
Shard of Apathy
Shard of Arrogance
Shard of Cowardice
Shard of Envy
Shard of Rage
Sheep Memento
Sheet of Destiny Destroyer Tunes
Sheet of Harvest Tunes
Sheet of Jeuno Tunes
Shimmering Invitation
Shriveled Hecteyes Stalk
Sicklemoon Salt
Silver Bell
Silver Knife Membership Card
Silver Mattock Cordon
Silver Sea Salt
Silver Shovel Cordon
Silvery Plate
Skormoth Memento
Slime Memento
Snoll Memento
Song of Hope
''sow?Your?Seed!''
Sparking Tail Feather
Squire Certificate
Stalwart White Mage's Soul
Starlight Medal ?
Starlight Voidwatcher's Emblem
Steelknight Emblem ???
Sterling Star ??
Story of A Diligent Chocobo
Story of A Happy Chocobo
Story of A Worrisome Chocobo
''susuroon's Biiig Catch''
Synergy Crucible
''take A Lode off''
''tales From the Tunnel''
Tarichuk Memento
Tarutaru Mask of Light
Tattered Maze Monger Pouch
Tavnazia Warp Rune
Tear of Altana
Temple Knight Key
Tenshodo Member's Card
Teodor's Blood Sigil
''the Gusgen Mines Tragedy''
''the Old Men of the Sea''
Tiny Bugard Memento
Tonberry Key
Toucalibri Memento
Toxin Resilience
Trainer's Whistle
Traverser Stone
Tribulens
Tricolor Voidwatcher's Emblem
Unparalleled Corsair's Shard
Unparalleled Corsair's Soul
Uragnite Memento
Uragnite Youngling Memento
Uran-Mafran's Orb
Vahzl Gate Crystal
''varicose Mineral Veins''
Velkk Fetish
Venomous Peiste Claw
''verdant and Verdon'ts''
Verm. Abyssite of Perspicacity
Vermillion Abyssite of Kismet
Vial of Shrouded Sand
Viridian Abyssite of Avarice
Viridian Abyssite of Destiny
Vivid Periapt of Adaptability
Vivid Periapt of Catalysis
Vivid Periapt of Concord
Vivid Periapt of Exploration
Vivid Periapt of Glory
Vivid Periapt of Vigilance
Void Cluster
Voidstone
Voidwatcher's Emblem: Jeuno
Voidwatcher's Emblem: Qufim
Warrior's Path Phantom Gem
''water, Water Everywhere!''
Watercraft
''watercrafting''
Whisper of the Wyrmking
White Adamantoise Memento
White Rabbit Memento
White Sentinel Badge
White Stratum Abyssite Vi
Whitegate Warp Rune
Windurst Trust Permit
Windurst Warp Rune
Wings of Honor ????
Wings of Integrity ???
Wyrm God Phantom Gem
Wyvern Memento
Yagudo Torch
Ygnas's Insignia
Ygnas's Leaf
Yhoator Gate Crystal
Ziz Memento
[/Spoiler]




Currencies
Nyzul Tokens: 142972
Therion Ichor: 95920
Cruor: 2054968
Voidstones: 2595
Traverser Stones: 2497
A.M.A.N. Vouchers Stored: 240
Zeni: 53000
Guild Points (Fishing): 51960
Guild Points (Woodworking): 0
Guild Points (Smithing): 0
Guild Points (Goldsmithing): 0
Guild Points (Weaving): 0
Guild Points (Leathercraft): 0
Guild Points (Bonecraft): 0
Guild Points (Alchemy): 0
Guild Points (Cooking): 0
Assault Points (Leujaoam Sanctum): 19019
Assault Points (M.J.T.G.): 20883
Assault Points (Lebros Cavern): 21294
Assault Points (Periqia): 21161
Assault Points (Ilrusi Atoll): 18441
Beastman Seals (stored): 4
Kindred Seals (stored): 0
Kindred Crests (stored): 0
High Kindred Crests (stored): 0
Sacred Kindred Crests (stored): 1
Bayld: 389099
Mweya Plasm Corpuscles: 1467575
Escha Silt: 5464755
Escha Beads: 18075
Potpourri: 9432
Domain Points: 630
Mog Segments: 76099
Gallimaufry: 58059


Job Points
MASTER RDM2100
MASTER GEO2100
MASTER WHM2100
MASTER WAR2100
MASTER COR2100
MASTER RUN2100
MASTER BRD2100
MASTER THF2100


Trusts (107)
Lhe Lhangavo
Halver
Makki-Chebukki
AAGK
Nashmeira II
Nanaa Mihgo
Mihli Aliapoh
Iron Eater
Ovjang
Elivira
Arciela
Rongelouts
King of Hearts
Iroha
Lilisette II
Curilla
Valaineral
Gessho
Mnejing
D. Shantotto
Noillurie
Kuyin Hathdenna
Babban
Mayakov
Leonoyne
Abquhbah
Morimar
Ygnas
Tenzen II
Volker
Joachim
Gadalar
Sakura
Star Sibyl
Lhu Mhakaracca
Rahal
Abenzio
Qultada
Maximilian
Balamor
Darrcuiln
Monberaux
Mumor II
Shantotto
Ajido-Marujido
Naja Salaheem
Rainemard
Luzaf
Karaha-Baruha
Ferreous Coffin
Koru-Moru
Rughadjeen
Adelheid
Kayeel-Payeel
August
AAHM
Ingrid II
Naji
Trion
Prishe
Ingrid
Najelith
Cid
Lilisette
Kukki-Chebukki
Amchuchu
Robel-Akbel
Rosulatia
AAEV
Lion II
Arciela II
Kupipi
Zeid
Ulmia
Lehko Habhoka
Aldo
Gilgamesh
Mumor
Margret
Brygid
Kupofried
Teodor
AAMR
Zeid II
Iroha II
Excenmille
Lion
Shikaree Z
Nashmeira
Moogle
Areuhat
Uka Totlihn
Chacharoon
Mildaurion
Selh'teus
Ullegore
AATT
Matsui-P
Prishe II
Shantotto II
Ayame
Tenzen
Cherukiki
Zazarg
Fablinix
Semih Lafihna
Klara


Coalition Ranks
Pioneer Legend
Courier Legend
Inventor Legend
Mummer Legend
Peacekeeper Legend
Scout Legend

Escha Vorseal
HP/MP+ 8
Acc/R.Acc/Eva+ 8
Def+ 8
Atk/R.Atk+ 8
M.Acc/M.Eva+ 9
M.Def+ 9
M.Atk+ 9
DEX/AGI+ 9
STR/VIT+ 9
INT/MND/CHR+ 9
Occ. Nullifies Damage 3
Killer Effects+ 3
Damage Taken 3
Spoils+ 8
Rare Enemy+ 8
Luck+ 8
Regen+ 4
Refresh+ 4
Accuracy++ 6


tldr& Insane decked Hume Female 100% up to date. Great REMA selection for Melee/Tank/Support. Both Ergons. Golden shovel, Ygnas. VR up to date with Cornelias Belt obtained. Sortie PRO tons of +3/+2 and JSE earrings. Odyssey pro, Nyame R25 gear, many Atonement 3 ranked 20+ including some rank30 Sakpata. Many V25 clears already obtained! Full enh duration+10 telchine, Domain Invasion 12xFull Malignance. su5 necks, Volte, Rostram/Croc both R25. Unity+1 Regla including Ashera, Fishing 110 includng Ebisu+1 and Lu Shang+1. Bard Carn in progress, 1 token run and 2 ichor runs away from complete!!

$2250 (buyout includes 30,000 Alex and 100m gil)