Taru 22x 99 WHM refroged Omen Kayk+1 108 fish 93 cook RoV done CHEAP
OO Info: ALL INFO YES
Server Xfer is Available
SE Q&A YES!
Missions
Mercenary Rank: Private Second Class
Bastok Rank: Rank 10
Rise of the Zilart: Complete!
Chains of Promathia: Complete!
Treasures of Aht Urhgan: Complete!
Wings of the Goddess: Complete!
Addon: A Crystalline Prophecy: The Echo Awakens
Addon: A Moogle Kupo d'Etat: Drenched! It Began with a Raindrop
Addon: A Shantotto Ascension: Hasn't started yet
Abyssea: N/A
Seekers of Adoulin: Complete!
Completed Unique Coalitions (Adoulin): 2
Rhapsodies of Vana'diel: Complete!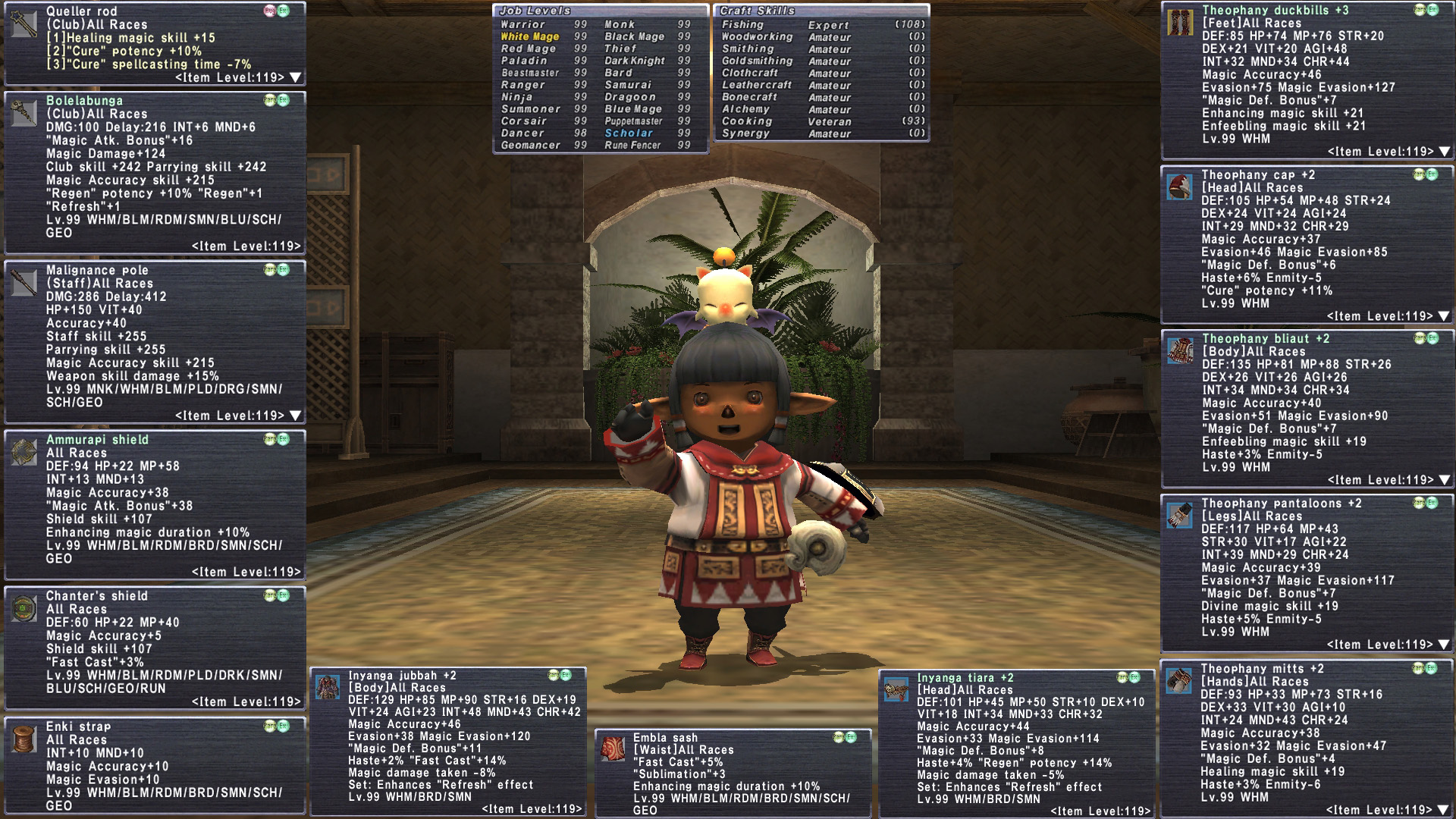 Value in misc. 500k+ in sellables

119 Artifact +2/+3
Th. Pantaloons +2 i119
theo. Bliaut +2 i119
theo. Duckbills +3 i119
theophany Cap +2 i119
theophany Mitts +2 i119

Omen
Adad Amulet 99
Ammurapi Shield i119
Anu Torque 99
Dingir Ring 99
Enki Strap 99
Erra Pendant 99
Knobkierrie 99
Nusku Shield i119
(73) P. Whm Card
Sherida Earring 99
Yamarang 99

Escha Zi'Tah/Ru'Aun/Reisenjima
Hydrocera 99
Inspirited Boots i119
Mendi. Earring 99
Queller Rod i119 (Healing Magic Skill +15, "Cure" Potency +10%, "Cure" Spellcasting Time -7%)
Vanya Clogs i119 ("Cure" Potency +5%, "Cure" Spellcasting Time -15%, "Conserve Mp"+6)
Vanya Cuffs i119 (Mp+50, "Cure" Potency +7%, Enmity-6)
Vanya Hood i119 (Mp+50, "Fast Cast"+10, Haste+2%)

119 Abjuration Gear
Kaykaus Boots +1 i119 (Mp+80, "Cure" Spellcasting Time -7%, Enmity-6)
Kaykaus Mitra +1 i119 (Mp+80, "Cure" Spellcasting Time -7%, Enmity-6)
Ve.Abjuration: Hd.

Ambuscade
(2) A. Voucher: Weapon
Alaunus's Cape 99 (Mnd+20, Eva.+20 /Mag. Eva.+20, Mnd+10, "Fast Cast"+10)
Inyan. Crackows +1 i119
Inyan. Dastanas +1 i119
Inyanga Jubbah +2 i119
Inyanga Shalwar +1 i119
Inyanga Tiara +2 i119

Reforged Artifact/Relic/Emp
Ebers Bliaut +1 i119
Ebers Cap +1 i119
Ebers Duckbills +1 i119
Ebers Mitts +1 i119
Ebers Pant. +1 i119
Piety Bliaut +1 i119 (Enhances "Benediction" Effect)
Piety Cap +1 i119 (Enhances "Devotion" Effect)
Piety Duckbills +1 i119 (Enhances "Afflatus Solace" Effect)
Piety Mitts +1 i119 (Enhances "Martyr" Effect)
Piety Pantaln. +1 i119 (Enhances "Afflatus Misery" Effect)

Domain Invasion
Embla Sash 99
Heidrek Boots i119
Heidrek Brais i119
Heidrek Gloves i119
Heidrek Harness i119
Heidrek Mask i119
Voluspa Knuckles i119

Unity
Antitail i119
Antitail +1 i119
Assid. Pants +1 i119
Mephitas's Ring +1 99
Nourish. Earring +1 99
Regal Pumps +1 i119

Other Noteable R/EX
Adoulin's Refuge +1 99
Balrahn's Ring 50
Glorious Earring 99
Janniston Ring 99
Lebeche Ring 99
Liminus Earring 91
Loquac. Earring 75
Malignance Pole i119
Malignance Sword i119
Moonshade Earring 90 (Mp+25, Latent Effect: "Refresh"+1)
Rajas Ring 30
Voltsurge Torque 99

WKR/Delve
Bolelabunga i119
Gende. Gages +1 i119
Nahtirah Hat i119
Umuthi Hat i119

Crafting
Culin. Torque 70
Pelican Ring 15

Misc.
A. Tok.: Body +1
A. Tok.: Feet +1
A. Tok.: Fingers
A. Tok.: Hands +1
A. Tok.: Head +1
A. Tok.: Legs +1
A. Token: Body
A. Token: Feet
A. Token: Hands
A. Token: Head
A. Token: Legs
A. Vou.: Body +1
A. Vou.: Fingers
A. Voucher: Body
A. Voucher: Feet
A. Voucher: Hands
A. Voucher: Head
A. Voucher: Legs
(9) Abdhaljs Fiber
(9) Abdhaljs Metal
(3) Abdhaljs Seal
(18) Abdhaljs Thread
(4) Gin's Scale
(4) Kei's Scale
(2) Kupon I-Seal
Mog Pell (Red)
(3) Silver Voucher
(13) Sp Gobbie Key

Key Items
[Spoiler]
?Raptor Companion
?Red Crab Companion
?Wivre Companion
Adoulinian Charter Permit
Adventurer's Certificate
Aged Booming Naakual Crest
Aged Firebrand Naakual Crest
Aged Flashfrost Naakual Crest
Aged Ligneous Naakual Crest
Aged Matriarch Naakual Crest
Aged Riptide Naakual Crest
Aged Undying Naakual Crest
Airship Pass
Airship Pass For Kazham
Alizarin Yantric Planchette
Amber Stratum Abyssite Ii
Anglers' Almanac
Anti-Glaciation Gear
Archducal Audience Permit
Arciela's Skirt
Ashen Stratum Abyssite Iii
Ashrakk's Blood Sigil
Astral Compass
Atma of Allure
Atma of Calamity
Atma of the Gnarled Horn
Atma of the Lone Wolf
Atma of the Merciless Matriarch
Atma of the Minikin Monstrosity
Atma of the Omnipotent
Atma of the Razed Ruins
Atma of the Sanguine Scythe
Atma of the Stormbird
Atma of the Stout Arm
Atma of the Stronghold
Atma of the Voracious Violet
Atmacite of Affinity
Atmacite of Aplomb
Atmacite of Coercion
Atmacite of Curses
Atmacite of Dark Designs
Atmacite of Deluges
Atmacite of Destruction
Atmacite of Devotion
Atmacite of Discipline
Atmacite of Eminence
Atmacite of Enticement
Atmacite of Exhortation
Atmacite of Finesse
Atmacite of Glaciers
Atmacite of Incursion
Atmacite of Latitude
Atmacite of Mysticism
Atmacite of Onslaught
Atmacite of Persistence
Atmacite of Preparedness
Atmacite of Preservation
Atmacite of Rapidity
Atmacite of Skyblaze
Atmacite of Temperance
Atmacite of the Adamant
Atmacite of the Assassin
Atmacite of the Depths
Atmacite of the Forager
Atmacite of the Slayer
Atmacite of the Tropics
Atmacite of Unity
Avatar Phantom Gem
Bastok Trust Permit
Battle Trophy: 1st Echelon
Battle Trophy: 2nd Echelon
Battle Trophy: 3rd Echelon
Battle Trophy: 4th Echelon
Battle Trophy: 5th Echelon
Boarding Permit
Booming Naakual Paragon
Brand of Dawn
Brand of Twilight
Brier-Proof Net
Bronze Ribbon of Service ?
Celennia Memorial Library Card
Celestial Nexus Phantom Gem
Cerulean Crystal
Chocobo License
Clairvoy Ant
''climbing''
Clump of Animal Hair
Compass of Transference
Concordoll
Cosmo-Cleanse
Craggy Fin
Crimson Stratum Abyssite Iv
Dem Gate Crystal
''demolishing''
Detached Stinger
Dhokmak's Blood Sigil
Dimensional Compass
Distorted Fragment
Dull Ra'kaznarian Plate
Dusky Periapt of Adaptability
Dusky Periapt of Catalysis
Dusky Periapt of Concentration
Dusky Periapt of Concord
Dusky Periapt of Focus
Dusky Periapt of Frontiers
Dusky Periapt of Glory
Dusky Periapt of Intensity
Dusky Periapt of Readiness
Dynamis - Buburimu Sliver
Dynamis - Qufim Sliver
Dynamis - Tavnazia Sliver
Dynamis - Valkurm Sliver
Empty Hourglass
Eschan Cellar
Eschan Nef
Eschan Urn
Fabricated Pearl of Biting Winds
Fabricated Pearl of Impurity
Fabricated Pearl of Miasma
Fabricated Ward of Ashen Wings
Fabricated Ward of Biting Winds
Fabricated Ward of Impurity
Fabricated Ward of Miasma
Fabricated Ward of the False King
Feared One Phantom Gem
Ferry Ticket
Firebrand Naakual Paragon
Flashfrost Naakual Paragon
''fragmenting''
Fu'S Bead
Geomagnetron
Gin'S Bead
Gps Crystal
Grimgerde's Feather
Grimoire
Habitual Behavior Barometer
Head Wind Phantom Gem
Heart of the Bushin
Hyacinth Stratum Abyssite Ii
Hydra Corps Battle Standard
Hydra Corps Command Scepter
Hydra Corps Eyeglass
Hydra Corps Insignia
Hydra Corps Lantern
Hydra Corps Tactical Map
Impure Alizarin Yggzi
Impure Celadon Yggzi
Impure Phlox Yggzi
Impure Russet Yggzi
Impure Zaffre Yggzi
Indigo Abyssite of the Reaper
Indigo Stratum Abyssite Iv
Inky Black Yagudo Feather
Insulator Tablet
Jade Stratum Abyssite Iv
Job Breaker
Job Gesture: Bard
Job Gesture: Beastmaster
Job Gesture: Black Mage
Job Gesture: Blue Mage
Job Gesture: Corsair
Job Gesture: Dancer
Job Gesture: Dark Knight
Job Gesture: Dragoon
Job Gesture: Geomancer
Job Gesture: Monk
Job Gesture: Ninja
Job Gesture: Paladin
Job Gesture: Puppetmaster
Job Gesture: Ranger
Job Gesture: Red Mage
Job Gesture: Rune Fencer
Job Gesture: Samurai
Job Gesture: Scholar
Job Gesture: Summoner
Job Gesture: Thief
Job Gesture: Warrior
Job Gesture: White Mage
Jugner Gate Crystal
Kei'S Bead
Kupofried's Corundum
Legacy Phantom Gem
Lerene's Paten
Lightsworm
Ligneous Naakual Paragon
Limit Breaker
''logging''
Lunar Abyssite
Luopan
Magian Trial Log
Magma Mitigation Set
Manaclipper Multi-Ticket
Mark of Zahak
Matriarch Naakual Paragon
Mea Gate Crystal
Memorandoll
Military Scrip
Mog Kupon A-Asyw
Mog Kupon Aw-Wk
Mog Kupon W-Ascc
Mog Kupon W-Asrw
Mog Kupon W-Scc
Mog Kupon W-Srw
Moghancement: Bounty
Mystical Canteen
Neutral Periapt of Frontiers
Nyzul Isle Assault Orders
Pair of Fuzzy Earmuffs
Pair of Velkk Gloves
Pashhow Gate Crystal
Periapt of Clarity
Periapt of Emergence
Periapt of Guidance
Periapt of Percipience
Periapt of Recompense
Periapt of Sapience
Phantom Gem of Rage
Phoenix's Blessing
Piece of Inviolable Bark
Pioneer's Badge
Prismatic Fragment
Prismatic Hourglass
Psc Wildcat Badge
Pso'xja Pass
''pulverizing''
Puppet In Peril Phantom Gem
Pure White Feather
Quinary Nazar
Raw Fish Handling
Reaper
Reliquiarium Key
''rhapsody In Azure''
''rhapsody In Crimson''
''rhapsody In Emerald''
''rhapsody In Fuchsia''
''rhapsody In Mauve''
''rhapsody In Ochre''
''rhapsody In Puce''
''rhapsody In Umber''
''rhapsody In White''
Riptide Naakual Paragon
Rosulatia's Pome
Ruspix's Plate
Russet Yantric Planchette
Sajj'aka's Protective Ward
San D'oria Trust Permit
Savage's Phantom Gem
Schwertleite's Feather
''scintillating Rhapsody''
Semi-Pure Alizarin Yggzi
Semi-Pure Celadon Yggzi
Semi-Pure Phlox Yggzi
Semi-Pure Russet Yggzi
Semi-Pure Zaffre Yggzi
Septenary Nazar
Sepulcher Ensign
Serpent Rumors
Shadow Lord Phantom Gem
Shard of Apathy
Shard of Arrogance
Shard of Cowardice
Shard of Envy
Shard of Rage
Silver Bell
Silvery Plate
Song of Hope
Sparking Tail Feather
Squire Certificate
Stalwart White Mage's Shard
Starlight Voidwatcher's Emblem
Stellar Fulcrum Phantom Gem
Tear of Altana
Temple Knight Key
Tenshodo Member's Card
Teodor's Blood Sigil
Tigris Stone
Tonberry Key
Trainer's Whistle
Traverser Stone
Tribulens
Tricolor Voidwatcher's Emblem
Velkk Fetish
Vial of Shrouded Sand
Vivid Periapt of Adaptability
Vivid Periapt of Catalysis
Vivid Periapt of Concentration
Vivid Periapt of Concord
Vivid Periapt of Exploration
Vivid Periapt of Focus
Vivid Periapt of Frontiers
Vivid Periapt of Glory
Vivid Periapt of Intensity
Vivid Periapt of Readiness
Voidstone
Voidwatcher's Emblem: Jeuno
Voidwatcher's Emblem: Qufim
Waking the Beast Phantom Gem
Warrior's Path Phantom Gem
Watercraft
''watercrafting''
Whisper of Flames
Whisper of Frost
Whisper of Gales
Whisper of Storms
Whisper of Tides
Whisper of Tremors
White Stratum Abyssite Vi
Windurst Trust Permit
Yagudo Torch
[/Spoiler]




Currencies
Nyzul Tokens: 5448
Therion Ichor: 2400
Cruor: 868898
Voidstones: 2406
Traverser Stones: 1954
A.M.A.N. Vouchers Stored: 85
Zeni: 0
Guild Points (Fishing): 4892
Guild Points (Woodworking): 0
Guild Points (Smithing): 0
Guild Points (Goldsmithing): 0
Guild Points (Weaving): 0
Guild Points (Leathercraft): 0
Guild Points (Bonecraft): 0
Guild Points (Alchemy): 0
Guild Points (Cooking): 960
Assault Points (Leujaoam Sanctum): 0
Assault Points (M.J.T.G.): 0
Assault Points (Lebros Cavern): 0
Assault Points (Periqia): 0
Assault Points (Ilrusi Atoll): 0
Beastman Seals (stored): 16
Kindred Seals (stored): 2
Kindred Crests (stored): 141
High Kindred Crests (stored): 263
Sacred Kindred Crests (stored): 309
Bayld: 481359
Mweya Plasm Corpuscles: 2265875
Escha Silt: 1074414
Escha Beads: 30791
Potpourri: 0
Domain Points: 240
Mog Segments: 468
Gallimaufry: 2327


Job Points
WHM523


Trusts (26)
Shantotto II
Joachim
Naji
Kupipi
Excenmille
Lion II
Prishe II
Selh'teus
Cherukiki
Gessho
Balamor
Nashmeira II
Iroha
Lilisette II
Kupofried
Tenzen II
Adelheid
Zeid II
Matsui-P
Koru-Moru
Tenzen
Arciela II
Mihli Aliapoh
Iroha II
Halver
Valaineral

Coalition Ranks
Pioneer Petitioner
Courier Contributor
Inventor Petitioner
Mummer Petitioner
Peacekeeper Petitioner
Scout Petitioner

Escha Vorseal
HP/MP+ 6
Acc/R.Acc/Eva+ 4
Def+ 6
Atk/R.Atk+ 5
M.Acc/M.Eva+ 5
M.Def+ 6
M.Atk+ 5
DEX/AGI+ 7
STR/VIT+ 7
INT/MND/CHR+ 7
Occ. Nullifies Damage 2
Killer Effects+ 2
Damage Taken 2
Spoils+ 7
Rare Enemy+ 4
Luck+ 7
Regen+ 1
Refresh+ 0
Accuracy++ 0


tldr& Handy little WHM mule with all 99s and cooking/fishing RoV done with all storyline up to that done as well
$275